Howdy.
How was your day? Tuesday seems to be my hump day – once I get through it, I immediately feel better about the week. I'm still having trouble not just living for the weekends…how do you avoid wishing away the work week when weekends are so fabulous?
Changing subjects, I got the most amazing haircut this afternoon. It doesn't look that amazing (because my hair is brassy and damaged), but the stylist was one of the best I've ever had. She listened, she didn't rush, she didn't let a vision override what I asked for, and she didn't kill my hair by aggressively blowing it out when it's already straight! I get really boring haircuts (like 1/2 inch trims), but I'm still very picky and I just loved today's experience!
I also loved this simple summer meal. My mom gave me a HUGE tomato last week and since I'm not a fan of the taste of raw tomatoes, I made a big batch of bruschetta. I let the diced tomato marinate overnight in garlic olive oil, basil, s & p, high quality balsamic, and just a pinch of sugar.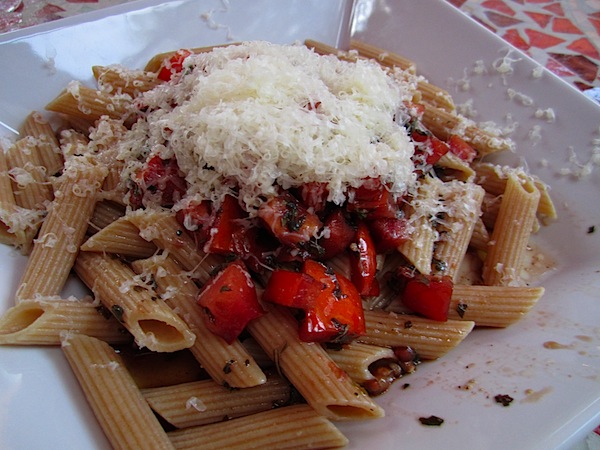 Served over whole wheat penne with some incredible unknown Italian cheese that I picked up at Whole Foods. It's too bad big summer tomatoes are on the way out because I so enjoyed this meal. I also love having leftover bruschetta to throw on salads and and put in wraps.
I might get to hang out with Matt for 30 minutes tonight, so I'm going to get ready for tomorrow before he comes home. NIght.