Brrrr. It's been a chilly weekend here, so I did what I do best – stayed inside and ate good food! Matt was out of town Friday, so I took myself to Fuqua Friday for dinner and drinks. Only when I arrived, the usual buffet had been replaced by a million people wearing hair nets! Turns out, Fuqua students and staff were stuffing thousands of bags with rice and seasonings to send off to a Stop Hunger campaign.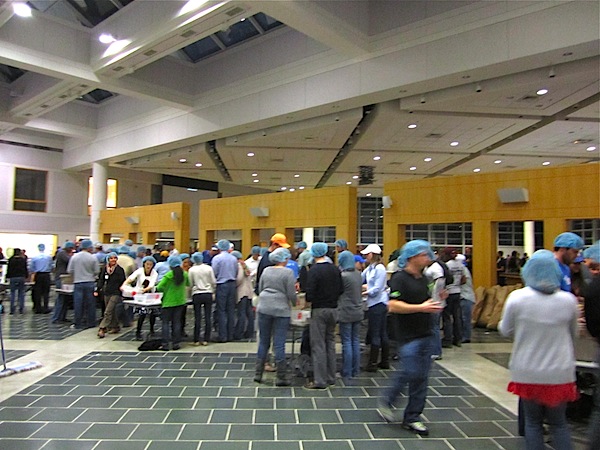 It was a really neat operation, and very efficient. Organizations should do this more often! I spotted some of my co-workers (even though I no longer work with them, I still think of them as co-workers), and was able to jump onto their team to relieve someone else. I was at the weigh station to ensure that the bags were filled appropriately.
After we finished, I made myself a plate and chatted with friends.
Saturday was fabulous because Matt & I were able to attend the Duke – Maryland game (he used to be a Maryland fan before going to Duke). Duke didn't play too well, but it's always fun to watch them live. We debated dinner plans after the game, and since it was soo chilly, we decided beer was the only way to warm up. I finally got to try Foothills' Sexual Chocolate imperial stout!! I was so worried I wouldn't get to try it because I'd heard rumors that most of the kegs in Durham had already run out. It was just as good as I imagined, with a deep, sweet, chocolate taste and a hint of coffee. And it was 10% ABV – whew!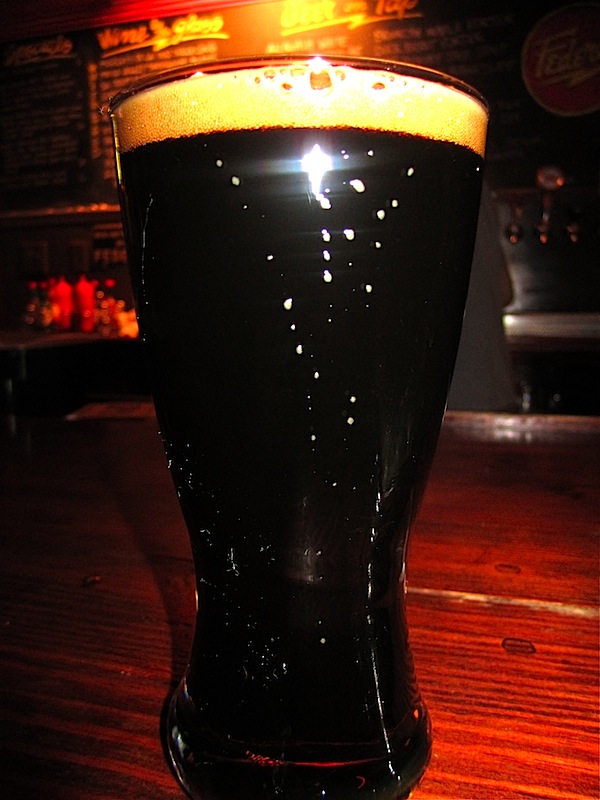 By the time I finished my beer, I was soo ready for a huge dinner. I have a slight obsession with Indian and knew it was just what I wanted. I bought a restaurant.com certificate to Dale's in Durham, so Matt and I managed to get a feast for a reasonable price.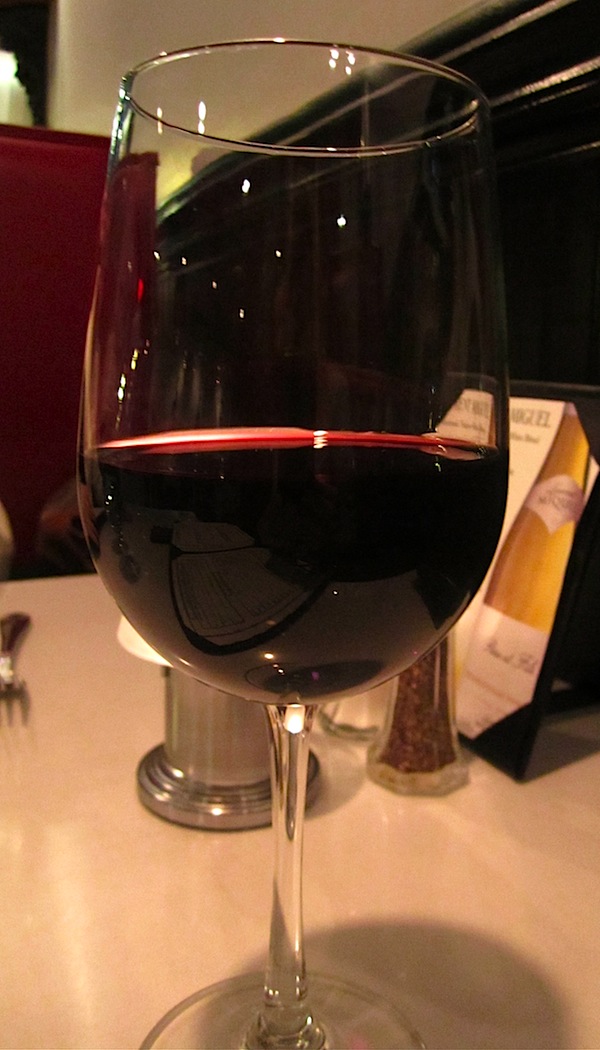 I really like drinking wine with spicy food and this $5 cabernet was the perfect complement.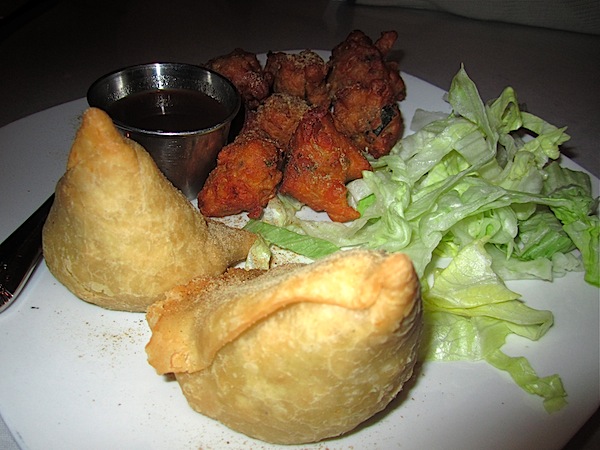 We went all-out with the special dinner for two, which included: samosas and veggie fritters, chicken curry, vegetable curry, chicken sag, chicken tikka, rice, naan, and rice pudding.
Oh man, this was a lot of food. But it was actually some of the best Indian food I've had – very flavorful and fresh-tasting. I had two plates, and was surprised that my sensitive stomach actually felt great after this meal.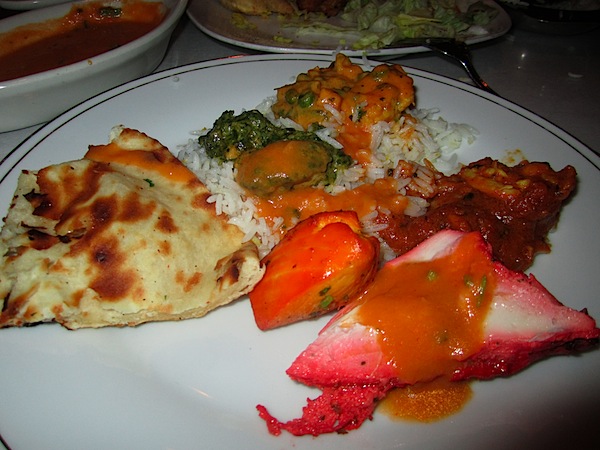 Matt and I always talk of going to brunch, but we never do – too expensive and indulgent, especially since we like to dine out on Saturday nights. But, we had a Living Social deal for the Nasher Museum Cafe that was about to expire, so we had no choice! I've heard great things, and the food exceeded expectations.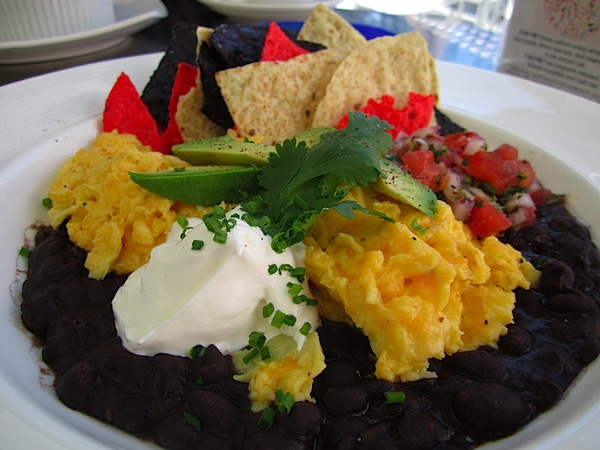 Torn between sweet and savory (what's new), I shared the huevos rancheros and orange and cinnamon french toast casserole with Matt.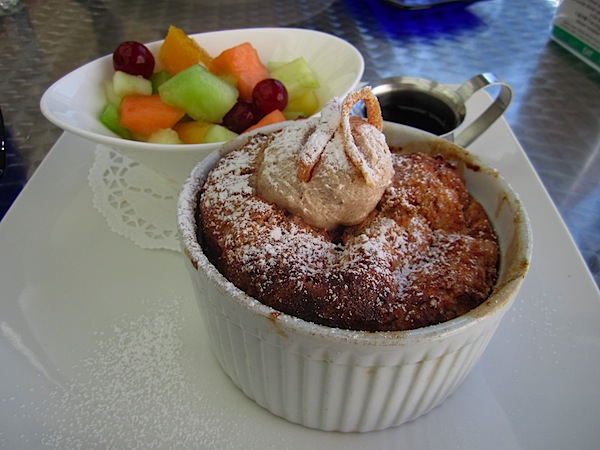 Both were truly heavenly! The casserole was definitely up there for best brunch entree, especially when I got a bite covered in the cinnamon butter that was on top.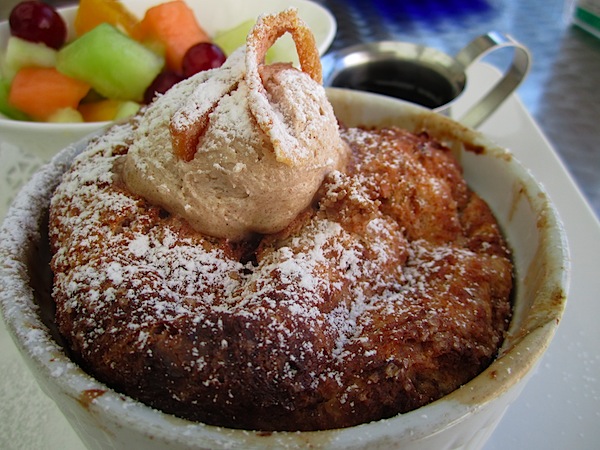 No weekend is complete without awesome eats.
I'm getting some work done this evening and then watching the Grammy's with leftovers and a beer. So sad to hear about Whitney:(
That's all folks. I hope yall have a productive week!