Matt's stuck in the library, studying for his final tomorrow, so I met him for a study break at the Mad Hatter bakery and cafe. We had yet another Living Social coupon, so my dinner was free! I ordered the grilled salmon over roasted vegetables. And for $9.95 at a bakery, this meal was awesome. The salmon was perfectly cooked and I even ate all my veggies (I'm a very picky veggie eater). Matt had fish tacos and was impressed. We've been to the Mad Hatter several times for sandwiches and salads, and always found them to be bland and overpriced, but the dinner options are great!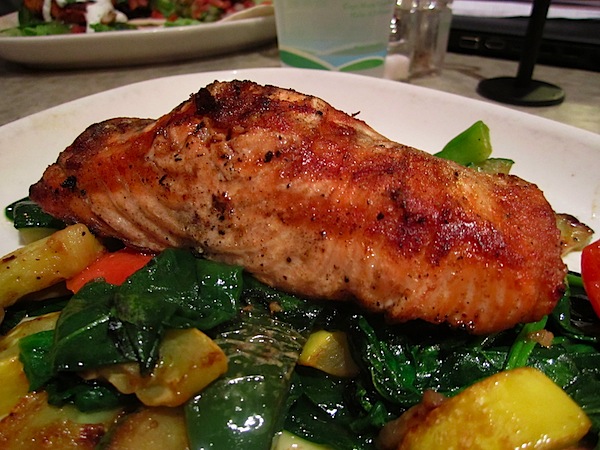 Matt even brought a little dessert from a meeting he had earlier. I think this was actually store bought cookie cake, but boy did it taste good!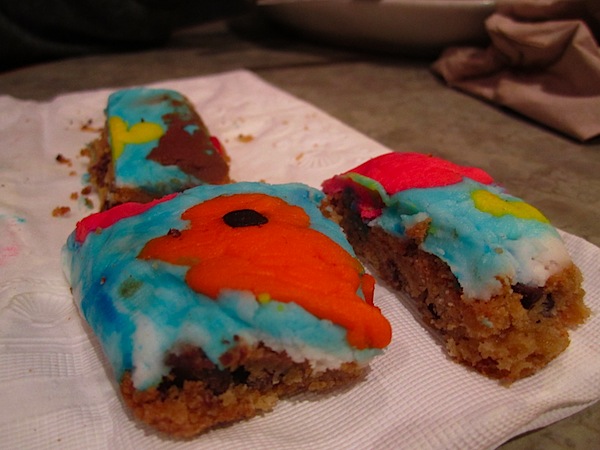 After dinner, we stuck around, and I did some work on my computer. It's so nice to get out of the house instead of just sitting around with my computer on my lap. I think I'm frying some of my internal organs with the amount I time I spend with my laptop.
Work was hectic again today. I didn't sleep well last night because of a 3am headache, so I felt especially overwhelmed. And then I had a kid who refused to answer any questions on an intelligence assessment. I never get to breathe when I'm there because so many children need to be tested! It's funny that I'm a school psychologist and I don't totally agree with how we assess kids these days. Sometimes I cringe in meetings. Overall though, I've been very impressed with the educational system in NC, and although I prefer the school psych role in Mass, NC is really on top of the exceptional children's program. Anyway, I'm happy to report that I'm in bed, teeth brushed, and it's not even 10 yet. I can't wait to sleep away this stressful day!
PS: Happy Leap Day! My mom reminded me that its also Saddie Hawkins day. Don't worry, I resisted the urge to ask Matt to marry me. I wonder if he would have said yes….