Despite the cold temps and brutal wind, I had a fun-filled Monday. I took advantage of my day off and met my Mom for some shopping. We mostly just looked around, but I did come home with a new bra and a cheapy Target watch. I've always been into watches and tend to acquire them when I see funky and inexpensive ones. I also helped my Mom find a pair of skinny jeans! Well, they probably aren't the kind you are imagining, but they were labeled as such and had a much straighter leg than most women's jeans in department stores.
We took a lunch break at Brixx Pizza and had the most wonderful Thai chicken pizza with goat cheese, peanut sauce, pistachios, and red peppers. I've got to go to Brixx more often – I forgot how awesome the pizzas are!
It was just me and the tv this evening, so I stopped by Whole Foods for dinner. The hot bar items over spinach is def. one of the best dinners around.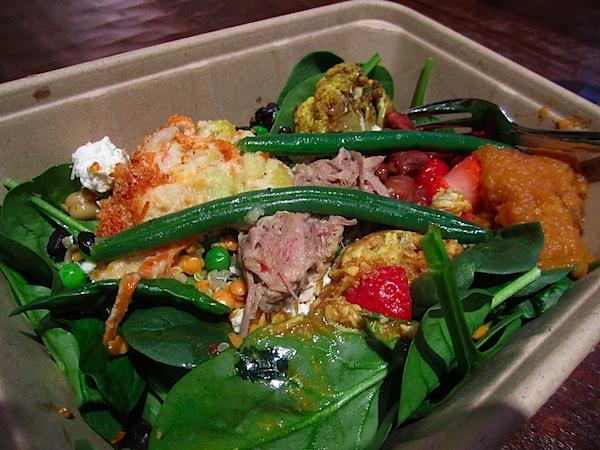 The good news is that I loved every minute of this. My favorite items were the cheesy squash casserole, curry chicken, and honey sweet potatoes. The bad news is that I slipped on a little bit of casserole that had been spilled on the floor and wiped out beside the hot bar. I hit my knee, but was more just surprised to suddenly be on the floor. Falling down at this age is weird!
I'm off to read and then sleep!!