A rainy weekend made for extra relaxation and lots of couch time. Especially after I had an incredibly productive day on Friday, cleaning like crazy. Due to two weeks of spring break, I hadn't seen Fuqua friends in quite some time, so we had a fun evening on Friday watching basketball, drinking beer, and eating pizza.
Saturday, Matt and I celebrated new friends with a fantastic dinner! I met Anne when Kath was in town for a frosting feast and we set a dinner date at Guglhuph. After reading her blog for almost a year now (and making her black bean burgers many times!), it was fun to chat and meet her Matt.
We made it to Guglhuph just in time for a massive thunder storm and downpour. Despite the rain, it was a hot night and I wanted nothing more than a cold German riesling – this was a perfect white, not too dry and not too sweet!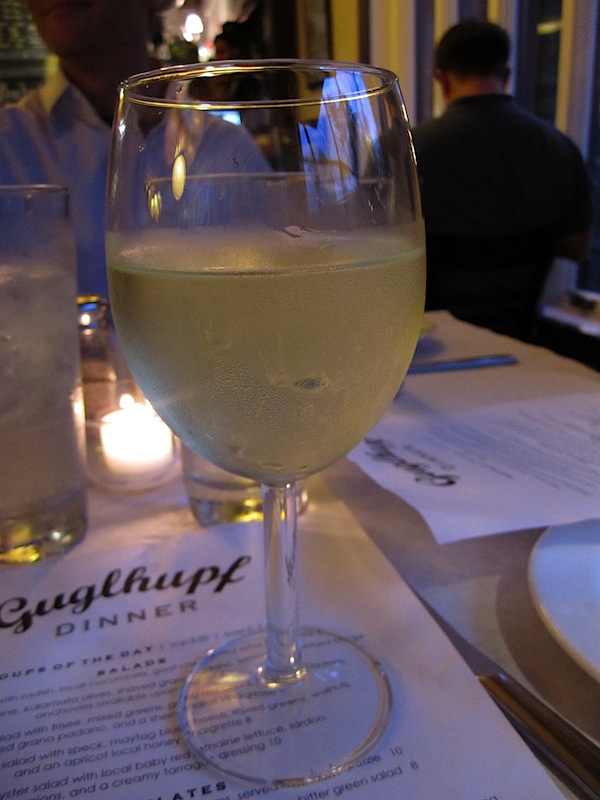 Matt and I weren't planning to split a meal, but when we found out that we had picked the same entree, I changed my order to the scallops and we agreed to share both picks. The scallops were great – they were pan seared and served with a local kohlrabi puree, sautéed local swiss chard, and oyster mushrooms all in an herb beurre blanc. I especially loved the kohlrabi because it tasted just like mashed potatoes.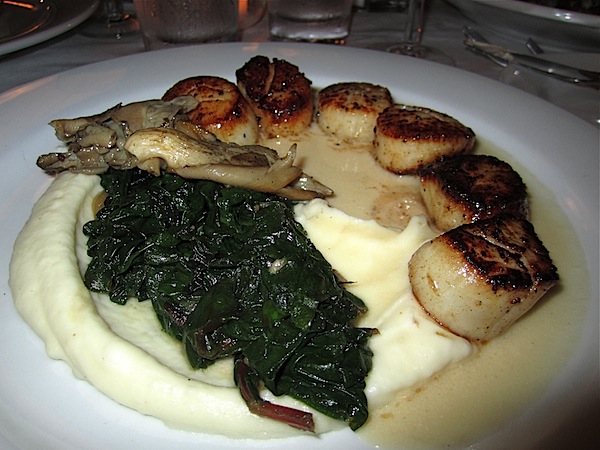 But the other entree stole the show! The market fish was a NC trout that had been pan fried with bacon butter and served with smashed potatoes. I really don't think you can go wrong with anything having to do with bacon butter. Delish.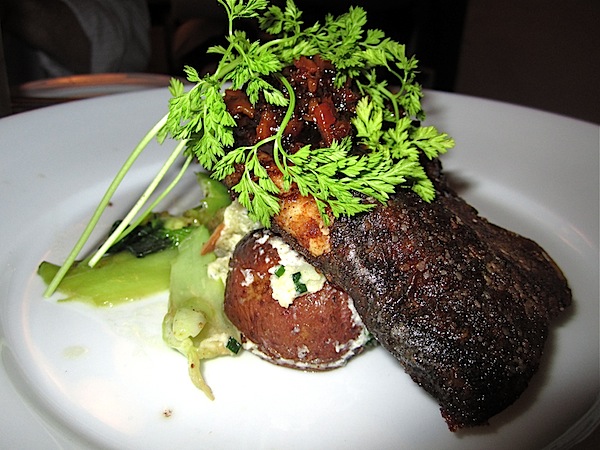 I wasn't planning on ordering dessert, but our waiter automatically brought the menu and then I remembered that Guglhuph's claim to fame is their bakery. Matt and I shared the banana napoleon, which was two sheets of puff pastry with seared bananas, chocolate sauce, nuts, and some sort of heavenly cream.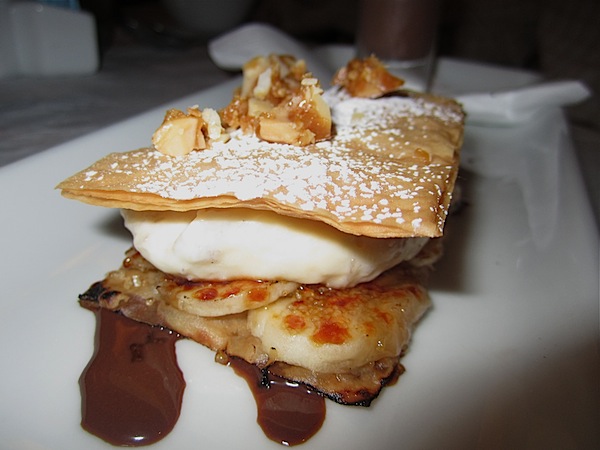 It was also served with a shot of chocolate mouse!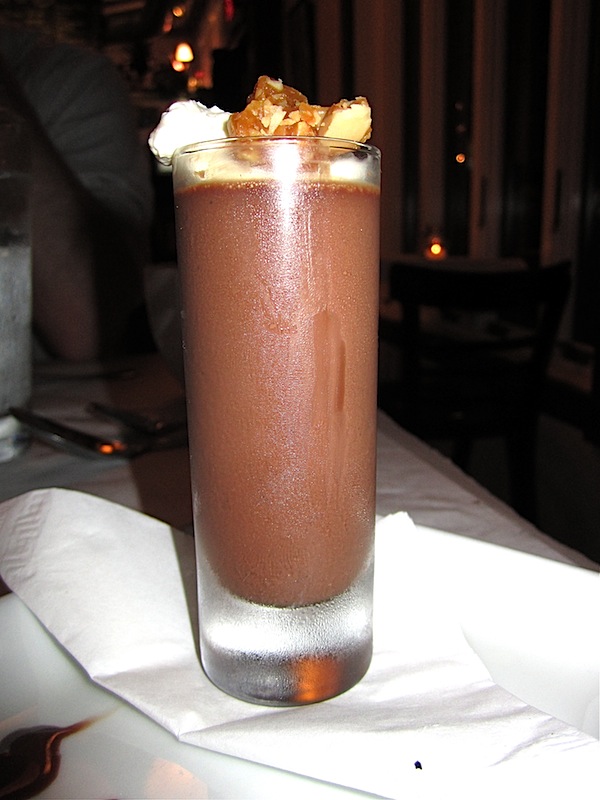 The flavor was fabulous and this dessert was surprisingly light.
What a nice evening! It's too bad Anne + Matt are moving – they are lots of fun!
But I guess we are basically moving too:( Did I tell you that Matt chose the company in Atlanta for the summer? Another adventure begins in June. [edited to add: Matt's MBA internship is just for 10 weeks in the summer; then we'll be back]
I'm working an extra day this week to make-up some time missed because of spring break (part-time employees don't get paid vacation). I'm actually glad because I have so much on my plate that I'll be able to knock out quite a bit of work with an extra seven hours. Plus, it means no work next week. Woo hoo. Anyway, I'm off to make dinner and possibly indulge in a glass of wine to savor the last minutes of the weekend. See ya.