I'm on spring break yall! Not that it means that much when you work part time, but still, it's nice to have next week off and no babysitting because the family is traveling. Matt still has classes and it's not like we're rolling n dough, so we're not vacationing or anything. But, we are going to Charlottesville to drink wine and hang out with Kath and Kanz! But first, a lovely Thursday night dinner on a beautiful spring night. I had sweet potatoes on my mind this afternoon and simply had to have them for dinner. Roasted pillows over rice and black beans with shredded fontina, jalapenos, and tequila lime salsa. Dinner bowls are the best!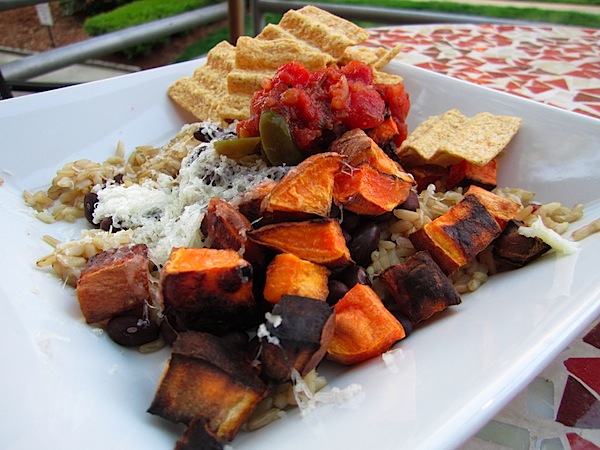 I was super productive at work today. Working a third day this week helped tremendously. Now if they'd only hire me for that third day, I could get sooo much accomplished. I still can't believe I haven't even been working for 3 months and I've nearly completed ten evaluations. Crazy! Last year I did 13 in an entire year and I was full time. I guess the point is that I was quite tired after work (what's new). But the weather was so nice that I knew I wanted to exercise outside. So I went for a run on the Washington Duke trail. And it lasted 12 minutes. So sad. Greek yogurt is my absolute favorite afternoon snack because it's fun to eat and keeps me full, but it's not good right before bouncing your stomach up and down. Oh well, the hills were too hard anyway. I ended up walking the 3 mile loop and just enjoyed the ride.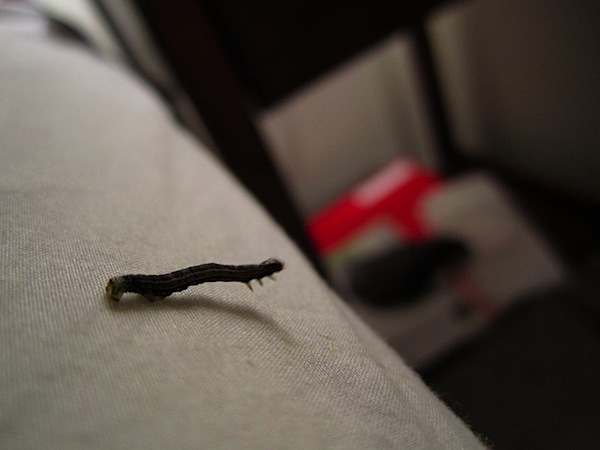 Speaking of being outside, hanging worms are everywhere! Matt commented last night that he had three people pick them off him on his walk from school to the parking lot. He was quite upset, saying that people always "flick them" instead of gently removing them and putting them back in nature. It seems the worms heard that Matt was standing up for them, because I found this one on his pillow just now.
I'm off to bed so I'll be rested for vineyards tomorrow. Have a fantastic weekend!