Seven hours of report writing later and Tuesday is over. Whew! That was not a fun day at work. But, the good news is that I'm all caught up with report writing for the first time since I started my job in January! Good thing I've got three new referrals coming next week:)
Dinner was a special treat at Whole Foods. I met new friend and fellow blogger Katie at the hot bar! I got my usual bowl, with a base of greens and all the best salads, veggies, and casseroles on top. The cold front hasn't quite made it's way to Durham, so we were able to sit outside and talk, eat, and relax for a good hour. It was nice to just sit and chat about life.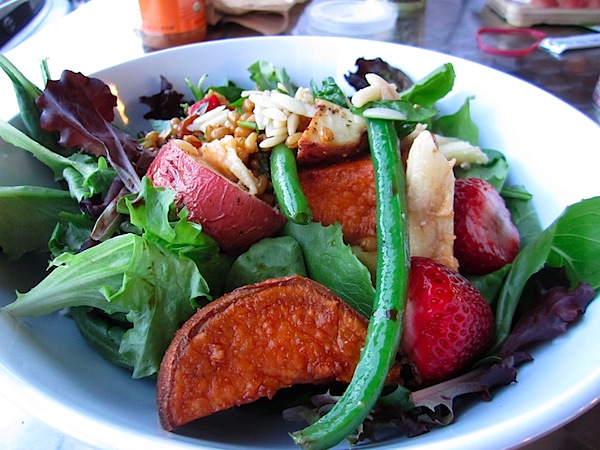 Thanks for your advice on the allergy meds. I tried it one more time today and confirmed that I just can't tolerate it. I feel so frustrated because I went through all this seasonal allergy stuff two springs ago and concluded (along with the testing) that I don't have seasonal allergies! Maybe I just have a cold? I'm feeling off and can't distinguish between side effects of the meds, an allergy/cold, and my usual health problems. Oh well.
I'm really loving the beginning of my new book and can't wait to get in bed and read more. After some jelly beans of course! Have a happy night.