Though I usually babysit on Tuesdays, I spent 8 hours with the little one today. I usually do a half day with two kids, and today I did a whole day with one. And it was sooo much easier! Made me miss my nanny job in Boston.
I took the stroller out for an hour walk in the gross weather this morning and managed to get the baby down for two 1+ hour naps. It was a lovely way to spend a Monday.
Other than wearing a pirate eye patch with a skull + cross bones on it, this dinner was the highlight of my day. This recipe will be going near the top of my favorite recipes list because it was 1) oh-so-simple and 2) absolutely delicious.
Matt put this in the crock pot this morning and let it cook on low for 8 hours, and it was by far the best crock pot chicken we've made. Sooo juicy.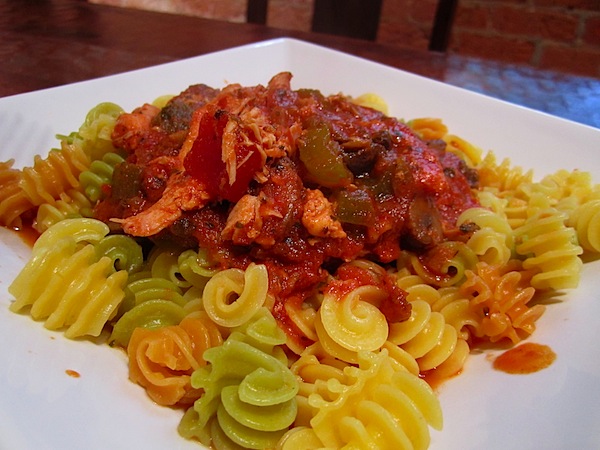 And all that went into the pot was:
a pound of chicken
one jar of high quality tomato sauce
3 cloves minced garlic
one chopped green pepper
one pint sliced mushrooms
red pepper flakes
I'm not sure about the quantity of the the red pepper because Matt likes a lot, but this was definitely spicy. Not too spicy though. I think I'm just so surprised that I loved this because I'm not really a pasta with tomato sauce kind of girl. But the extra kick and the chicken transformed the sauce. The pasta is a new quinoa veggie pasta that I picked up at Whole Foods and it was outstanding – great texture and seemed to have more flavor than wheat pasta.
Thanks for a great dinner Matt (he'll have to eat the leftovers – I never know where he is these days, as it's the last week of classes).
The night is still young – I may go sit on the bike for a bit or may stay planted right here on the couch. Not sure yet!