Brrr…I've just returned from the movie theater and I'm happy to be under the covers.
My day was filled with more babysitting and in the tiny span of time between that and going to the movies, I threw together some bean tostadas. I used the lime refried beans I love so much along with jalapenos, peach salsa, and corn relish all in the oven on two corn tortillas. And my first corn on the cob of the year (wow, that's a lot of corn)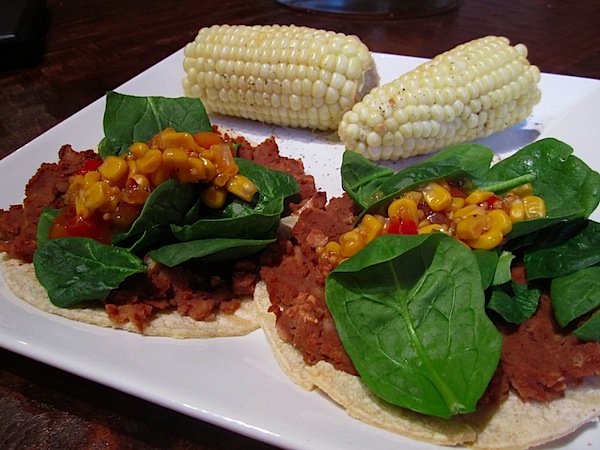 A few years ago, I would have never thought a vegan, gluten free, vegetarian dinner thrown together in 10 minutes could taste so good!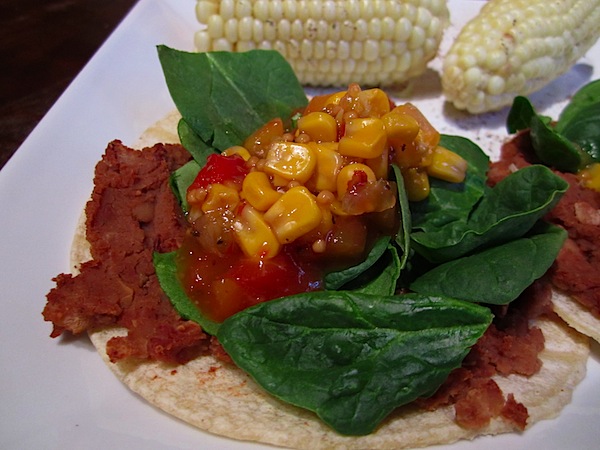 So I went to see The Lucky One with some girlfriends. While I can't say it was a movie that was on my 'must go see' list, I'm a Nicholas Sparks fan and generally enjoy looking at Zac Efron. Going into it, I didn't know anything about the movie, other than a few rumors that it isn't worth seeing. Having low expectations was good, because I really enjoyed it!!! The setting was beautiful and some of the cinematography was quite nice. I also loved the music and the female main character's outfits. While Zac's acting was a little blah, so was his character, so I don't think it's all his fault. I always enjoy a good ole love story and movies like that one remind me of going to the theater as a teenager – back when romance was still a mystery. I felt quite lucky to come home to my own version of Mr. Efron writing a paper at the kitchen table tonight:)