One more week of work!!!! So pumped to be on summer vacation so I can dream about wedding details!
Did I mention we have a wedding date, because we have a date! June 1, 2013 – I will be a bride (knock on wood). That's tomorrow! Matt's browsing coral bow ties as we speak:) I'm thinking of trying on some dresses in a few weeks (just for fun). Next on my to-do list is picking out save-the-dates and making a guest list. And deciding on bridesmaids will be the most difficult task of all: / How do you only pick some friends but not others? I love them all! I used to think I wanted a huge urban wedding, but as I experience friends' weddings and life gets busier, I'm actually hoping for something smaller. Not casual per se, just more relaxed. Matt and I both love Bald Head Island and we've decided that it would be the perfect place for an elegant and breezy wedding weekend! I hope everything works out!
Speaking of the beach, Kath promised my ice cream pie recipe and I've had several requests, so here it is!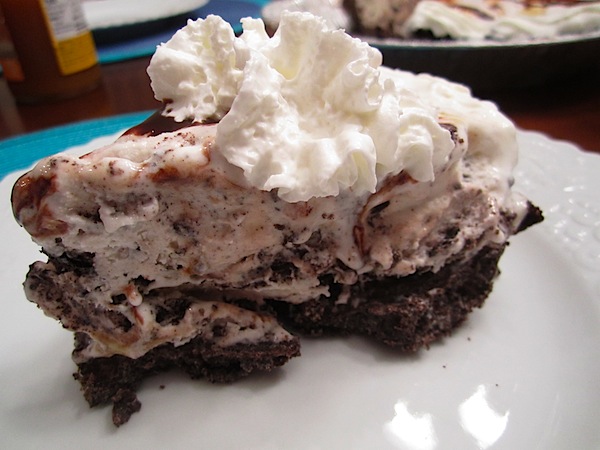 Ice Cream Pie:
-Crush 24 Oreos (or Joe's Joes) in a plastic bag with something hard or use a food processor – they don't have to be very fine because the bigger chunks of cookie taste great!
-Mix crushed cookies with 1/4 cup melted butter until well combined
-Press mixture into a pie pan using the back of a spoon and let harden in freezer (30 minutes minimum) or fridge (1 hour)
-Spread one carton of ice cream into pie crust. Note: it's best to let the ice cream sit out for a while or make the pie when you get home from the grocery store and the ice cream has softened enough to spread
-Put pie back in freezer for at least an hour
-Serve with whipped cream, cherries, butterscotch, and chocolate syrup!