I was having one of those lazy mornings in Atlanta. I packed for my trip home, cleaned up the kitchen, looked at wedding cakes online, and went for a run. I had planned my morning so that I could make lunch and then take public transportation to the airport for my flight home (I'm flying because we're going straight to a wedding and then I'm flying back to Atlanta). So at 12:30, while I was eating my sandwich, I was a bit surprised to find out that my flight was supposed to board at 1:15. Whoops. I totally panicked and had the urge to run, but then I breathed for a second and tried to call a cab. The first one didn't speak english, the second didn't pick up in my neighborhood, and the third didn't answer. So I called the first one back and they told me they could send a cab in 15 minutes.
I ran outside and ended up taking someone else's cab (sorry!). The driver assured me it was only a 15 minute trip to the airport. Whew. But then my credit card and debit card were declined when I tried to pay for the cab ($40 down the drain). Finally, he agreed to take down my cc number and charge me later. Just when I thought I was in the clear, the security agent refused to take my mobile boarding pass because it wouldn't scan. So I had to go back to the Delta counters and print a paper pass and get back in line. Whew. So, long story short, I made it to my flight just in time. Just in time to board the plane, sit down, find out there was a "sound from the engine" and get back off the plane. Arrgg. We finally got a new plane around 4 and I arrived home at 5! Not exactly what I had planned for today, but at least I got here safety and got to drink strawberry beer soon after my parents picked me up!
We went to Fat Daddy's, an old burger place we used to dine in when I was little. It looked exactly the same, with the huge stuffed man with the shopping cart in the window:) I ordered a veggie burger and fried pickles! Love the spears.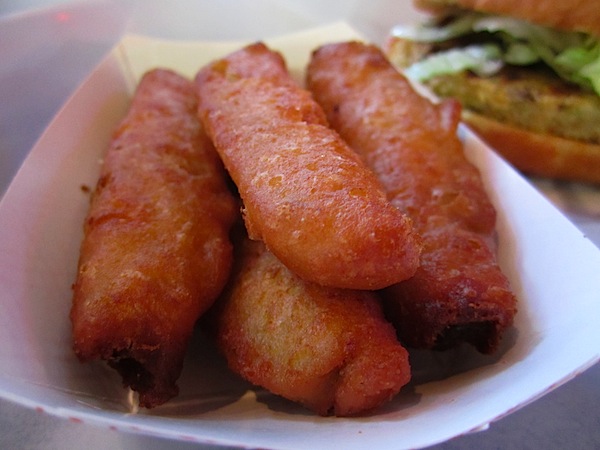 And split a cookie with my mom as a nightcap. We talked all things weddings this evening and I played around with some save-the-date templates online. I love designing things! Now I'm off to bed in our hot, old, house:)