Another glorious day of babysitting in the ATL. Today was rainy and I was actually cold in the midst of this hot summer. I almost forgot what it feels like to be in another season. Soon though, fall will be here! Summer is moving way too quickly. I start work in one month:/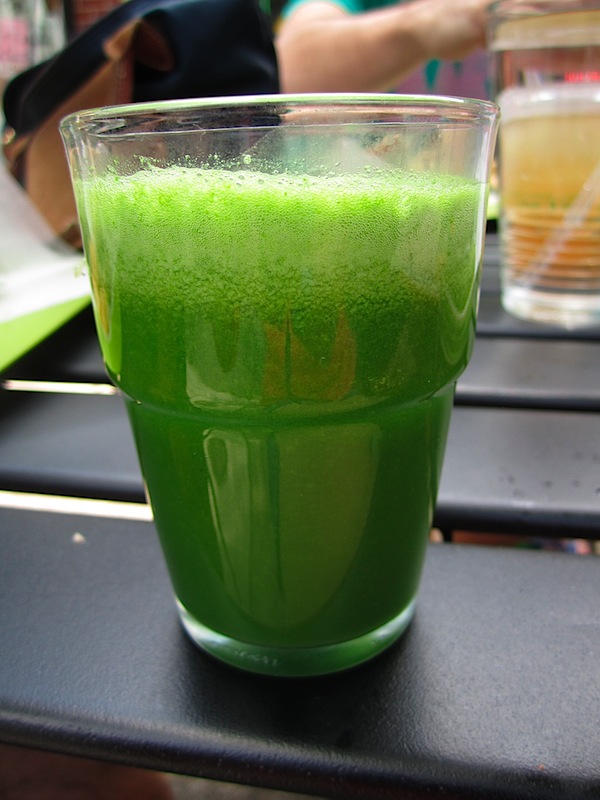 For the first time in ions, I got myself up and to the gym before 9am. I've gotten used to lazy mornings with cereal, so it's hard to get myself to the gym first thing these days. But I'm glad I went because I had the evening free to relax and took a walk while chatting with a friend. I was in need of a snack around 4, so I checked out the juice bar at the Whole Foods here! I can't remember what was in this, but I know there was ginger because I loved the strong taste! And it sure filled me up.
I also browsed TJ Maxx for a pair of new running headphones with no luck. I saw some beautiful luggage though and then couldn't stop thinking about the honeymoon. I think images from movies have definitely stuck with me because when I think honeymoon, I see a flowing sun dress with bright wedges on the cliff of some island or a model in a black bikini with a sun hat. Movie sets make it so easy to picture events we haven't ever experienced. It must have been weird before they existed. I need to get that picture of the cookie-cutter honeymoon out of my head though – I'm hoping we go someplace romantic (and fingers crossed, European!), but I don't think I'll have designer luggage nor an entire resort wear wardrobe from J Crew. Wine, sun, and a few new outfits? Def. Perhaps I'll even get new wedges and buy a black bathing suite from Target:)
And on that note I'm off to bed. Wednesday is right around the corner.