What I was attempting to say last night (before Ecto ate my post) is that I've been back in the kitchen! I've been trying to make more recipes that have leftovers, so I don't have to pack as many lunches. This one was adapted from a fettuccine recipe that I found in a Betty Crocker cookbook. The best decision I made was to sub orzo for fettuccine – the texture was so fun. I've had a box in my cabinet forever and I've never made anything with it. The other key to this recipe was the Sriracha, which gave it the perfect kick!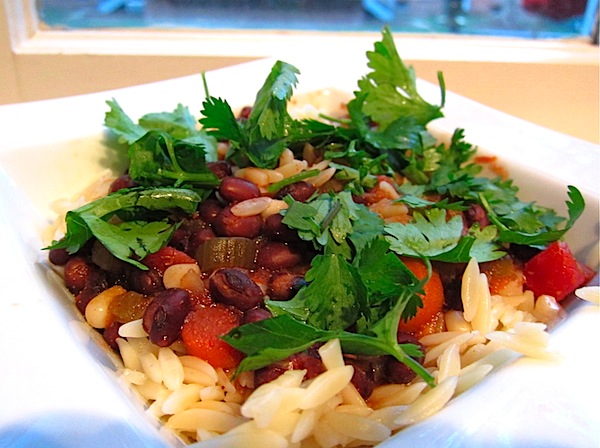 1. Cook pasta according to package. I made 8oz, but would prob make 6oz next time to increase the sauce-to-pasta ratio.
2. After draining pasta, use pot to mix together 1 cup salsa, 1/3 cup frozen corn, 1 can partially drained black bean soup, 1/2 teaspoon cumin, 2 tablespoons chili sauce, and 1/4 cup water. Stir over medium heat for 5 or so minutes.
3. Top pasta with sauce and fresh cilantro!
I'll def. be making this again – so quick and different than my go-to tomato and pesto pasta toppers!