After a dessert bar on Monday and appetizers for dinner on Tuesday, a healthy dinner was necessary. Matt was home for dinner tonight (yay!), and I could tell he was disappointed when I told him salads were on the menu.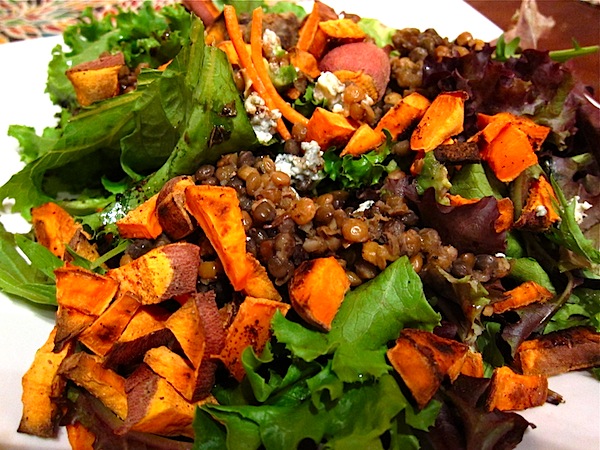 But tonight's salads were better than your average greens – I topped these with hot lentils and sweet potatoes, blue cheese, carrots, and avocado with homemade dressing. With hummus toast on the last of the GH herb bread on the side.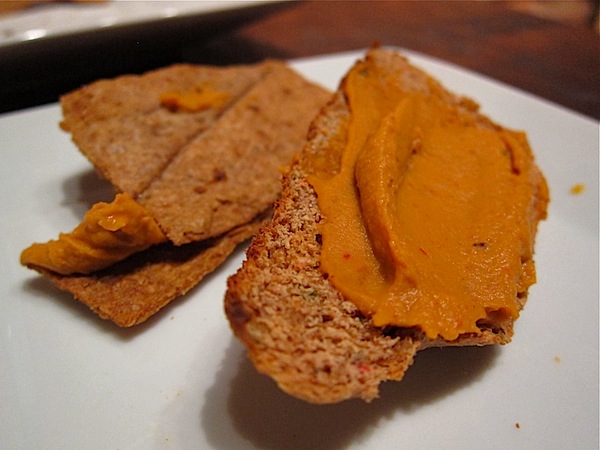 It's funny that I would have nearly gagged at the idea of hummus and lentils for dinner back in the day:)
Today was a relatively short day, but it felt soo long. I spent the morning in a 2 hour meeting, and then was called to do a suicide assessment right after. But what really bothered me was the freezing cold! I've been having a lot of trouble with the temperatures at my schools, and since I only have one space heater, I'm cold at 2 of the 3 schools. I've been wearing pants, bringing sweaters, and today I even wore thick socks under my shoes. A friend actually told me yesterday about an article on the negative effect that cold work places have on employee performance. I just cringe thinking about the energy we are wasting to cool big buildings. I really think that if every school in America were set at 74-ish instead of the high 60's that we could make a dent in the energy problem.
Despite the Arctic air, the outside weather was so fabulous that my brain (not my body) actually wanted to exercise after work. I know it's just a matter of time before I'm huddled in my apartment protesting winter, so I was glad to get out there. And, this could be my last fall in the south depending on where Matt's job may take us! There were so many people running the east campus loop, I felt like I was in central park. There's something about being out in the world with other strangers that's almost comforting. And there's just something about a hot shower and getting into your pajamas before 7 that feels peaceful. I'm planning on winding down early tonight and doing some reading. My sister passed along Jenna's book and I'm having so much fun reading a little each night. Sweet dreams.