I'm happy to be in the swing of things at work. I feel settled, but I also think the adrenaline of starting a new job has worn off because I just hit a wall of tiredness this week. Thus the random wordless post yesterday – I crawled in bed at 9 and wanted nothing more than to sleep!
I really haven't been feeling the gym this week, so when Matt suggested grabbing dinner tonight in between his one million meetings, classwork, and interview prep, I suggested a trail walk in lieu of formal exercise.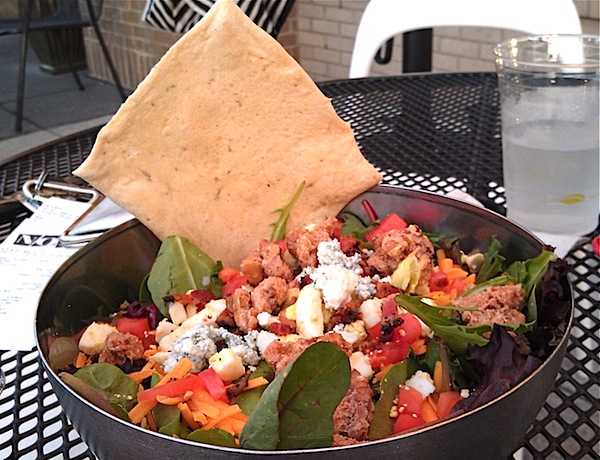 We caught up over a 3 mile walk, and it was just glorious! A nice stroll and constant conversation was the perfect evening activity, and after being in a meeting all afternoon, it felt nice to be outside. There were so many people out running, and each time a person ran past me, I felt so thankful that I was walking and not running! Perhaps a relaxed weekend at home will have me feeling energized again.
And you know what else was fabulous? A dinner date on a weeknight! We went to Nosh, a cute little Durham cafe. I got my favorite salad – a cobb of sorts with bacon, blue cheese, egg, sugared walnuts, and a wonderful rosemary cracker.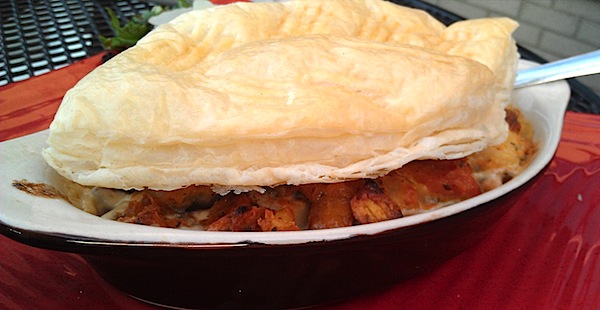 I also got to share Matt's entree, which was simply divine – a vegetable pot pie filled with caramelized butternut squash, apples, and a creamy butter sauce under a hunk of puff pastry. Boy, was it heaven. And perfect for fall, which seems to be on hold around these parts. We're still having 80 degree days and the AC is still blaring. Apparently, it's October; I was reminded of that today when I checked the mail. I guess another year has gone by.
I haven't been as excited about the big day this year, because 27 seems to be getting up there (at least to me!) Birthdays are definitely a lot less exciting than they used to be, but at least it's an excuse to dine at an overpriced restaurant and demand 3 pieces of cake:)