As of tomorrow, Matt and I will have been together for seven years. Wow. October 12th was the first time we had an in-depth conversation, and we really haven't stopped talking since then (slash I haven't stopped talking because I always seem to be interfering with Matt's school work:)) Just a couple of weeks before the 12th is when Matt and I first met. And since Matt already went through the trouble of writing out the story for our wedding website, it only seems appropriate to share it with you guys.
The story of how we met, according to Matt
It was a dark and stormy night…and all were asleep on the 4th floor of Belk Dormitory. But not for long. On a fateful evening in late fall of 2005, one John Latting [Matt's roommate] convinced me it was about time to pay a visit to one Liz Day (you can ask him for more details on said decision). Little did I know, Liz's roommate was this blonde bombshell. While it was pitch black and unknown roommate was definitely sporting her retainer, what became painstakingly clear from this 30 second interaction was that I needed to see this mysterious Laura girl again.
And saw her I did. Many times, in fact, during that final Spring at Davidson. In cadence with the Azaleas outside of Commons, our relationship blossomed and as they say, the rest is history. Well, not quite. The rest has been some of the most amazing 6.5 (yes, six and a half) years of my life. From climbing Mont Royal in Montreal to Squaw Peak in Arizona, life with Laura has reached such incredible heights.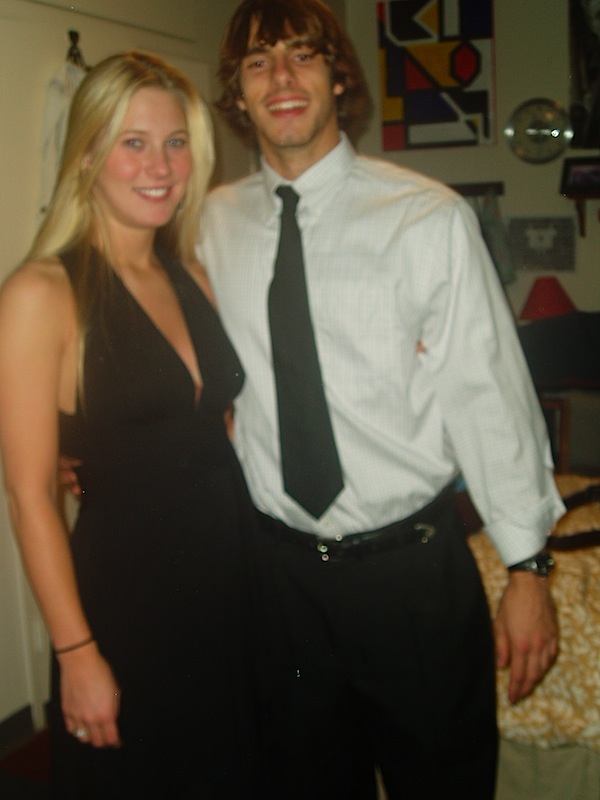 This very blurry picture was taken at our first date function together – a Soho themed dance that my eating house hosted in November 2005.
Happy seven years Matt! It appears that this is only the beginning…