Gloomy, rainy days sure go well with Mondays. But at least something exciting happens this week!
I had a training that started a little later this morning, so I knocked out a workout at the Y. It was great because after work I definitely didn't want to go out in the rain. The afternoon kind of dragged on, and so I was quite excited to get to go home to complete free time. I made by first batch of pumpkin oats for tomorrow's breakfast. I tried to delay opening a can as long as possible, because last year, I was hooked on pumpkin oats until MAY!
And I made soup. I bought some chicken drumsticks and went ahead and boiled the chicken for shredding, so it would be all ready to go into this mix by dinner time. I can't remember exactly where I got this – maybe a Great Harvest Bakery gift from my mom?
Anyway, it was super quick and made a ton of soup for the week. And I loved how chunky it was with all that chicken.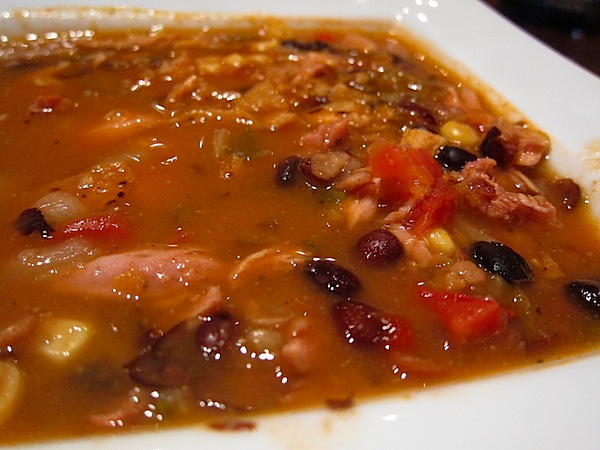 I think our little party at the lake made me extra tired today – who gets sleepy at 7 pm?
I've noticed that since living in Atlanta this summer (where I had no cable or basic/local channels), I'm much less interested in TV at night. Part of this is just because I find the internet more stimulating and staring at the TV has actually become boring. Sometimes I do wish I could just settle down and enjoy a show without any distractions – I do find it more relaxing than being on the internet because it's less interactive. But the most relaxing night time activity for me is reading. I rarely make it through more than a chapter, but I know it helps me unwind and get sleepy. To the point that I never finish any books! But, I am planning to get in bed and finish my book right this minute. I'm looking forward to starting a new one – maybe State of Wonder? Not sure what it's about, but it's been on my side table for a while.
Goodnight.