After I spent all of Friday on the couch, recovering from my mysterious sickness, I finally felt ok to shower and eat dinner that evening. It felt nice, actually, to just spend a Friday night in with a movie – Matt and I watched Nothing But The Truth, and I really enjoyed it! It was pretty fascinating.
On Saturday, we took a quick one nighter trip to Charlotte to visit friends. One of my college friends lives in Asheville, and one in Charlotte, so the three of us (plus Matt) met up for a mini reunion. We arrived in Charlotte just in time for lunch, and my friend Katie took us to a fun bbq place in her neighborhood. The mac and cheese was good, the bbq great, and the baked beans amazing.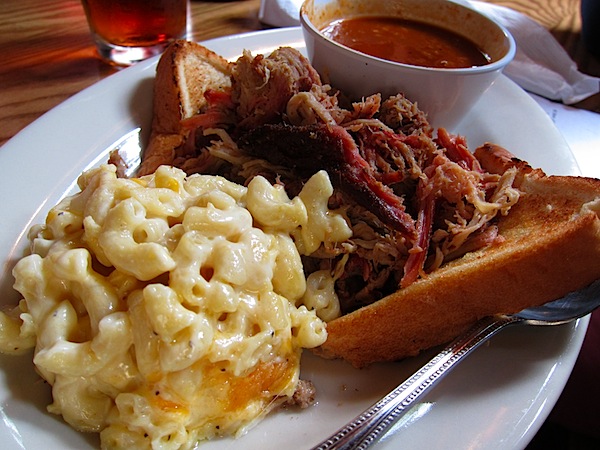 We spent the afternoon strolling around town and catching up – I can't believe it's been so long since I've seen these girls! During cocktail hour, Katie introduced us to her bourbon collection. Impressive! I had a tiny mixed drink with ginger ale and a splash of orange juice. She even had the huge bourbon ice cubes.
Then we headed out to the artsy NoDa area to check out Birdsong Brewery. I'm not sure why I didn't snap any pictures (maybe I was too busy tasting?) but we tried a flight of six beers. I was really impressed, and loved 4 of the 6, especially the milk stout and the jalapeno pale ale.
We continued on to the trendy Plaza Midwood, where we pushed our way to the bar at Soul Gastrolounge. We waited a while for a table, but had no luck after an hour, so we went ahead and ordered food.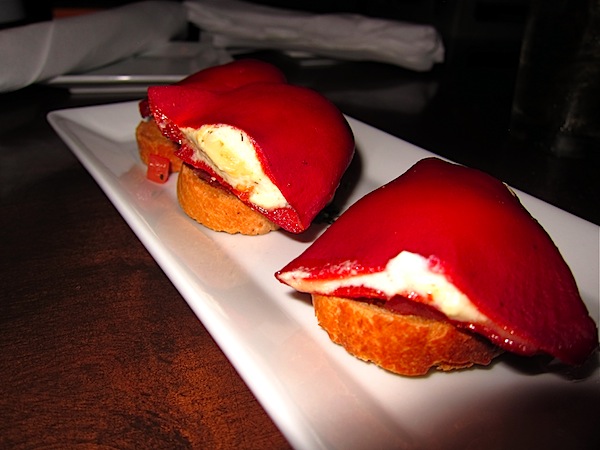 Matt and I shared these herb cheese-stuffed peppers,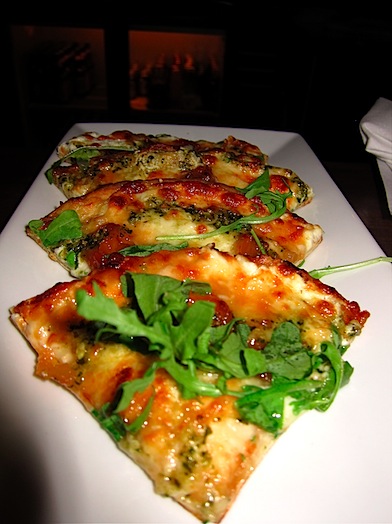 an amazing flatbread with pistachio pesto and truffled goat cheese,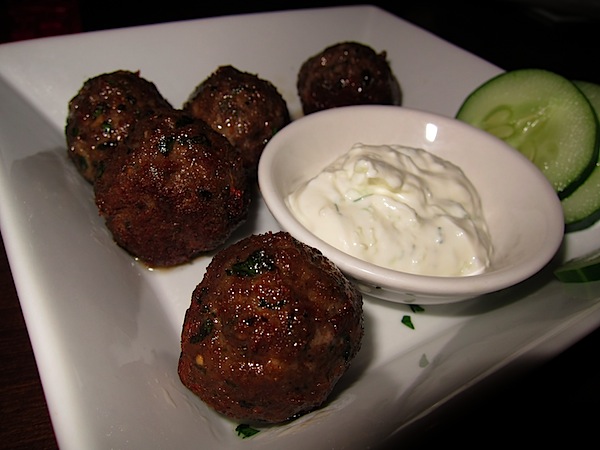 and greek meatballs with yogurt sauce. All the food was interesting and tasty. But what was really fantastic was the fresh apple pie waiting at home for us!!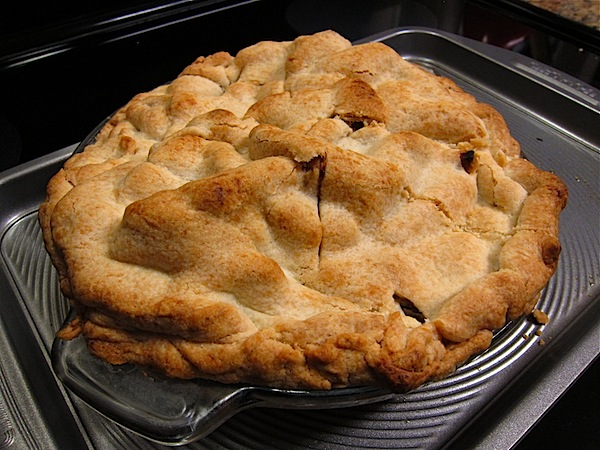 Katie made this from scratch and it was the perfect ending to a really amazing night out with friends.
This morning, we dined at Zada Jane's for brunch.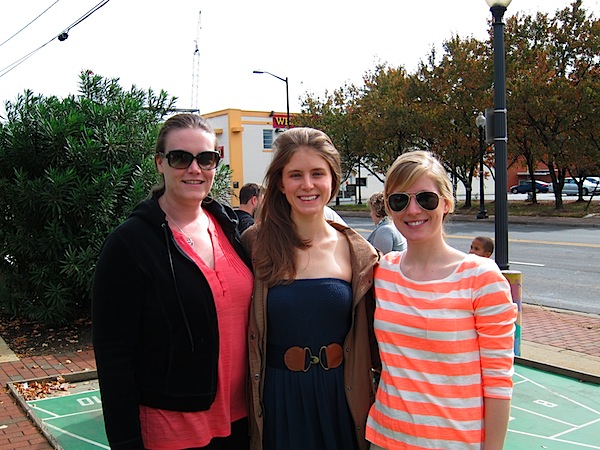 The girls and I waiting for a table:)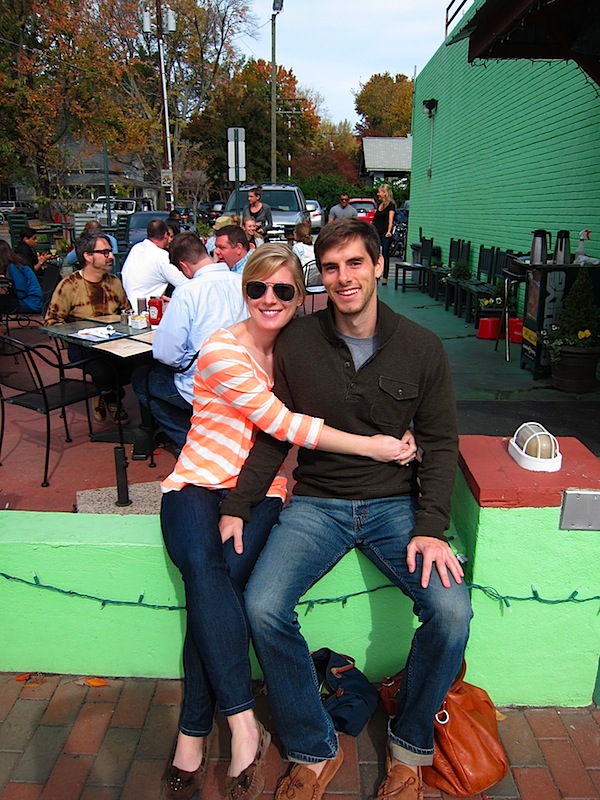 I had quite the unique meal -a bed of sweet potato hash browns topped with frittata style eggs, covered with melted cheddar cheese and a big old biscuit. The sweet potato chunks underneath were huge and soft and tasted like they may have been cooked in maple syrup. Aside from all the cheese, I actually cleaned my plate, and although I didn't feel full at the time, I've felt gross ever since:)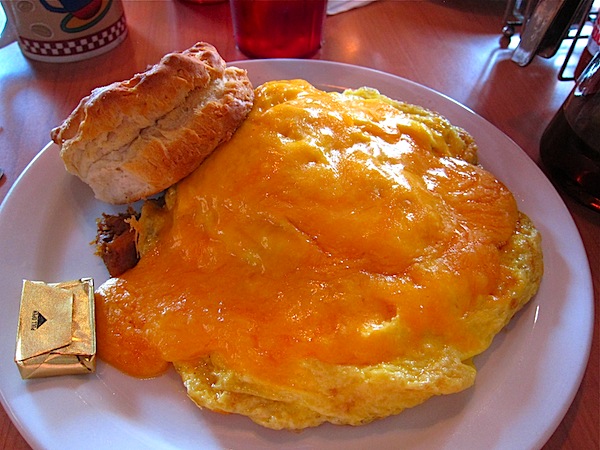 Matt and I got home around dinner time, and picked up soup and cornbread from Whole Foods because that's all we could fit.
It was kind of a strange weekend given the sick day on Friday, but it turned out to be wonderful in the end. I really love being able to spend time with good friends!