I haven't written much about the wedding these past two months because I've been working on a lot of little things. Thankfully, all the big stuff is done! The details are my favorite part.

Invitations
When I first started looking at invitations I couldn't believe how expensive they are! $600 for a piece of paper with black letterpress cursive? I knew I did not want that, so I went for a more modern and colorful invite from a small business: Southern Fete Creative.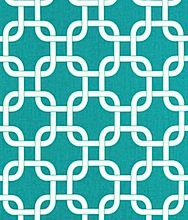 I've been using this pattern as my design inspiration because it's the same color as the bridesmaids dress and I love the clean, modern design. I was able to make some customizations to the background and the proofs look beautiful! The store owner has been great to work with and the cost was half that of many invitations I saw online and in stores. I think they went to print last week and I'll be sure to show you the final product once the guests receive them!
Accommodations
…are such a pain! Because the island only has one [pricey] bed and breakfast, I've been helping the large groups of young people find houses. It's a lot of work, but will hopefully be worth it in the end. I feel like that annoying person who just had to have my wedding on an inconvenient island. My family had a house picked out as well, but the owners decided not to rent it for the 2013 summer season, so we had to start the search over again right before Christmas. Luckily we were able to find a great place right near the reception that will be beautiful in pictures and great for getting ready on the big day!
Ceremony
This is next on my to-do list! I'm just starting to think about passages/songs/structure, but I'm overwhelmed at the moment.
Cake
We picked our cake a while back, but the baker has been sketching fun ideas and sending them my way. Love the big sugar flower on top, but haven't picked a design yet.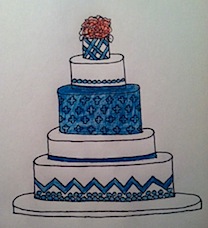 Shoes
I ordered custom shoes from
Milk & Honey
!!!!! This website is so awesome! I literally could not find the type of shoe I wanted with less than a 3 inch heel for under $300. Though my custom shoes were still pricey, I was able to pick the heel height (2.5) the shape, the fabric, and the details. I think I want to keep them a surprise for the real day, but let's just say that they involve glitter:)
And that's what I've been up to. Are there any details you'd like me to post about?