Good morning,
I have the pleasure of working from home today! It was supposed to be a teacher workday, but because of the threat of snow, we all got permission to have our teacher workday at home! It worked out nicely because we are going to visit Kath, Kanz, and Maze today, so we can leave a bit earlier than expected.
It has literally rained all week, so even though its cold out there, the sunshine feels wonderful today. It made for a long week though, which called for a school night date. We used a giftcard from Matt's parents to Toast, a restaurant I'm sure I've blogged about before. The paninis looks simple, but they use all kinds of imported Italian meats and the combinations are pretty different than your typical sandwich shop.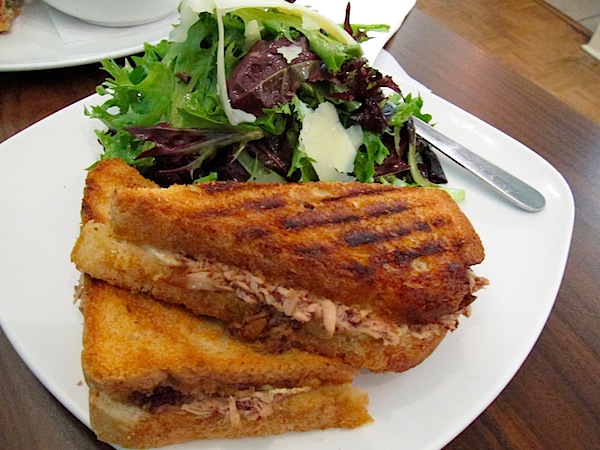 I got the spicy tuna with olive spread and it was fabulous. I'm just starting to like tuna like this on sandwiches – the smell grossed me out as a kid…
They had a special pureed cauliflower soup with olive oil and pine nuts that was amazing too – warmed the soul! We are probably going to Italy on our honeymoon, so this meal got me pumped for the food.
I'm also pretty excited to head to Charlottesville tonight – we always eat well when we're there:)
Have a nice, hopefully long, weekend!