I finally tried morning bootcamp at the Y! I've been walking by for many weeks now, on the way to spinning, and I finally found the energy to try it. Of course, it was the one day the class was designed as a partner workout, so I was that awkward new girl who knew no one. But a nice girl agreed to be my partner, not knowing that I'm not in bootcamp shape. She was a tiny little thing, but she was super strong and definitely pushed me. We did stations with burpees, push-ups, box jumps, partner sit-ups, mountain-climbers, sprints, and running with resistance. It was a tough class, but I like it a lot and will definitely go again.
The only real negative was that my tail bone was killing me during the sit-ups – we were using weights, so I was perched up on it for quite a while. I didn't think much of it after it was over, but when I got in the shower, I felt a horrible pain around my tail bone – like a a stinging insect in the crevice. I guess my form was poor and my skin was rubbing against the mat as I sat up and down because all the skin around the bone was rubbed raw and gone. Gross.
Anyway, it was nice to work out in the morning because I had a teeth cleaning this afternoon. It's been almost two years since I've had them cleaned [whoops], and the hygienist said, aside from coffee stains, I'm doing pretty well!
Dinner was simmering away in the crock pot this evening when I returned. Pork is my favorite thing to slow-cook, so I was excited to find this recipe that pairs pork with plantains. I didn't mash the plantains though – just sliced them and cooked in coconut oil. When Matt saw his plate, he asked me where the rice was! We love our rice bowls.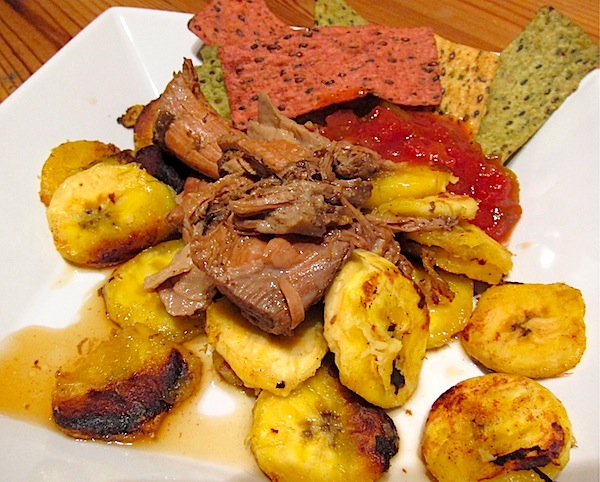 This was totally awesome though and I LOVED the combination! Made me want to go to Puerto Rico.
Time is flying my friends. I'm off to bed so I can tackle another Thursday.