Hi Friends,
Although I don't have any official pictures back from our photographer yet, I wanted to do a more detailed recap of the wedding day. My sister was able to capture some of the day with her awesome camera, so she shared all of these photos with me!
June 1st started around 8am for me. Despite being woken up by a strange garage door around 6, I had a wonderful night's sleep. I went for a jog by myself just long enough to break a sweat. I've found that regardless of the length or type of exercise, I always feel more energized when I exercise in the morning, so it only made sense to do so on my wedding day. I accidentally ran into a huge group of the guys (including the groom) around a bend, but was able to sprint away before an encounter. It was fun!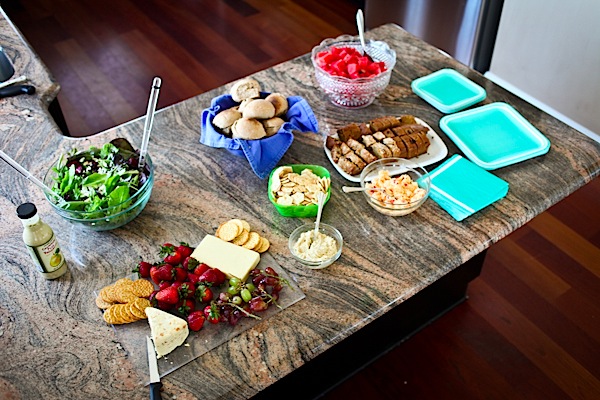 When I got home, some of the bridesmaids had already arrived for the first hair appointments. We had a hair and makeup artist come to our beach house for the day, which made everything super relaxed. My sister put out a spread of salad, fruit, cheese, and Great Harvest goodies. We had champagne and peach lemonade as well, but I was too worried about a headache to really indulge.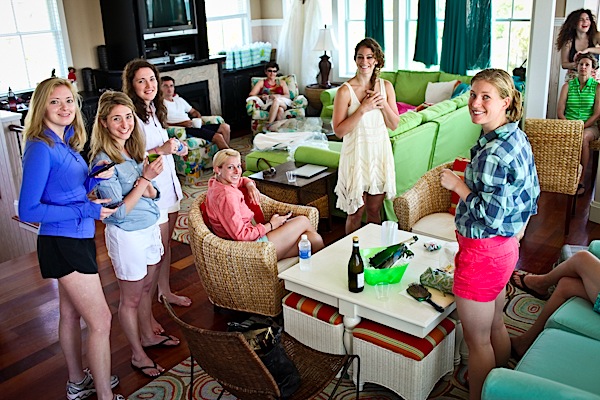 Matt's mom joined us to get her hair done!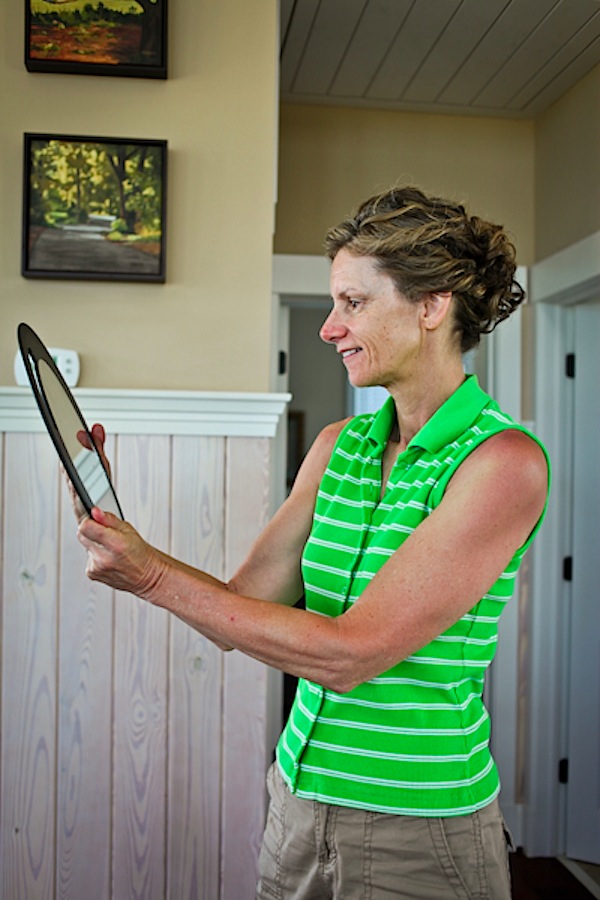 Right before it was my turn, a messenger delivered a special gift from Matt! We had a strict no gifts rule on the wedding day (we figured we had spent enough money already and didn't want one person to feel bad, which is why we made the policy!). But, Matt broke the rule and made me this awesome scrapbook! It had all sorts of mementos from things we'd done together – vacations, dates, meals, events – all the way back to 2006!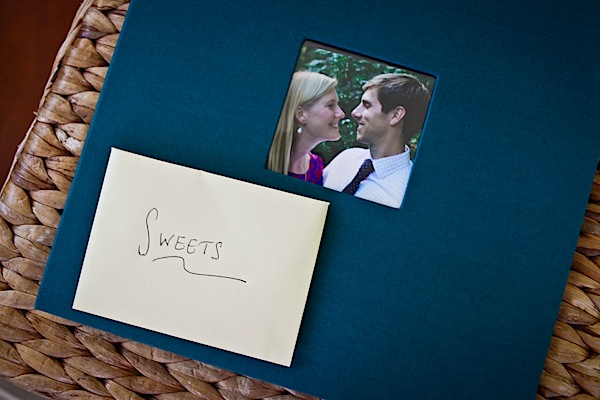 I kept it together for most of the day, except when my Grandmother called and when I read Matt's beautiful letter:)
We finished hair and makeup around 3, and after getting into my dress, Matt arrived for our 'first look.' The photographers positioned him under the trellis with his eyes closed and I came around from behind and tapped him on the shoulder. It was such an intimate moment and I'm so glad we did it! We ultimately decided to see each other before the ceremony because I was afraid of sobbing through the ceremony (which I know looks TERRIBLE) and seeing each other beforehand calmed both of our nerves and emotions. We were also able to knock out most of our pictures, which meant we got to enjoy more of our already short reception.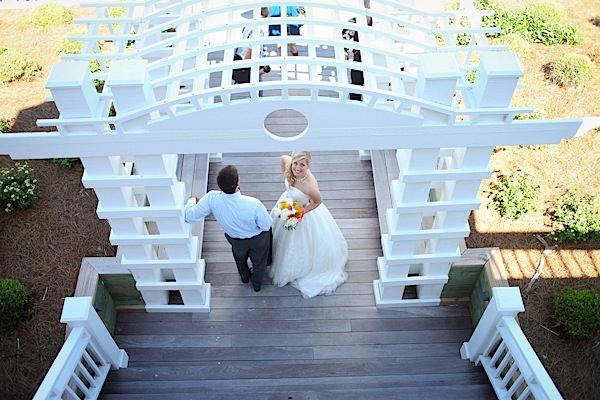 Then all the bridesmaids and I took our pictures together on the porch. We really lucked out in getting such a beautiful beach house because it made the perfect backdrop for the pictures.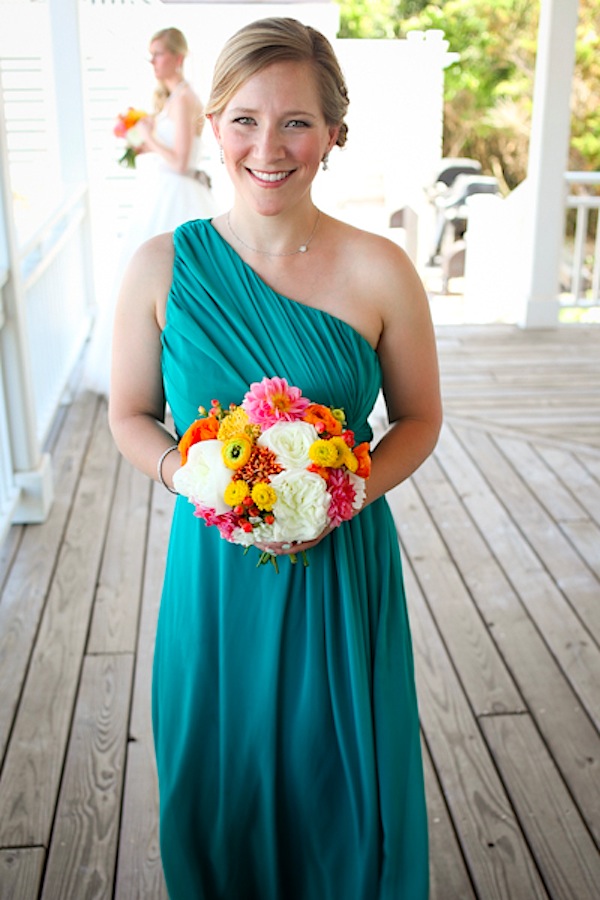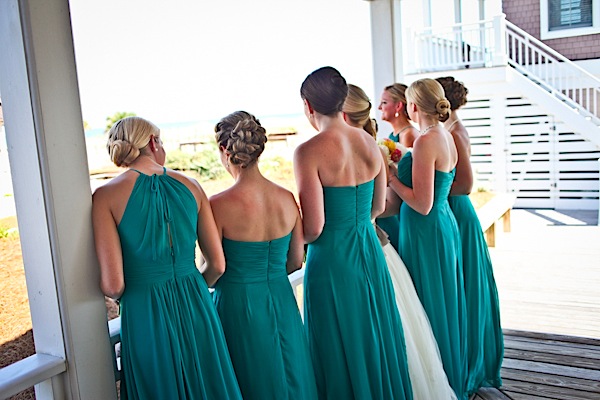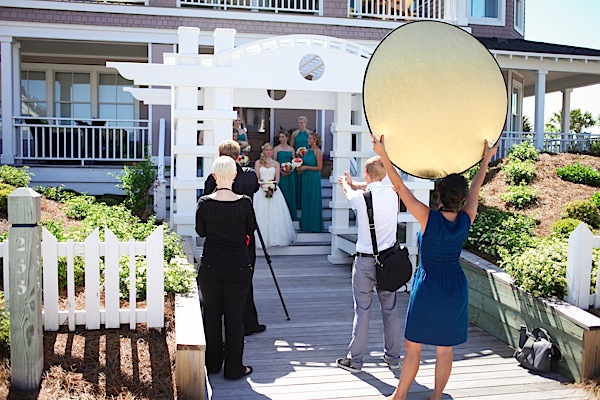 After pictures, we had almost an hour to kill, since we didn't want to show up at the church until the last minute. Since Bald Head Island is golf carts only, we couldn't ride to the ceremony in a limo, which meant there wasn't a good place for us to wait while guest arrived without being seen….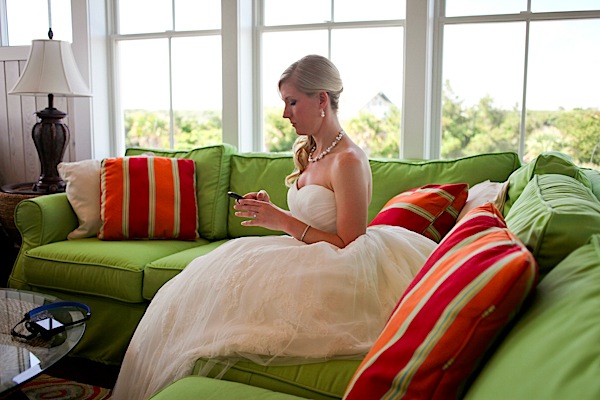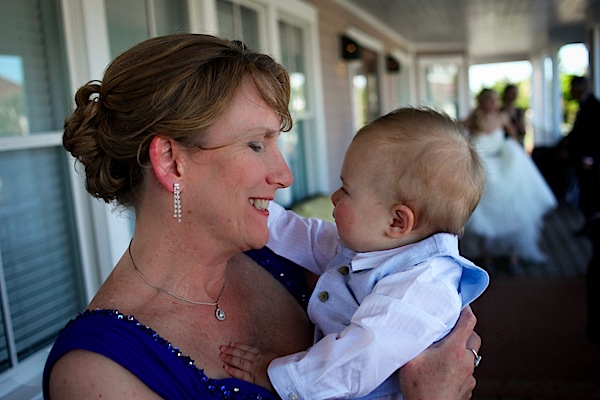 We killed time and then I gave all my bridesmaid's their gifts – custom clutches from Etsy and a simple gold necklace with their first initial! There was a message embroidered inside the clutches and a different fabric inside each one. I got one for myself too and I'm planning to use it on the honeymoon!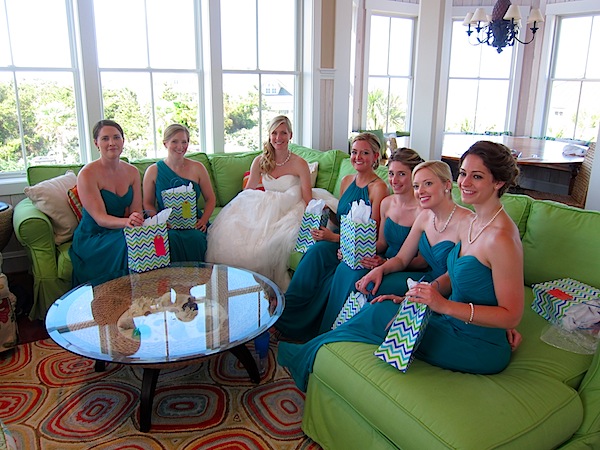 Then it was time to depart! Despite all the free time beforehand, we still managed to be 10 minutes late to the ceremony because the whole wedding party had to use the bathroom. Whoops!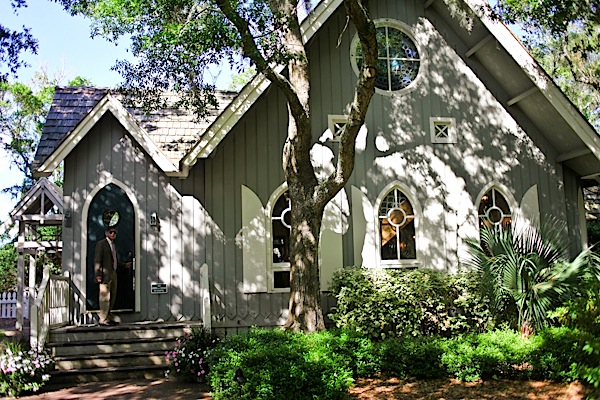 I wish I had some pictures from the ceremony, but I asked for no personal photographs inside. The service itself was performed by the minister from my parents' Presbyterian church back home, and he did a wonderful job! We wrote our own vows (but still had the minister say them and we repeated) and chose the readings and a hymn, but we asked the minister to say some words about marriage. He has a big, booming southern accent and his words were beautiful. I didn't think I would like having to stand up in front of everybody, but the ceremony was definitely one of my favorite parts of the day.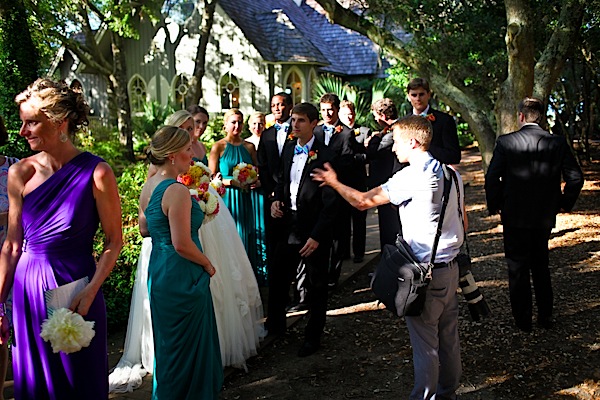 We did pictures with the family immediately after the ceremony and then took some pictures with the wedding party out on the beach. My dress filled up with sand which took forever to clean out, so I hope those pictures are worth it!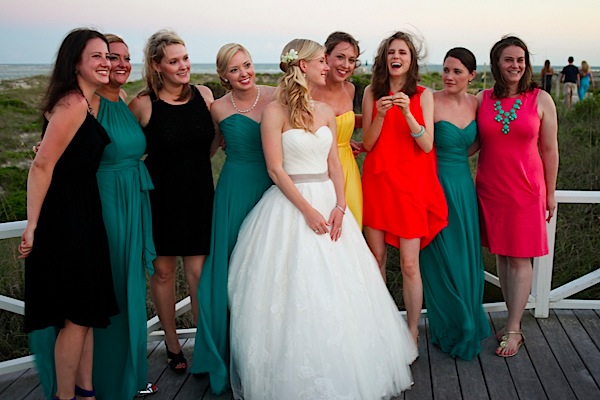 Cocktail hour was held on the porch outside of our venue. Sadly, we missed most of it because of pictures, and then opted to take a moment to breath by ourselves out on the oceanfront porch when we were finally finished with pictures. The staff brought us drinks and some appetizers to enjoy while we reflected on the wedding.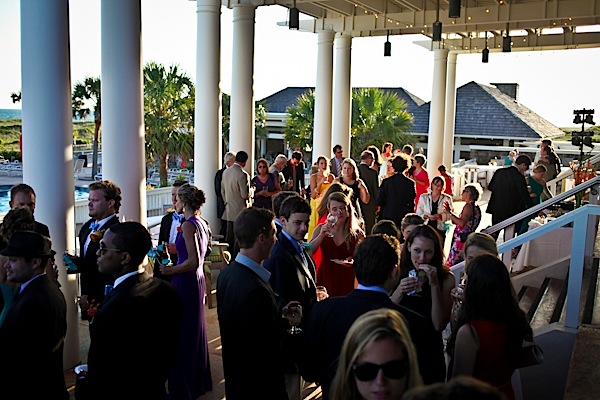 For escort cards, I made pinwheels out of pretty paper and put a table number and a name on each. The men ended up wearing their pinwheels in their suit pockets:)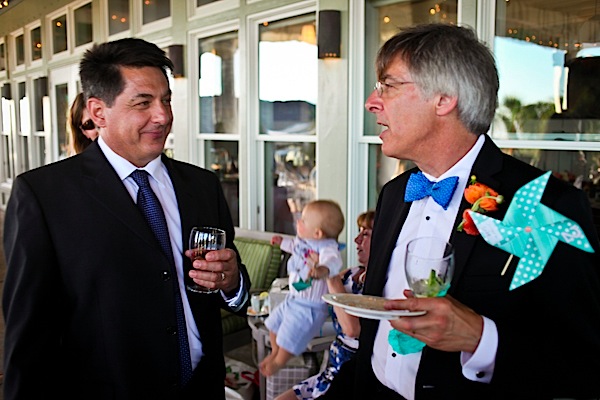 For the first dance, Matt and I took three lessons at Fred Astaire. I didn't realize how hard learning and remembering a choreographed dance in a wedding dress would be and I was secretly dreading this part all weekend! We opted to do it before dinner to get it over with:) But it turned out great and I didn't fall over in my dress. We danced to the Andrea Bocelli cover of 'Can't Help Falling In Love.' Then my dad and I did our father-daughter dance to Greg Laswell's 'Embrace Me' since we went to a Greg concert together back in the day and loved it!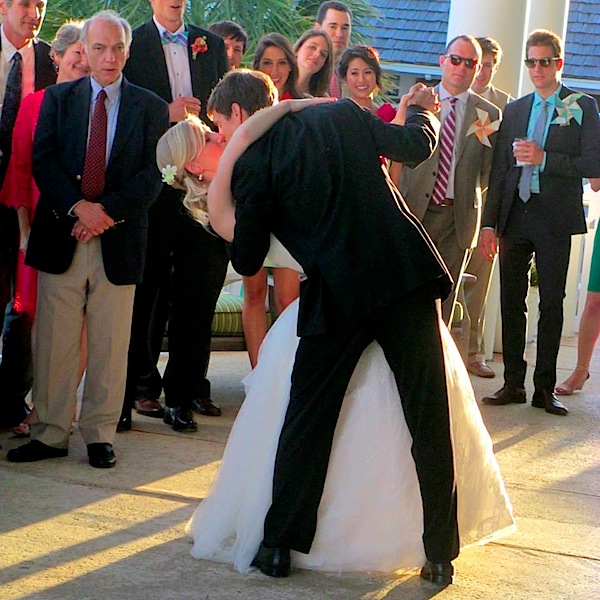 Dinner was served buffet style on the porch. Here's the full menu!
Miniature crab cakes | lemon-basil aioli
Bacon wrapped scallops | maple-pepper glaze
Cuban pork spring rolls | key lime ponzu glaze
Grape and roquefort truffles | chopped pecans
Domestic & imported cheeses | fresh fruit
Dip trio: smokey shrimp, bacon pimento cheese, & black bean | crostini & tortilla chips
Chimichurri flank steak | smoked tomato aioli
Pork shoulder | peach-brandy bbq glaze
Orzo salad | baby shrimp, tomato, & feta
Broccoli salad | bacon & roasted peanuts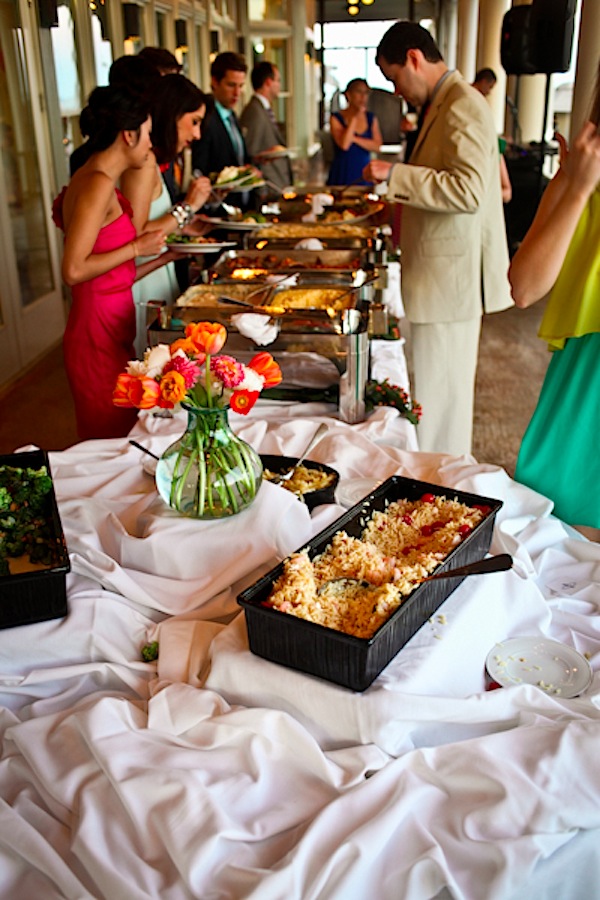 I'm not sure why there were mashed potatoes! One of the staff members made a plate for me, and I ended up going back to the buffet after picking at the first plate. It just didn't taste that good. The second round was so much better – there's just something about making your own plate and being able to get the amount of sauce, ect, that seems to make it taste better. Overall, I was really happy with the food, but it wasn't outstanding. The bacon-wrapped scallops were excellent, and the shrimp and grits, pork, and steak were all really tasty.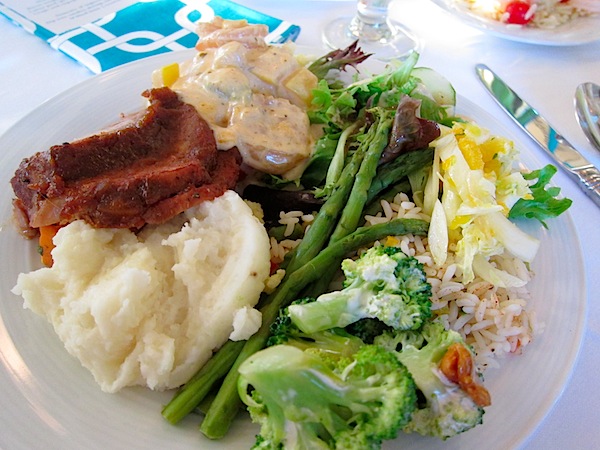 A few notes about the decor: I had custom napkins made on
Etsy
(it was cheaper than renting linens!) and I had menus and programs printed through
Zazzle.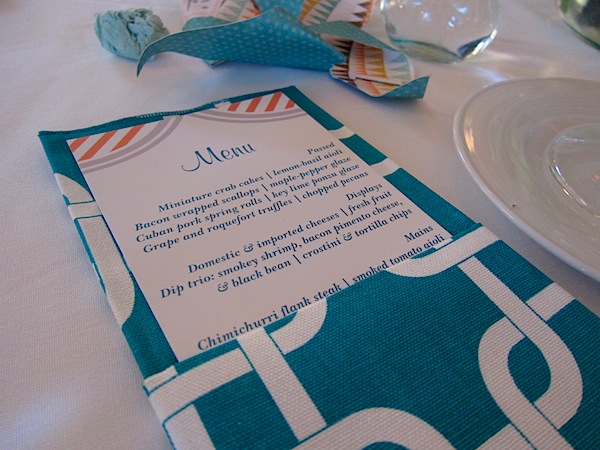 My wedding coordinator is also a florist (Courtney from
Kickstand Events
, who I highly recommend, btw) and she set-up all the decor. She happened to have the beautiful bluish-green recycled glass vases, so each table was topped with a few of those and various orange and coral flowers. She provided the candle holders as well and I bought the
teal tapers
.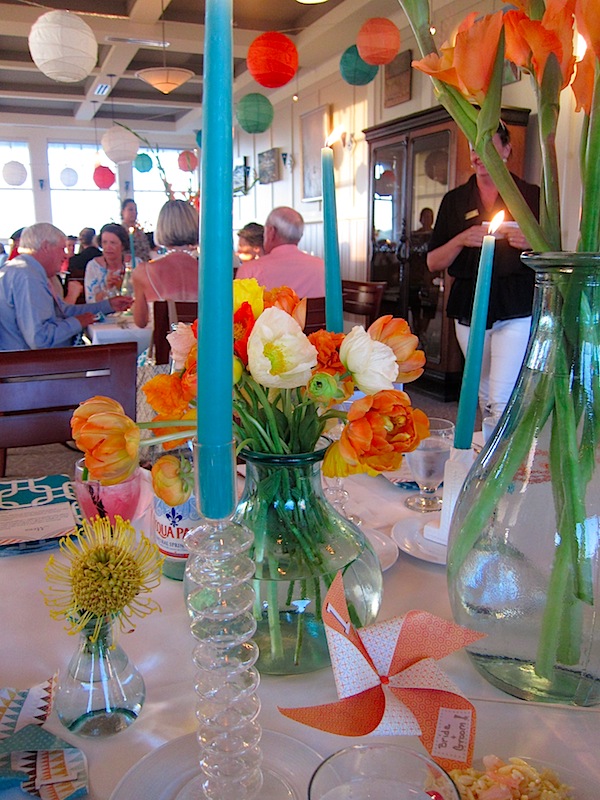 The teal, coral, and white lanterns are from
Luna Bazaar
. I lovvve color and needed lots of it at my wedding:)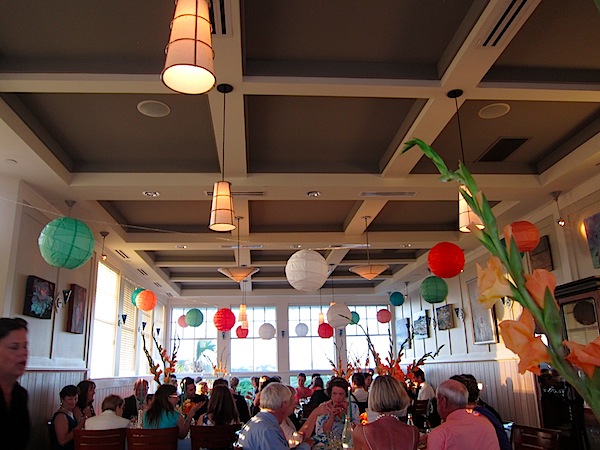 The cake was gorgeous!!!! Anna Echols from One Belle Bakery did a fabulous job because the flavor was incredible as well – we had yellow cake with raspberry chambord filling and buttercream and carrot cake with cream cheese filling and buttercream icing.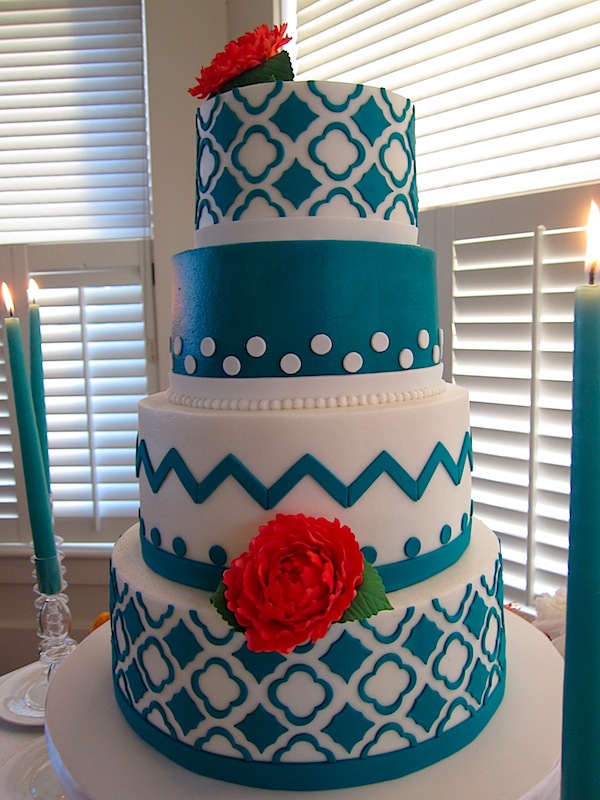 Sadly, we learned the hard way that when you offer two flavors, people eat more! Despite ordering an extra kitchen cake so that we'd have leftovers, nothing was left and I only had one small piece:(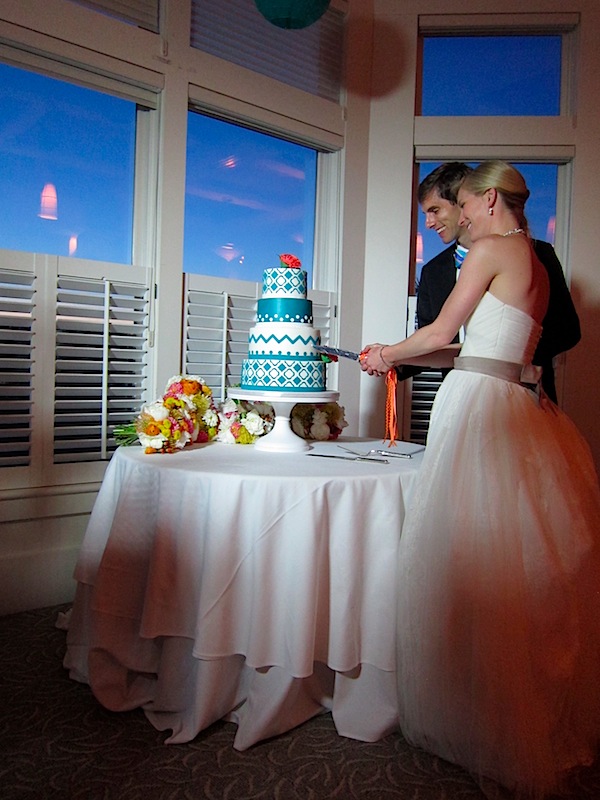 After the cake-cutting, my dad, sister, and one of Matt's groomsmen all did toasts. Again, this was one of the highlights of my night – all three were so sweet.
At this point in the night, we only had a little over an hour left! Everyone told me it would fly by, but it was even worse than expected. We got behind schedule somewhere in the evening and didn't get as much time for dancing:( So Matt and I made sure to dance the entire last hour, only taking small breaks for bourbon:) I changed into a short white reception dress for the last hour – I'm so, so happy I did this because my dress was starting to feeling really tight and I was soaked in sweat.
After the last song, Matt and I escaped to our room in our decorated golf cart. We ended up venturing back out to the after-party, where we continued to dance until 4am!! It was truly a perfect day, and I think it actually exceeded all my expectations. I had mentally prepared myself for something to go wrong – I mean everyone kept telling me something would go wrong – and nothing did!!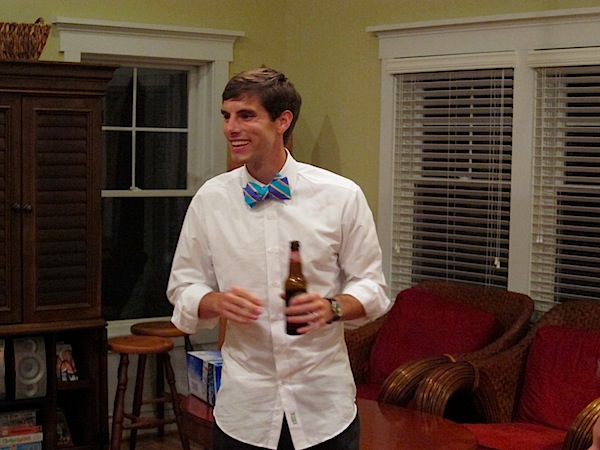 I feel so lucky to have married the man of my dreams with such a beautiful wedding from my generous parents with my best friends in the world!
Time to honeymoon!