My absolute favorite part about moving to a new city is the exploration phase! Matt and I have been taking long walks at night, just strolling through the neighborhood and taking notes on all the cute places to eat and drink. We've been focusing on buying groceries and cooking at home during the week, but we ventured into the Knox-Henderson neighborhood on Friday for dinner at Fireside Pies. It was miserably hot, but there was no wait on the patio, so we decided to give it a try.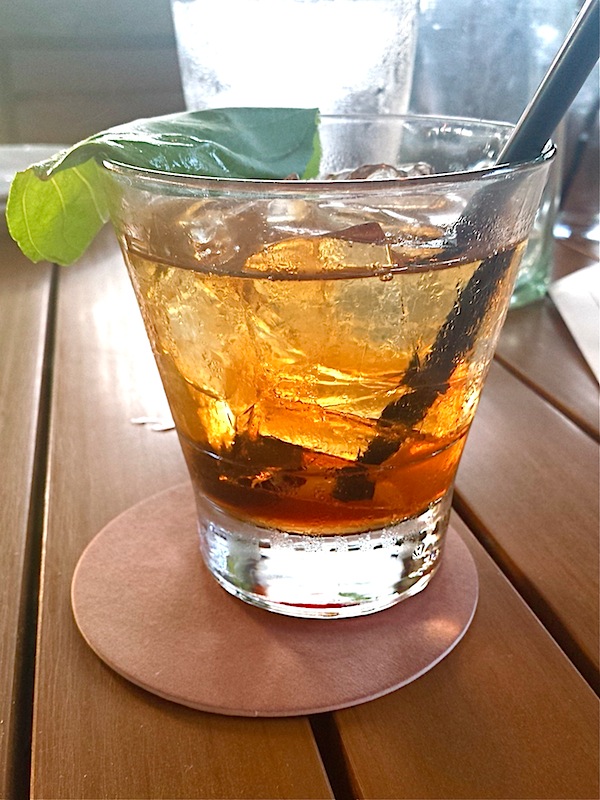 Despite the appearance of the sad, hot piece of basil, this rye whiskey, homemade cherry syrup, and amaretto made for an awesome cocktail.
I loved that Fireside had salads that are truly big enough to be shared – we ordered the harvest salad with endive, pears and apples, dried Cranberries, Pt. Reyes blue, marcona almonds, crispy housemade pancetta, and champagne vinaigrette. It was huge and fabulous!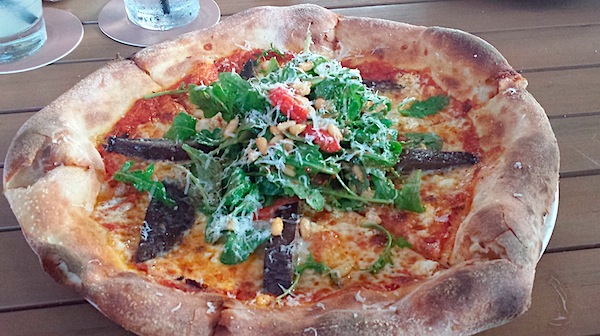 For the main event, we chose the Peta Pie: Mont Chevre goat, balsamic mustard portobellas, arugula, red peppers, roasted piñon nuts & charred tomato vinaigrette. The crust, sauce, and toppings were all winners! I loved the mushrooms so.much. I'm not too traditional when it comes to pizza, but there was something about this tomato sauce that was so good, I would it eat with just plain sauce and cheese! I can't wait to go back on a crisp fall night (do they have those in Dallas?!)
On Saturday, we couldn't resist another night out when I spotted a Groupon for Max's Wine Dive in Uptown. I'm glad we made a reservation, because it was packed to the brim. And loud. Like so loud I couldn't hear Matt. The wine selection was great, and we got to try three glasses before choosing.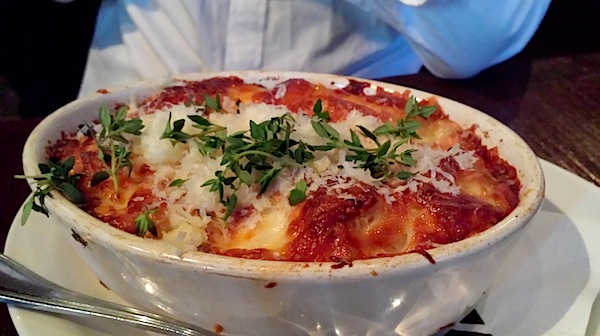 I had to order the "drunk bread" to start, knowing that this would have been a dream come true after a night out partying in college! Of course I thought it was named that because drunk people love it, but I think it was just because the bread was baked with wine:) It was a bowl filled with torn sourdough bread and prosciutto and fresh thyme that was soaked in a savory white wine custard and baked with Gruyère, provolone and Parmigiano-Reggiano. The bread was more like dough and it all melted together for a heavenly combo.
We also shared an order of pork stuffed peppers that were just average.
The kitchen was all out of the short-rib sandwich, so Matt and I settled for the burger. Only it wasn't settling, because the burger was incredible! The bun was perfect and the meat was so juicy. The fries were pretty darn good too. Despite ordering too much food and hating the loud metal music, Max's was really good.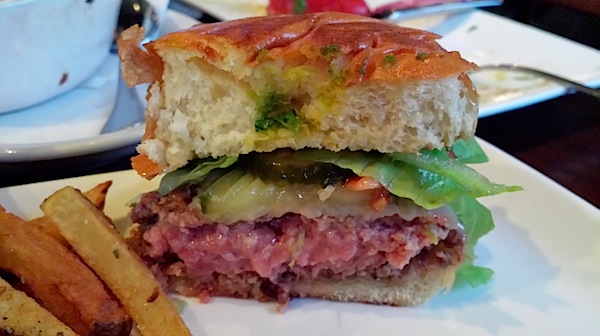 Lots of good eats here in Dallas! We're heading to a beach bar with volleyball courts as well as an FC Dallas game this coming week! Have a good one.