Hi Monday,
I had a jam-packed weekend here in Dallas – so many fun things to see and eat!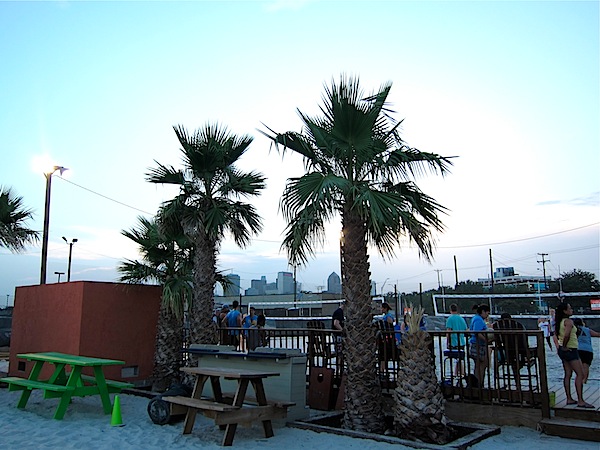 Thursday evening, we checked out the Sandbar Cantina for a friend's birthday party. I was pretty excited to see this beach volleyball bar, as it was covered in white sand and seemed like a cool concept just outside of downtown.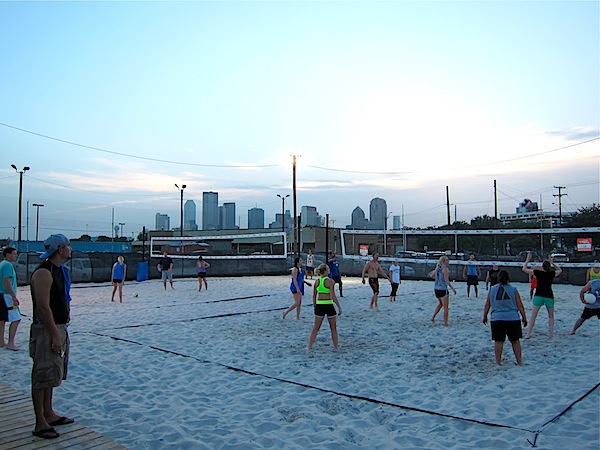 It was definitely a neat spot, although most of the volleyball courts were busy with league matches, so it doesn't seem like many people go to Sandbar just to hang out if they aren't involved with a league. It was fun to sip Corona in the sand and the food was decent – I was a bit disappointed that the menu was so small and only included tacos and burgers, but hey, it's bar food. I love both, but I feel like that's all I've been eating in Dallas thus far:) Matt and I shared a burger with pineapple and avocado fries!!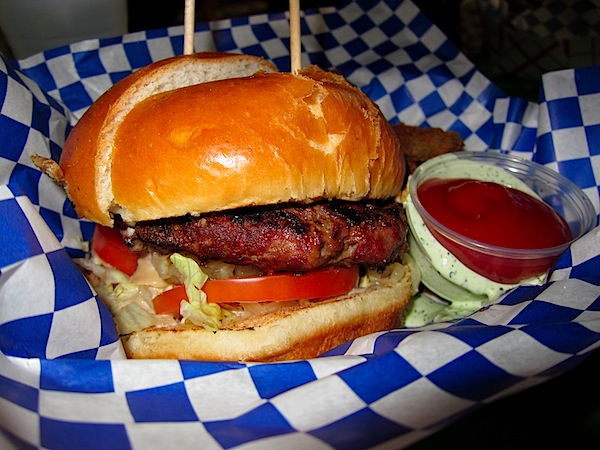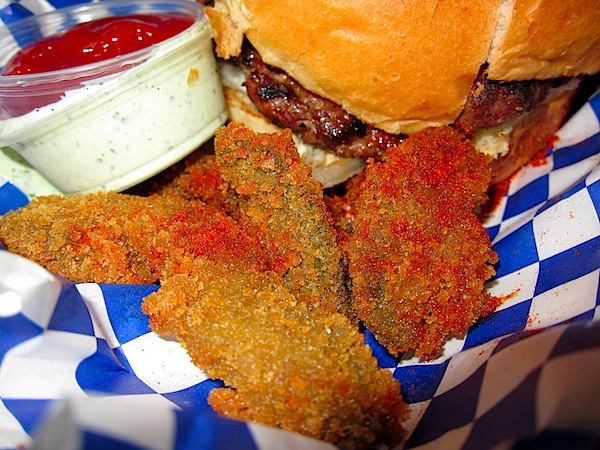 On Friday, the Dallas Trader Joe's opened and I braved the crowds to stock up. It actually wasn't that crowded and I was surprised there weren't more fun samples. I'm so happy to have masala burgers, dill havarti, and jalapeno hummus!!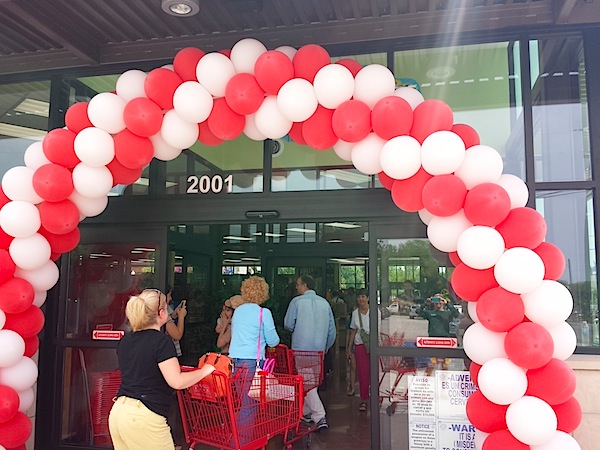 In the evening, Matt and I met friends at The Common Table – this place has been recommended by so many people and it's really close to us, so I was pumped to try it. The patio was super cute and the beer list lived up to expectations. I'm loving some of the local beers, especially the Revolver Blood & Honey, and it's fun that there are so many more midwest and west coast breweries on the beer menus in Texas. I hear the food is awesome as well – we didn't eat anything because we went the Groupon route yet again for dinners out this weekend.
Friday's Groupon was for State & Allen (hey, that's my last name now!). I had one of the best salads of my life – a unique combination of crab meat, watermelon, beets, goat cheese, and big fried green tomatoes (hidden on the bottom) over arugula with a balsamic reduction.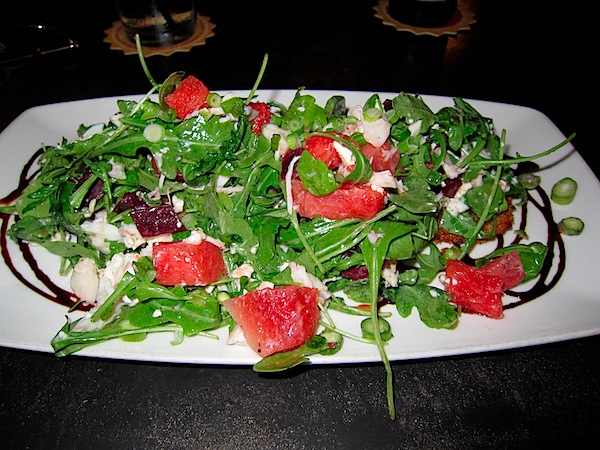 Saturday we met my friend Liz at an arts market in the Design District.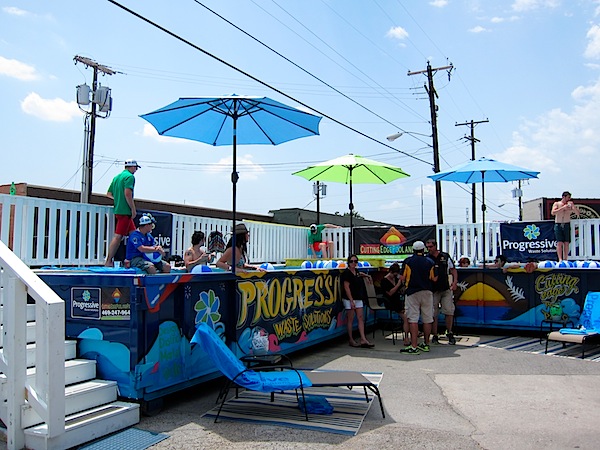 There was a dumpster pool (didn't pack my suit, darn), really awesome live music, and FREE BEER!! I ordered a Fireman's #4 blonde ale, and was super excited when the guy told me I didn't owe anything.
All of the art and goods were really neat and I picked up this handmade Texas necklace!!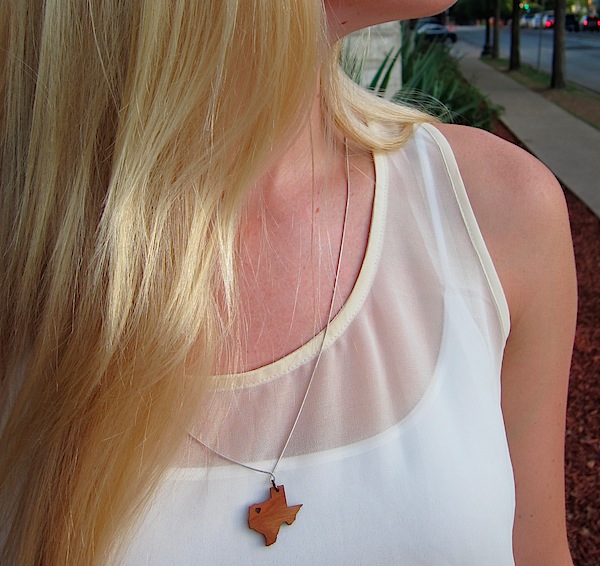 I had read about some of the Dallas food trucks, so when I saw the Nammi truck, I knew that's what I wanted for lunch. I tried the bahn mi with bbq pork and it was incredible!!!! It was pricey at $9, but big enough to share and really tasty. This local sparkling (?) water was great as well.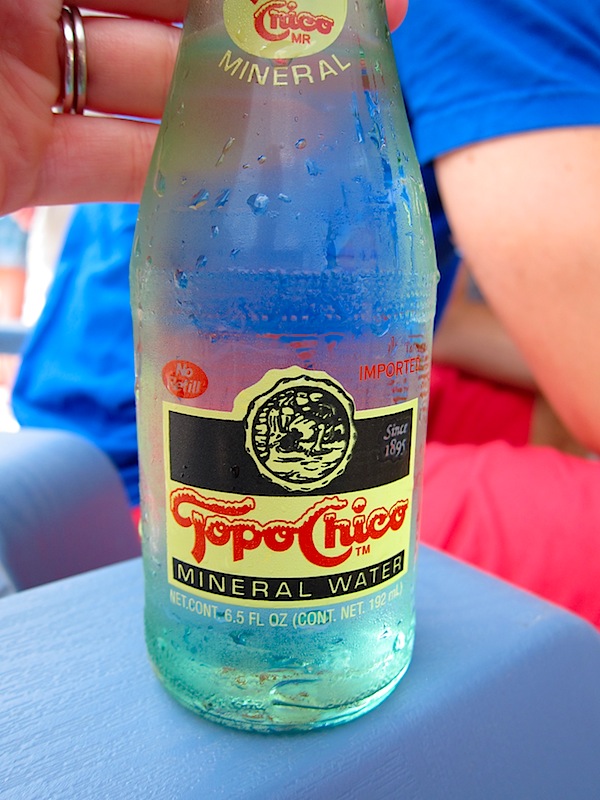 Groupon #2 was for Pozo, a fresh mexican-inspired restaurant with a cute deck outside of an old house.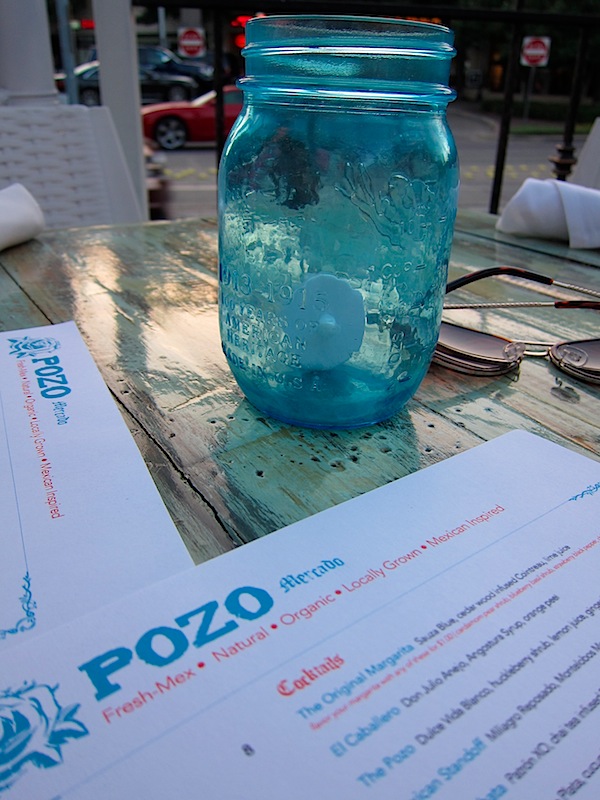 I ordered a strawberry black pepper margarita, which was really disappointing. For $10, it was watered down and not very strong – why would anyone serve a margarita 'on the rocks' over crushed ice!!? It took up a ton of space and melted instantly in the Texas heat.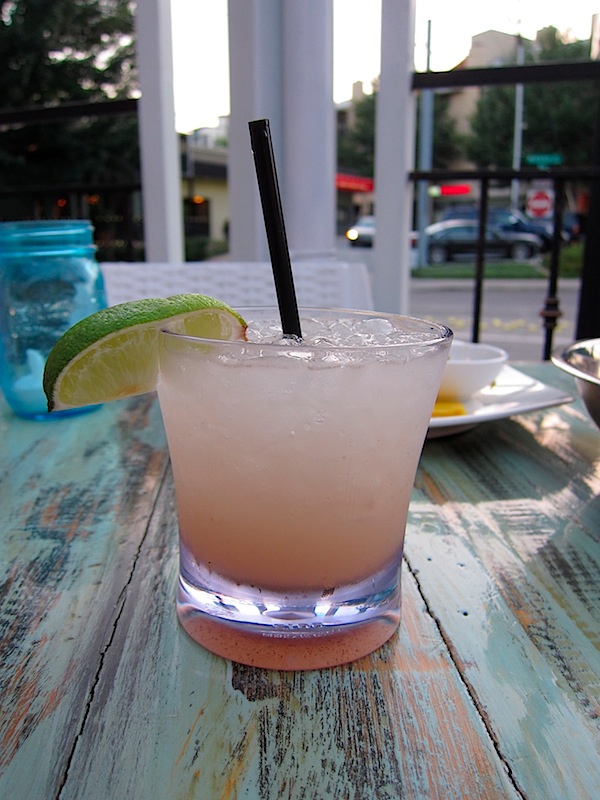 The good news is that everything else at Pozo was delicious.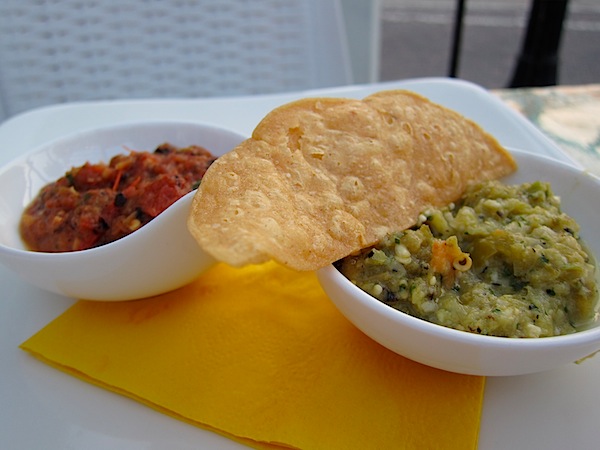 The salsa was really thick and flavorful (although really spicy) and the chips were the good thick ones that you know are terrible to consume in large quantities…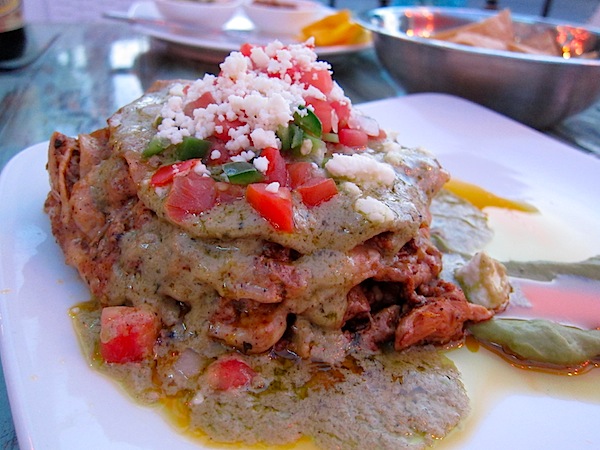 We ordered two entrees to share and they were both huge – the Udin Azteca (above), which was like a mexican lasagna with chicken, mango, queso fresco, chorizo, jack cheese, cilantro, and a tomatillo-poblano sauce. This dish was stuffed with so much meat that it was really rich (I'm actually surprised it didn't make my stomach hurt), but it was so good and unlike any mexican entree I've ever had.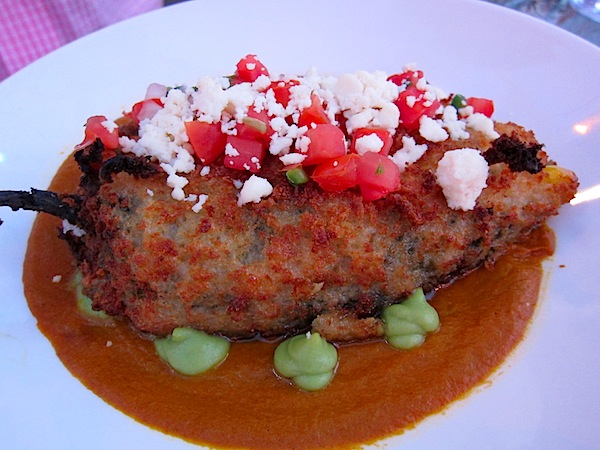 The chile relleno was a little lighter, although still giant, and was filled with grilled vegetables, spinach, pecans, goat cheese, avocado cream, and queso fresco. Loved both!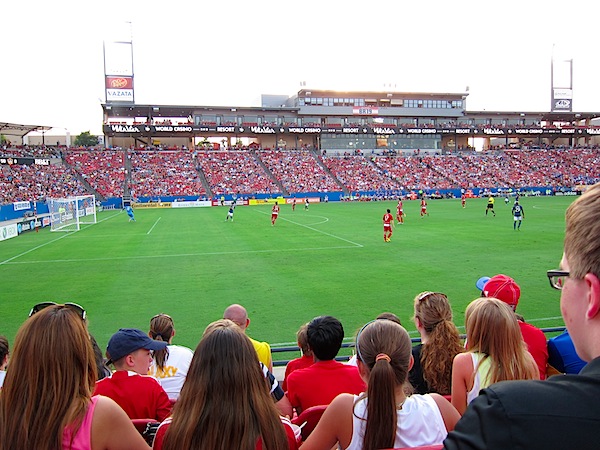 And Sunday, we attended the FC Dallas – LA Galaxy game! Having played soccer in college, Matt obviously loves the sport and I definitely enjoy watching it more than the others.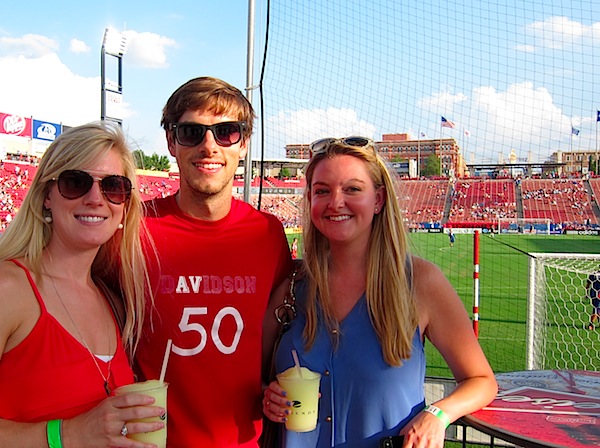 Conveniently, there's transportation that will take you to the game from a couple of different bars in Dallas, so we took the bus on the trek to Frisco. As can be expected, the food options at the stadium weren't great, but we enjoyed a brisket plate and frozen margaritas in the 'beer garden.'
The game was super exciting in the 2nd half and ended with a 3-3 tie.
And that was my weekend. Let's hope this week can be healthy and productive. See ya.