I participated in an Ambassador Program on behalf of Millennial Central for Marriott Rewards. I will receive Marriott Points to facilitate my review as well as a promotional item to thank me for my participation.
It's no secret that I'm obsessed with travel. And not just the actual vacation – I adore travel planning and picking the hotel.  So when I was approached about the opportunity to be a Marriott Rewards® Ambassador, I was pumped and applied right away! I'll be posting two more times over the next six months as part of the program.
If you aren't familiar with Marriott Rewards, it's a free hotel rewards program that allows members to redeem points for hotel stays, flights, exclusive events, and shopping. Members also earn status and enjoy benefits such as priority check-in and complimentary room upgrades (you can sign up and learn more at the Marriott Rewards Enrollment Page: Marriott.com/rewards). Matt already participates in the program because he travels quite a bit for work. He researched a couple of different programs and chose Marriott Rewards because you can earn and redeem points at 3,700 properties around the world and because it's been voted "Program of the Year" 6 years in a row! We already redeemed points for a completely free stay when we were in New Orleans over New Year's!
This year, Marriott Rewards is celebrating its 30th birthday with a Year of Surprises. I love the idea that there are a million reasons to celebrate. I mean, I probably celebrate something small every day. My favorite way to celebrate big events, birthdays, holidays, anniversaries is obviously through food, and my family pretty much celebrates everything with cake! I've never had a surprise party though (I'm such a planner, I think Matt is afraid to try). I did surprise Matt with airline tickets to Miami once! Anyway, Marriott Rewards is looking for memorable and unique ideas for surprise parties, and you can nominate anyone you think deserves to be celebrated at yearofsurprises.com. I bet it's a lot easier to pull off a surprise party when someone else is doing the hard work! For more details on the contest, visit the Year of Surprises Official Rules at yearofsurprises.com/rules.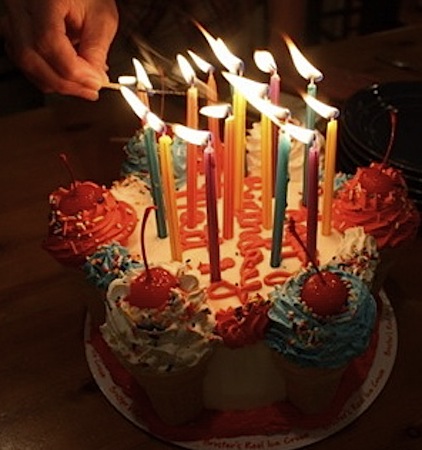 Have you ever pulled off a surprise party for someone else or been successfully surprised? I kinda want to plan one now!