Our trip to New York felt so fast because we packed a ton into 2 days! We were in the city for the wedding of two of my Davidson friends – they fell in love when we studied abroad in Cambridge!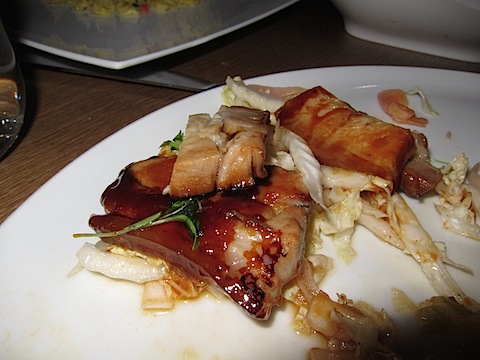 We arrived Friday afternoon, and after walking around for a couple of hours while Matt worked, we headed to Chelsea to meet friends at Buddakan – this has been on my list for a while because I love fusion + small plates. The pork belly above came with buns and was probably my favorite plate.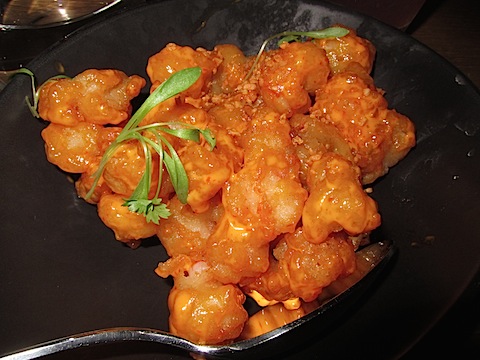 We had chili shrimp and deviled tuna tartare,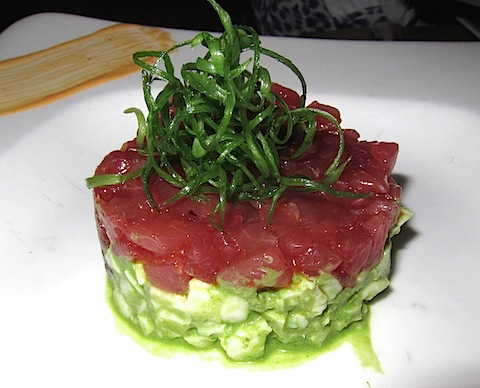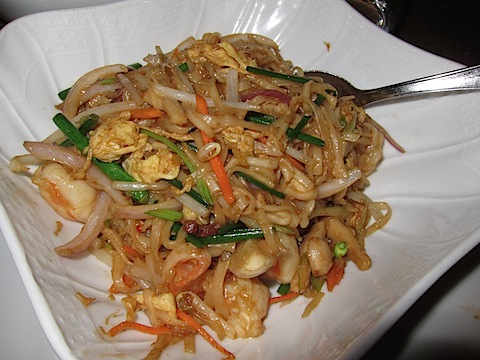 and prawn and mushroom noodles (also a favorite) and broccoli in a brown sauce. Dinner did not disappoint and the space, cocktails, and service were great as well. After dinner, we stopped by the wedding welcome party and then called it a night. I sure can't stay out like I used to.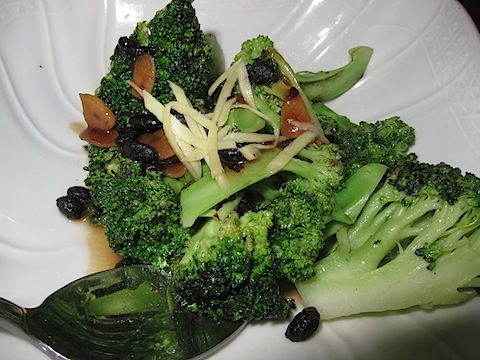 Saturday was a wonderful day! The weather was iffy, so instead of going for a run, Matt and I went to a nearby Equinox and took a spinning class. I rarely have access to good classes while traveling, so it was great to start the day with a solid workout.
We found out at the last minute that Matt's parents were going to be in the city, so we met them for a lovely brunch at The Little Owl – another restaurant that's been on my NYC list. We obviously started with the beignettes with nutella and raspberry sauce.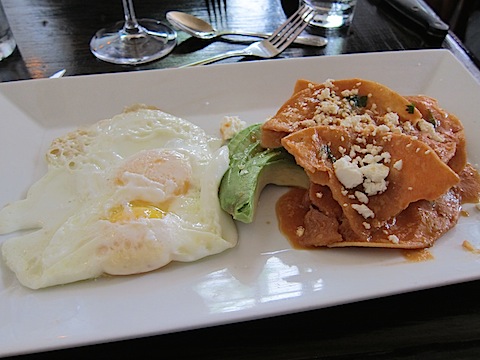 I had the chilequiles, which were somewhat deconstructed. The flavors were very unique and I really enjoyed the dish, but I think I prefer my chilequiles in a big bowl:) Matt had the burger which was amazing!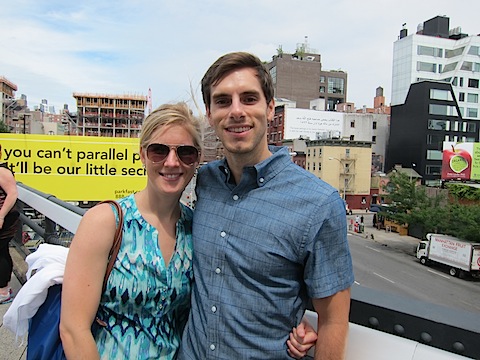 After brunch, we strolled through the Chelsea market and along the Hyline, chatting the day away – we ended up having great fall-like weather so it was a very pleasant afternoon.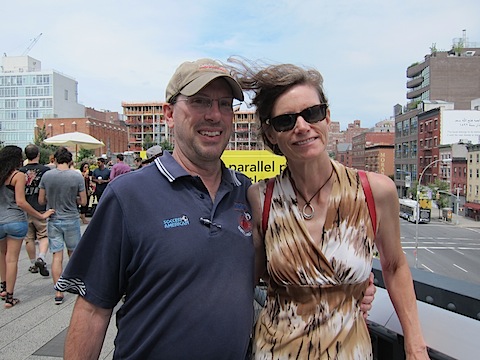 We said farewell to Matt's parents and got ready for the wedding at the Harold Pratt House.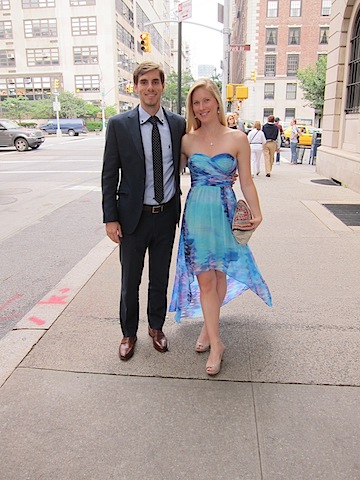 The venue was beautiful and I loved that we moved to different rooms for each phase of the wedding.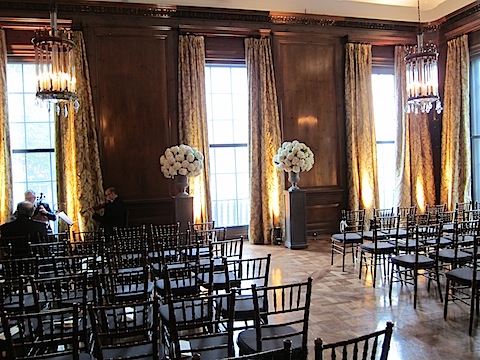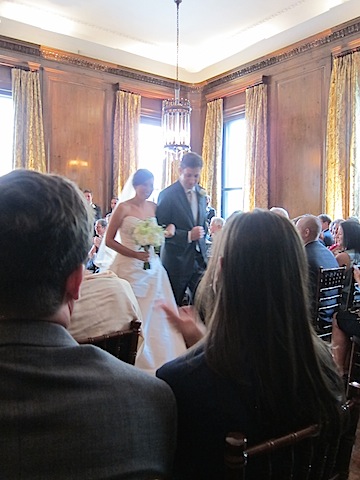 The happy couple!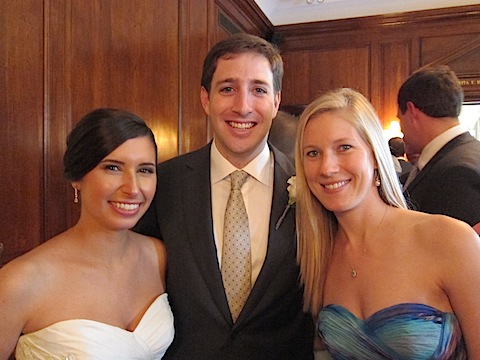 After the ceremony and cocktail hour we had a seated dinner catered by Daniel.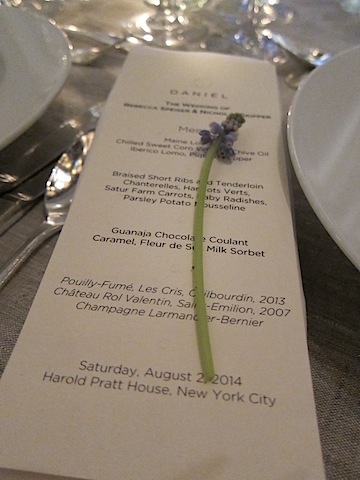 The food was divine!!! Our first course was lobster with sweet corn. I LOVED that each course had a specific wine pairing!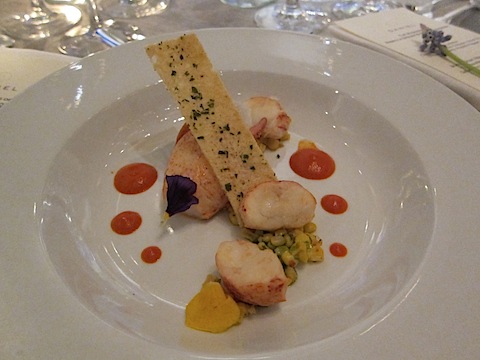 Our second course was braised short ribs and beef tenderloin – both meats were melt-in-your-mouth good and were paired with a pinot noir.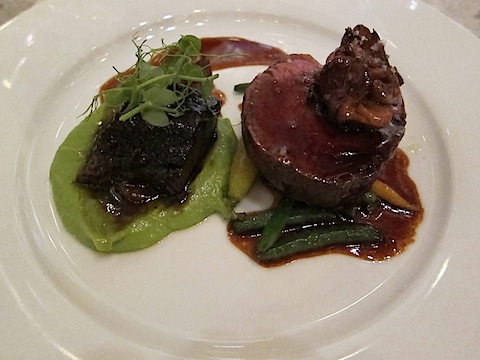 The dessert course was a chocolate coulant paired with champagne! The middle was like a gooey raw brownie.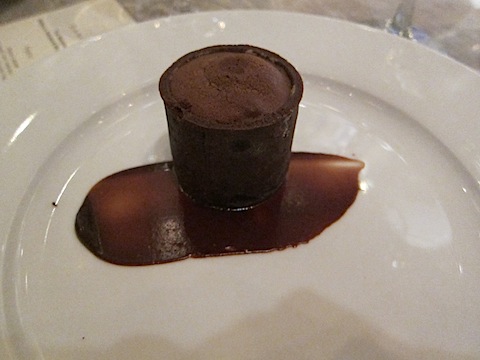 There was an awesome live band who played both really good classics and new music. A few hours into the dancing, the bride and groom cut the cake for round two of dessert. They also brought out sliders and hot dogs at the very end for anyone who had worked up an appetite dancing.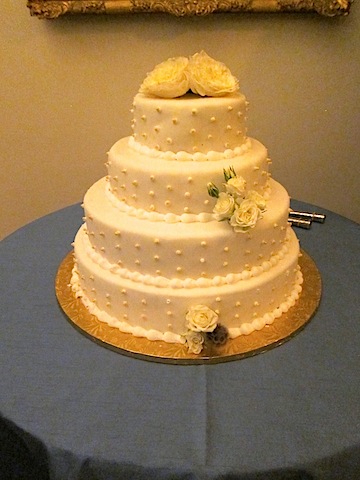 It was an absolutely perfect wedding until the Rolls-Royce that was supposed to take the couple to their hotel caught on fire! Luckily, they were out of the car and the staff was able to put out the fire pretty quickly. Scary!
The weekend ended with brunch on top of the Nomad Hotel. This was such a nice touch for out-of-town guests and the food was fantastic.
What a lovely end to a whirlwind summer. I still have one more wedding to attend back in NC, but it's after I start work next week. See ya.