March is coming!
Today was the start of the last trimester at school. Where did the year go? Last week was a bit crazy with last minute parent meetings and such. I'm hoping things are quiet for the next couple of weeks. After spring break, I'm teaching part of sex education, so that should be fun!
I had the lowest key weekend possible. Friday night, Matt brought home burgers and salad and we brainstormed last minute spring break ideas in Texas.
Saturday, I skipped my usual class at the gym in lieu of a nice jog around the hood. I had to be ready on the early side because I went to see the 7th grade musical at my school. It was The Lion King, aka, best musical ever. The kids did a fabulous job! I had the songs in my head all day.
We had a birthday party to attend on Saturday night, so I decided a casual dinner was in order. We checked out the famous
Mia's
for classic Mexican food and margs. The restaurant is pretty hunky but it was packed, so I knew it was gonna be good. I ordered one brisket enchilada and one chicken enchilada. Both were fantastic and satisfied any Mexican craving for a while. As you can imagine, this hole-in-the-wall restaurant didn't have the best lighting: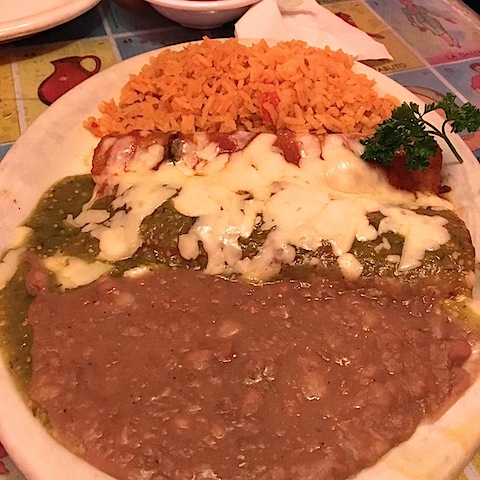 Even though I wanted a nap after this meal, we made it our friend's party for cocktails. It was outside on a roof deck, and we got really lucky with balmy weather. Got me very excited for summer nights!
I took a break from the usual pancake breakfast and made french toast on Sunday morning. Man, this was good! After yoga and the Oscars, the weekend was over just as fast as it began.