Hello! How about a day in the life post?
My non-work days look a lot different than they used to…but I love it. It's funny how I remember playing house and playing with dolls when I was little, and this is always how I imagined my adult life. Emerson pretty consistently cries or wakes up around 5:30 or 6, but if I feed her or bring her in bed with me, I can usually get her to sleep until about 7:30. I know this is a bad habit, but sleep is my top priority on the days I don't have to be in the office.
We usually hang out in bed for a while and then go down in our pj's for breakfast. I've been eating overnight oats heated up with peanut butter and banana for 5 years and haven't gotten tired of it yet. I drink chai tea. Em hangs out in her activity gym or bounces and plays with toys. She's usually super smiley in the mornings and very talkative. I always check my work email and occasionally have to join calls if meetings are scheduled.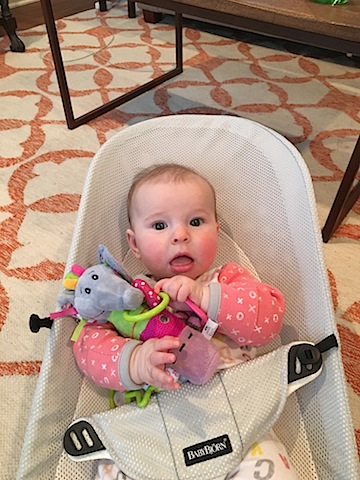 I'll feed Em after about an hour, and then take her back upstairs for a bath. She's getting too big for the tub and water gets all over the bathroom. But she likes baths and is always so cute when she's splashing and getting glimpses of herself in the mirror. Once Em is all clean and dressed for the day, we'll play some more before I put her down for a crib nap. This is her most consistent nap of the day, as she's very predictable in the morning and gives me all the clues when she's tired. Once down, I can usually get a 45 minute nap out of her and I head upstairs to our bonus room to do a PopSugar Fitness workout video.
If I can't fit in a shower during nap time, I put Em in the rock 'n play right outside the shower door, and talk to her while I shower. I'm lucky that she's pretty content just hanging out and talking. Then it's time for more play time downstairs – we read books or I put Em in the structured carrier and straighten up the house. I feed her again in the late morning.
Lunch time! I usually have a bunch of stuff on hand that I can just throw in a skillet or the microwave. This particular bowl is spinach, mushrooms, hummus, rotisserie chicken, cheese, and a fried egg. And chips. I almost always eat tortilla, sweet potato, or plantain chips with hummus when I'm prepping lunch.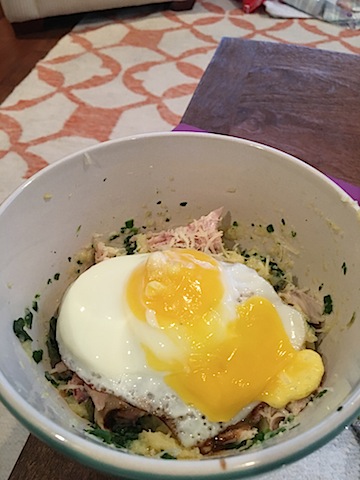 I spend a little more time on work email and can usually get a cat nap out of Emerson on my lap around 1.
Afternoons are when I try to get out of the house. Even if it's just a walk, I feel so much more accomplished if I go outside. I run errands, we go to the cry baby matinee, we meet friends for walks, or sometimes walk around the mall. Em loves her stroller, and if she's not looking at the world, she'll usually take another cat nap while we're out and about.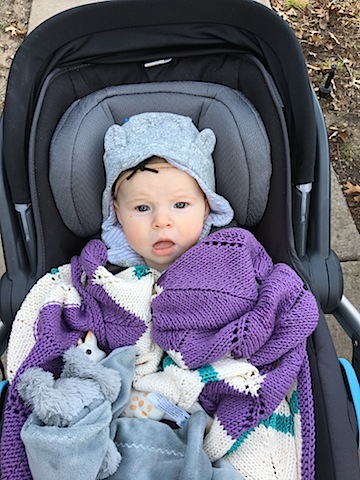 On this particular day, I was hungry when we got home, so I made some peanut butter balls with oatmeal and coconut flour for snacking. Em isn't wearing any clothes in the background, so she probably had a blow out:)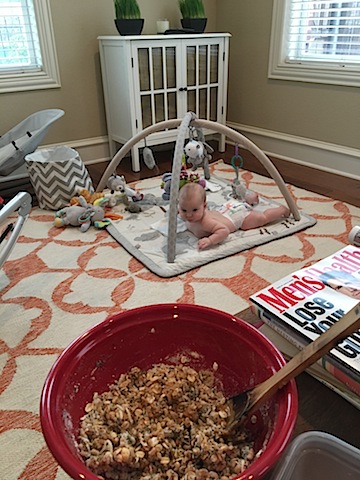 I used the bottom of a pb jar and it was thick and didn't distribute well. Some of the balls tasted better than others! I feed Emerson again and then we start counting down until Matt gets home.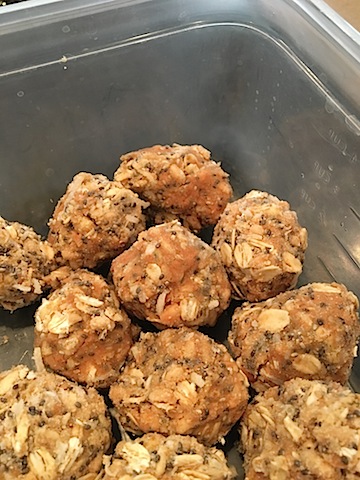 Em tends to get a little fussier as she's getting tired in the evenings, but she sure gets excited when dad gets home. She definitely gets tired of me because she smiles and stares at him from the minute he walks in the door. I think she's already figured out that dad is more fun. I take advantage of Matt's help and answer any work emails that can't wait.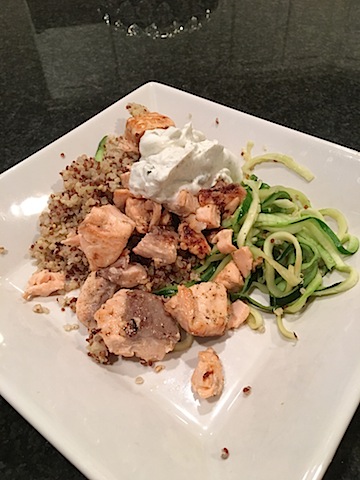 Matt plays with Em while I make dinner – another one of my go-to bowls. This one is salmon and zucchini over quinoa with lemony yogurt on top.
I change, swaddle, and feed Em and then put her down in the bassinet around 7:30. I moved her bed time forward a few weeks ago and started doing a dream feed around 10. It seems to be working well as she's waking about 5 hours later to eat.
If Matt doesn't have too much work to do, he'll clean up the kitchen and then we'll eat something sweet while watching tv. We retire and read for a bit right before bed, and then get ready to do it all again. Pretty exciting stuff!