Hi Friends,
How's it going?
Here's our 6 month update:
We had some major regression this month – both with falling asleep for naps and staying asleep at night. The good news is, we've been doing some sleep training to help with the wake-ups, and Emerson has slept through the night (well, until 5am) a few nights in a row this week. While this is definitely something to celebrate, she did this back at 3 months, so it only feels like a small step forward. I guess I wasn't prepared for the regression! In terms of falling asleep, she keeps rolling over to her stomach, but then can't figure out that she just needs to lay her head down and sleep. Whenever, she's on her tummy, she just pushes up and screams. I know she'll eventually get tired and figure it out, but I just hate seeing her so frustrated.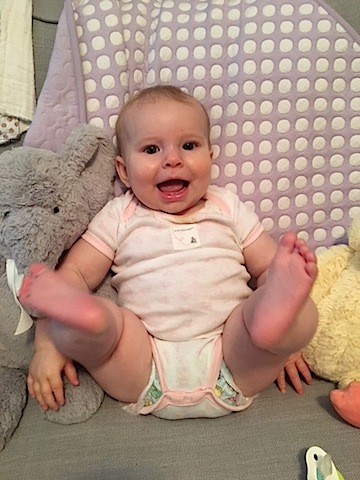 Sleep aside, she's at the incredible stage of being able to sit up, but not being able to crawl yet. She's able to get onto all fours in the crawl position so I know it's coming soon. And she's a hoot. I love seeing her personality develop! I'm definitely anticipating that she's going to be a handful as a toddler (I guess they all are). She's so darn cute though, so I just have to laugh at the tantrums she's starting to throw when I take something away from her. She's also making all kinds of consonant sounds!
Emerson loves going to school and is probably the most social baby of the bunch. She's constantly smiling and talking to the other babies. It's actually really hard to feed her because one sound or cry from another kid in the room, and she squirms until she can get out from under the nursing cover to see what's going on. She's having more trouble sleeping there too, with all that's going on around her. She often comes home from daycare and sleeps almost until bedtime.
She's very into Dada and lights up when he walks into a room.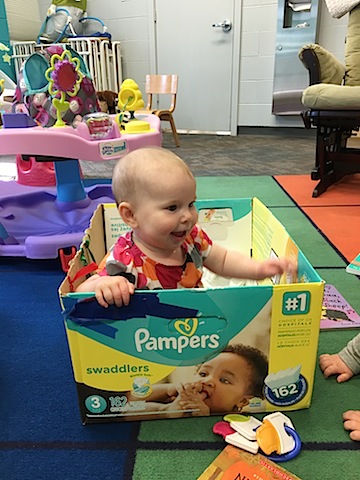 She's getting the hang of solids. She loves oatmeal, carrots, sweet potato, and any fruit, but is not too happy about anything green – I don't blame her. She'll eat peas and broccoli, and avocado with breast milk, but that's about it on the veggie side thus far. I can see the outline of the two bottom teeth, so I know they are coming soon.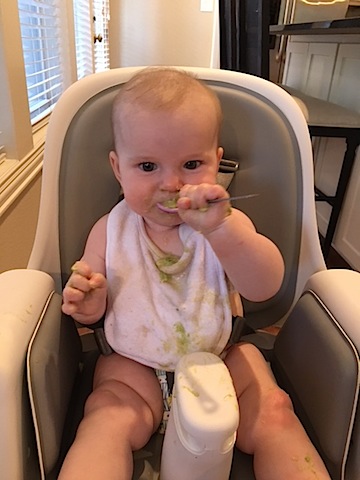 As for me? I'm exhausted. It's funny how people tell you to cherish the newborn days because things get harder, and now I believe them. Between being sick, sleep regression, stress at work, and just generally feeling like I can't use having a new baby as an excuse anymore, I'm just so tired. Matt has been traveling more, and the logistics of getting up and showered and getting Em dressed and fed stress me out – especially when I have early morning meetings. After the past couple of months, I'm even more thankful that I'm able to work from home 2 days a week. I'm hoping this is the peak of exhaustion, with more consistent sleep and summer on the way.
Physically, I'm pretty much back to my old weight and I feel so much more normal. There was a period of time where everything just ached and I'd have to rest every other day, but now I feel like my bones are back into place. Of course, things don't necessary look the same (the stretch marks showed up as my stomach was deflating), but that's to be expected. The milk production has slowed down too, which has helped me feel more normal up top. I might step up the intensity of my workouts just a bit and not modify as much now that I'm feeling more like my old self. Otherwise, I'm just gonna keep doing what I'm doing!
A few things I'm loving right now:
Bandana Bibs for teething drool
Taggies Elephant (she loves to suck on tags)
Burts Bees onesies for sleeping
Magic Sleepsuit for transitioning out of the swaddle (although the doctor recommended transitioning out of this too, so I'm working on that:()