Part II of our Maui trip was absolutely fabulous. Emerson adjusted to the time change and we all felt great! On the short drive from Kapalua to Wailea, we stopped at the Maui Ocean Center. Emerson was protesting a nap, and absolutely loved looking into the fish tanks. She's just starting to point, and would laugh when she saw something in a tank.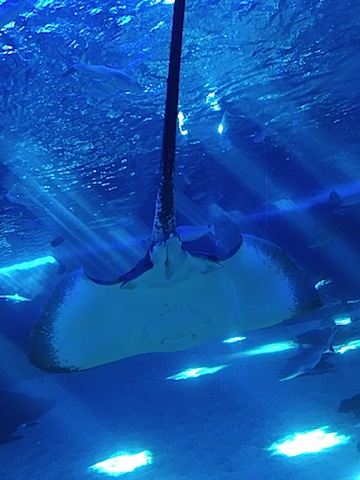 I loved seeing he giant rays and the sea turtles.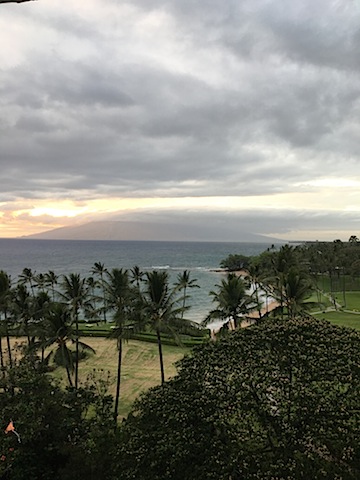 We made our way down to the Wailea Beach Marriott. There's one row of hotels in Wailea, and I've heard you can't go wrong with any of them. We picked the Marriott because we wanted to get the points and, because we couldn't afford a room with a separate bedroom at any of the others ones:) The Marriott didn't have great reviews – It was just renovated from head to toe, and I think most of the reviews are pre-renovation. We figured it would be nice enough if everything was new, and we were right. I'd actually say it was one of the best resorts we've visited!! We booked an ocean view one bedroom suite, and although the room itself was a bit dark, the view (above) was great and the decor was bright and new.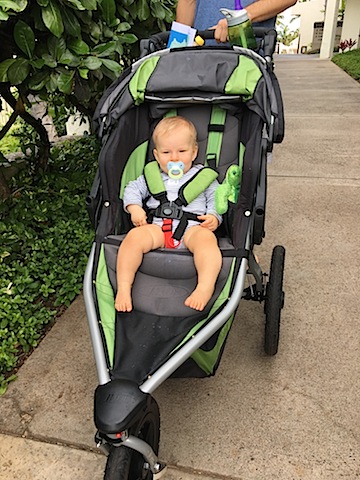 I'm glad we had the stroller with us – we did a lot of walking with it, both for pleasure and to get baby + stuff around the resort. There were two beaches and three pools (one was adult-only), and you had to do a bit of walking to get to any of them (depending on your room location). Emerson looked like a queen on her throne riding around the resort.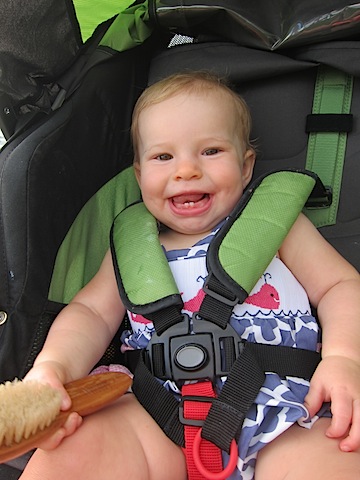 The resort grounds and views were the best part – there was a winding path along the ocean with beautiful grass, lava, and flowers.
I knew Hawaii would be beautiful, but for some reason, I wasn't expecting it to be so breathtakingly gorgeous. I think maybe because I've heard it's very developed and American compared to other vacation spots?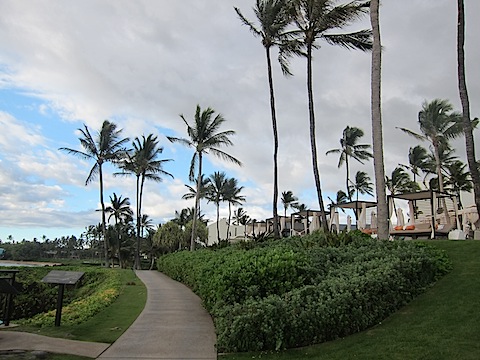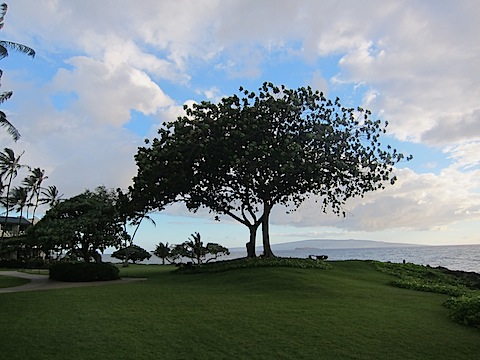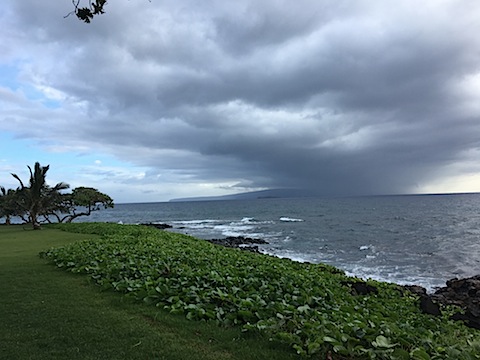 One of my favorite nights was when we opened a bottle of Chardonnay on a picnic blanket and just watched these storm clouds roll in.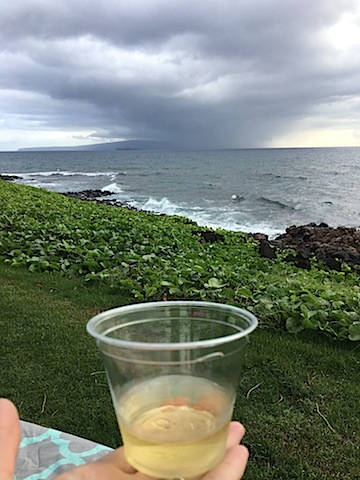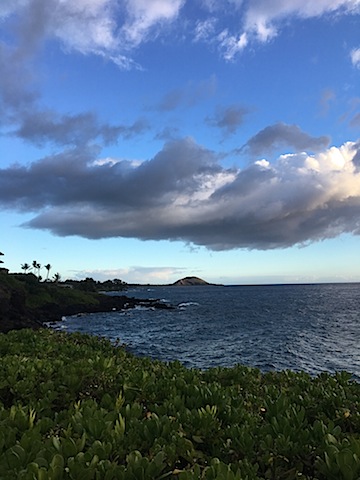 In the mornings, we go get coffee at the Starbucks and eat bananas and peanut butter in one of the many lounge areas around the resort. I didn't mind being up early and Matt and I traded off morning nap duty for workouts or time by the pool.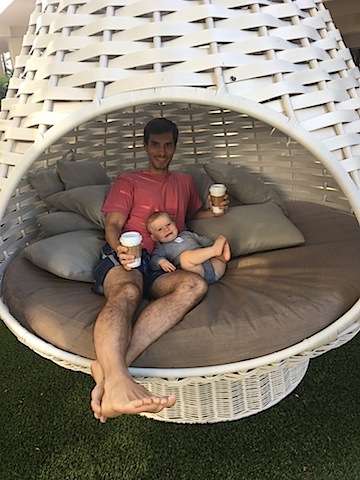 There was a fantastic (but somewhat crowded) adventure pool for kids – one section had a sloped entry and all kinds of foundations. Emerson was in heaven crawling through the water and splashing around. She'd crawl right in and sink to the bottom if we'd let her.
The service was good, and we got lucky twice with cabanas! We scored the large oceanfront cabana because it became too windy to use umbrellas, and the staff didn't want Emerson to have to sit in the sun. It was so nice to let her crawl around and play with toys in between us, and we even got her to nap out by the pool.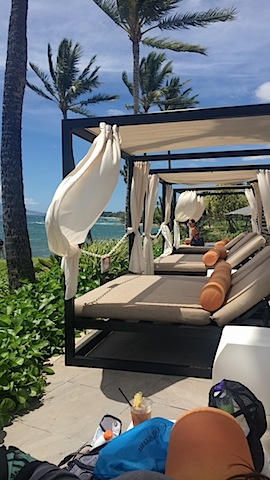 The beach was nice and calm, although we didn't spend as much time there because we got tired of being on sand-eating duty. We did rent a stand-up paddle board one day, which was really fun.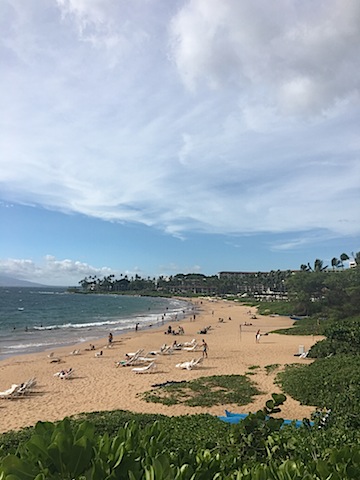 The food was excellent, and also exceeded my expectations. As everyone says, Maui is soo family friendly. I can definitely agree now, as we had many experiences in nice restaurants where Emerson would yell out and people would just smile and ask how old, or come over to say hi. This, along with Em being really into eating off our plates, made the dining experiences surprisingly relaxing.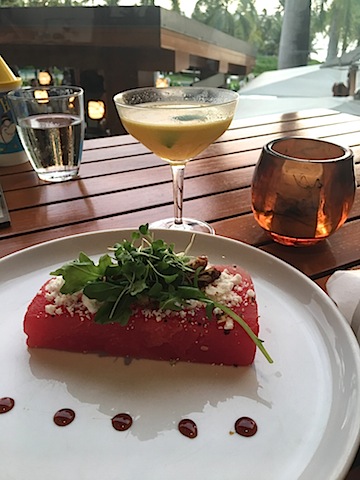 Food highlights were Ka'ana Kitchen at the neighboring Andaz,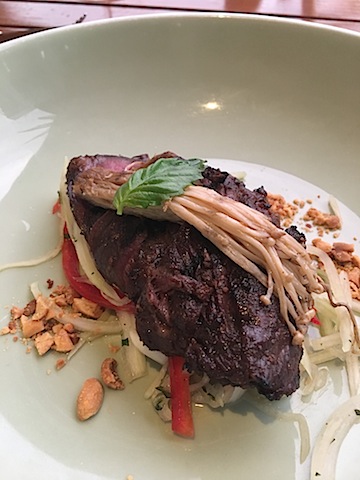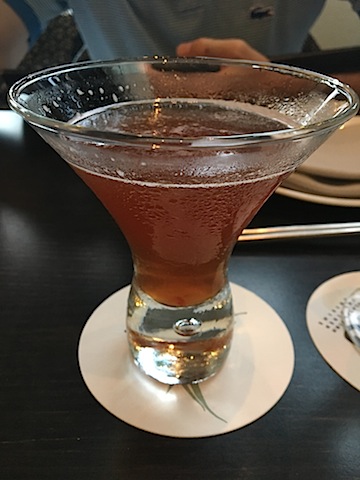 Ko at the Fairmont hotel (banana bread old fashioned!!!!),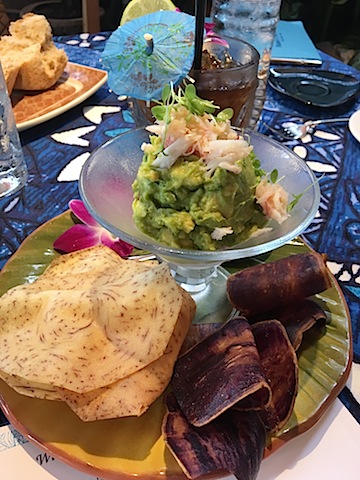 And Mama's Fish House – we almost didn't make the drive to Paia for this one because I thought it might be over-rated, but the fish curry and crab guacamole were awesome.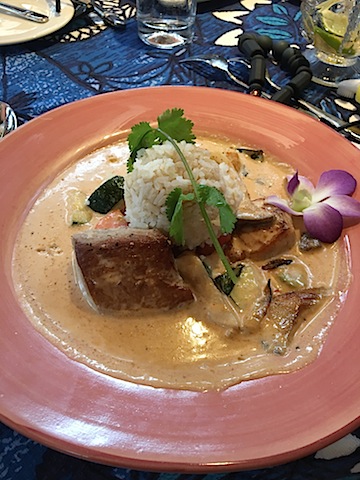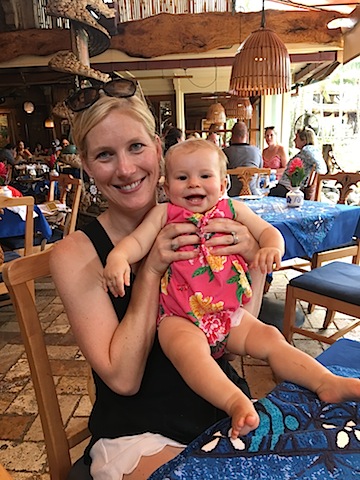 And the Hawaiian shaved ice!!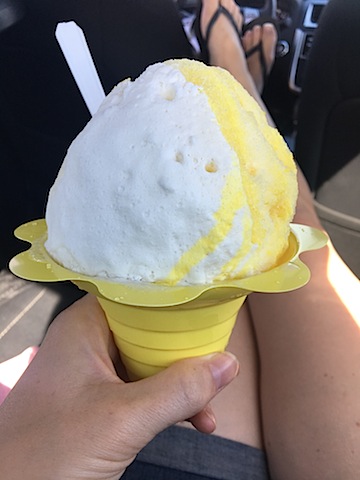 My dream vacation involves no driving or cars, so I loved that we could walk to restaurants along the oceanfront path!!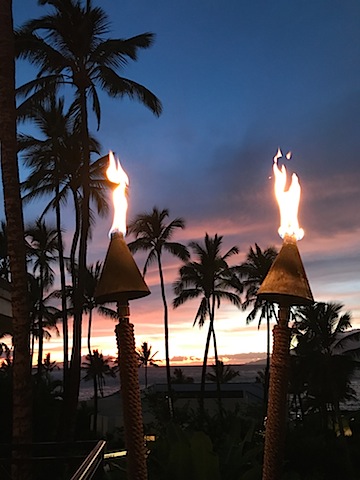 The sunsets on the way home were magical.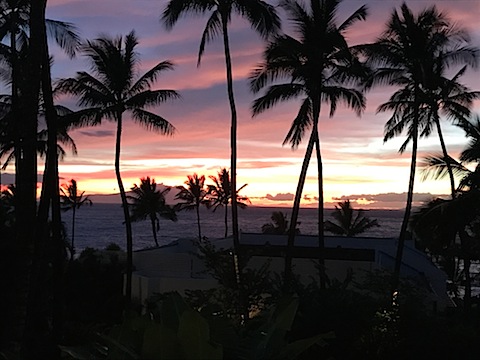 I wasn't sure what to expect of Maui, or our first big trip with baby. Although there were definitely some ups and downs, and some moments of longing to be at the peaceful adult pool, we had a fabulous time.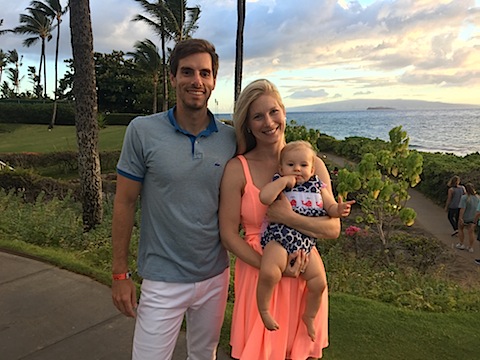 I would highly recommend Maui to anyone with kids, and I hope someday we can go back or visit another island!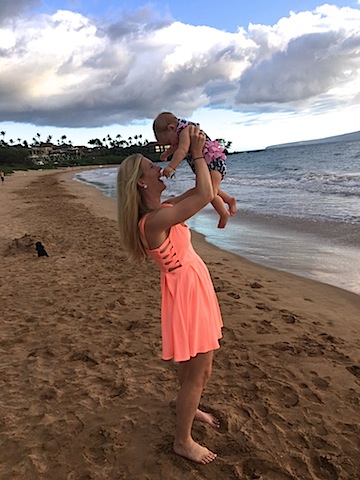 And with that recap of our time in paradise, I am back to work today!