Now that I'm a year+ into this whole baby thing, I wanted to compile a list of the gear that we can't live without.
Uppababy Cruz stroller – I've tried the Nuna Tavo, Maclaren umbrellas, and BOB (which I love for running) and nothing beats the features and maneuverability of the Cruz. Back when I was loading it in and out of the car, it was super easy to fold, relatively light weight, and so easy to use with the Mesa infant carseat.  I love it so much and Emerson seems to as well. They also have amazing customer service and will send replacement parts if anything goes wrong.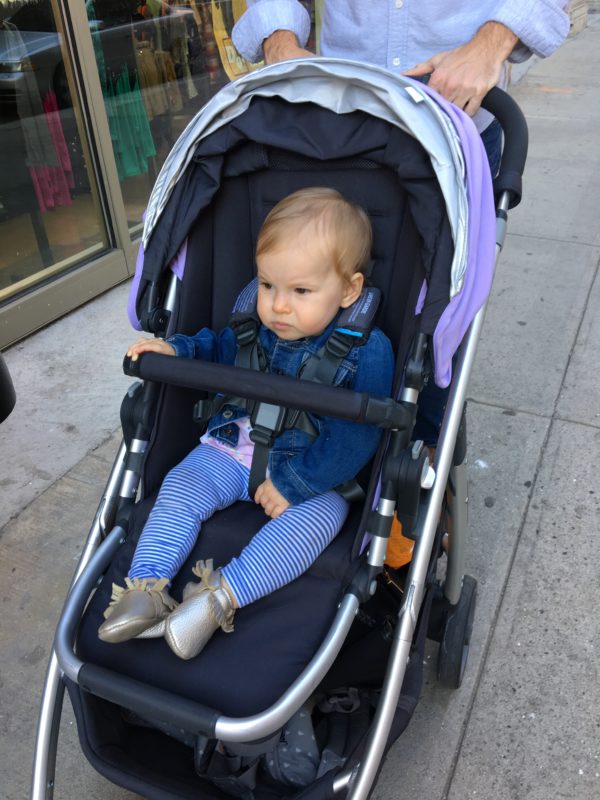 Mini mat baby plate (similar) – We use this with a high chair whenever we go out to eat because it keeps Em from dirtying the table or grabbing the glass plates.  She gets excited when we bring it out!
Pura sippy cup/bottle – These are made of great materials and Emerson loves them. I have the bigger size for water and now use the straw lid with it, and a smaller one for milk with the sippy cup lid.
Naspira nasal aspirator – So essential when you experience those first colds with baby, and especially important if you are unlucky enough to deal with RSV. I tired the NoseFrida as well and slightly prefer this one.
Ergo 360 and Solly wrap  – These two carriers have been awesome.  I cannot recommend the Solly wrap enough for newborns. I tried the Baby K'tan first and didn't like that I couldn't tie it tight.  The Solly is super soft and comfortable, and easy to tie after a few practice rounds. As for structured carriers, I tried the Lillebaby, an Infantino carrier, and the Babybjorn, and this one was the clear winner. I like that it's not as stiff as some of the others and the straps and buckles are easy to use. I know there's still some controversy over wearing baby outward facing, but it's been a lifesaver in so many situations.
Ollie swaddle and Kyte sleep bag – The Ollie swaddle was the only swaddle that worked for Emerson (she broke out of the others). This thing costs a pretty penny, but saved us when we thought we'd never sleep again.  The Kyte sleep bags are so soft and cozy and Emerson seems to enjoy them. We switched to these around 6 months (we used the Merlin in between the Ollie and the Kyte).
Lotus bassinet and travel crib – Emerson slept in this bassinet for the first 5 months or so (well, after she'd sleep out of the Rock 'n Play)and we loved it.  It's nice-looking, compact, green-ish, and easy to use. I also love that we just had to buy the conversion kit rather than a bassinet and pack n play. We've traveled with the crib, and the travel bag can be worn as a backpack.  My only complaint is that it takes a little while to set up, just because the sheet and mattress have velcro tabs to keep the sheet in place and ensure safe sleeping.
Earth Mama Angel Baby shampoo – I love this mostly because it foams and I found it easier to spread over Em's slippery body:) It feels luxurious on her skin, and they have a lavender one as well that will put you to sleep. I tried the Beauty Counter soap and the California baby soap and just like this one the best.
For mom:
Natori Nursing bra – I went months using Target nursing bras, and while they were really comfortable, they would break so easily.  I finally caved and bought myself a nice bra right before weaning.  I should have had this all along, but it's also super expensive and wasn't a priority when first buying all the gear.  I wish I'd had it all along!
Anything you'd recommend for me and Em for 18-24 months?