Our trip to Key West was not only fun, but actually relaxing.  This got me thinking about what made this Florida trip so much better than the last Florida trip when Emerson was 6 months old. Below are a couple of thoughts on what made our vacation enjoyable with an energetic 15-month-old in tow.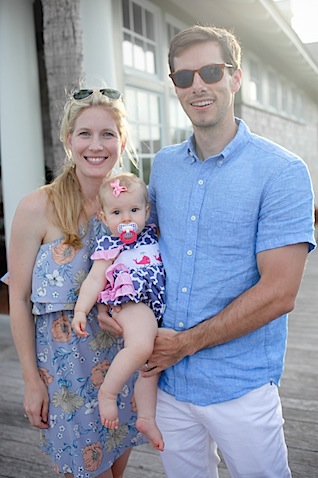 -I used to have the mentality that accommodations are not that important because I didn't spend much time in the room.  Now? Accommodations are the most important part. We spend nap time and any time after 7pm in the room. Having a separate living area or a big balcony through an AirBnB, suite, or extended stay hotel are essential to an enjoyable trip.  Imagine that your child is really sick and you can't leave your accommodations – will you be happy ordering takeout and trading shifts with your significant other or family?
– I now spend more time thinking about the goals of a trip.  If it's sightseeing, I prioritize hotel/rental location and build in time to see the sights at a leisurely pace. Gone are the days of sprinting from the museum to the restaurant to the pool.  If your goal is to relax, think about what makes your child relax. For us, this means lots of down time for Emerson to run around in the room, trips to the park, and not having to get in a car every time we want to explore.
– I know a lot of people don't like to change hotels given the baby gear, but we'd rather change hotels and be able to walk everywhere than be based in one place and have to drive everywhere.  This is why we split our time between Kapalua and Wailea in Hawaii. That being said, its probably not worth changing accommodations for less than 3 nights.
– As for flying, we've had good luck flying during nap times or at night. Board the plane last and have the other significant other/family member sanitize the seat (and install the carseat if necessary).
-Be flexible about routines but not too flexible.  Maybe you shorten the nap, skip the bath, let the baby eat nachos for dinner or hold the phone, but don't skip anything in the routine that's essential. For us, this means some sort of nap, bed no later than 8pm with books and white noise – everything else is more flexible than when we are at home.
-Don't feel guilty if you're not the perfect parent.  There are 360 other days to be fully engaged, make homemade food, and teach good habits.
-Lastly, change your expectations. Now that I'm staying at home, a vacation for me is just a break from being the primary care giver and the housekeeper.  If I get that plus some awesome food, then I'm happy.  I don't expect the same kind of experiences I used to during a vacation. I make a list of a couple of restaurants and a couple of activities I'd like to do, and then I hope some of them actually get crossed off my list.
All that being said, this is just my experience, and I know every child and every age is different. People also like different styles of travel, and we like to take it easy since real life is hectic. It seems like Emerson is a pretty good traveler in the big scheme of things, but I know this could change. Ask me how I feel about traveling a year from now, and I might say I prefer to just stay
home 🙂