Well, summer is off to a great start (knock on wood)! This weekend was totally relaxing and packed with awesome food. Our neighborhood seems so peaceful and I feel happier than I have in weeks. Matt just finished his first week of his internship, so he was pretty much content just resting and eating all weekend.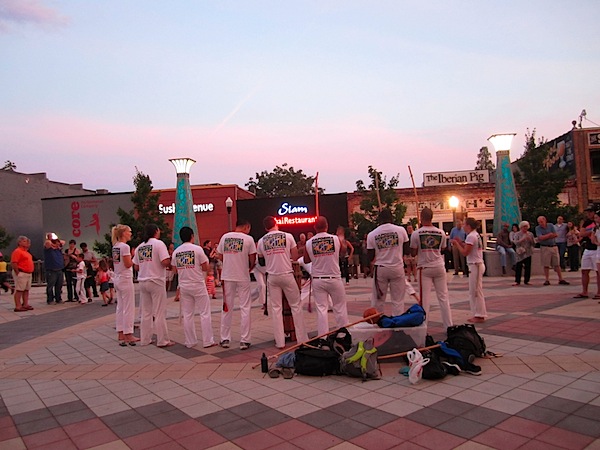 Friday night, we headed to Decatur for dinner. LOVE this area! I could definitely see myself here as a 30-something.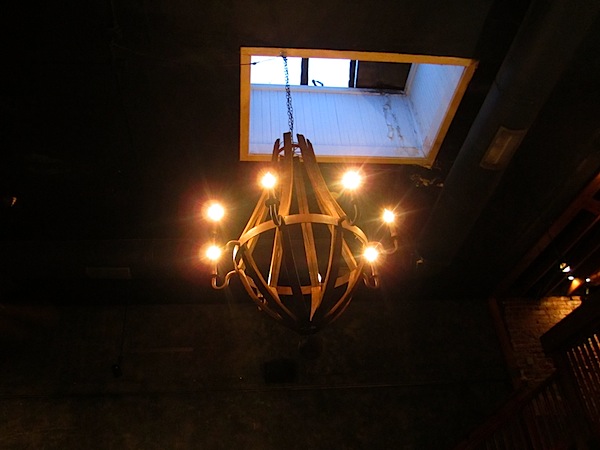 We grabbed a beer at the Brick Store Pub, a place we had actually visited when we were here for a wedding 3 summers ago, and that was recommended by tons of friends and commenters. The bar was just the way I remembered it, but the area seemed packed with even more neat restaurants than before.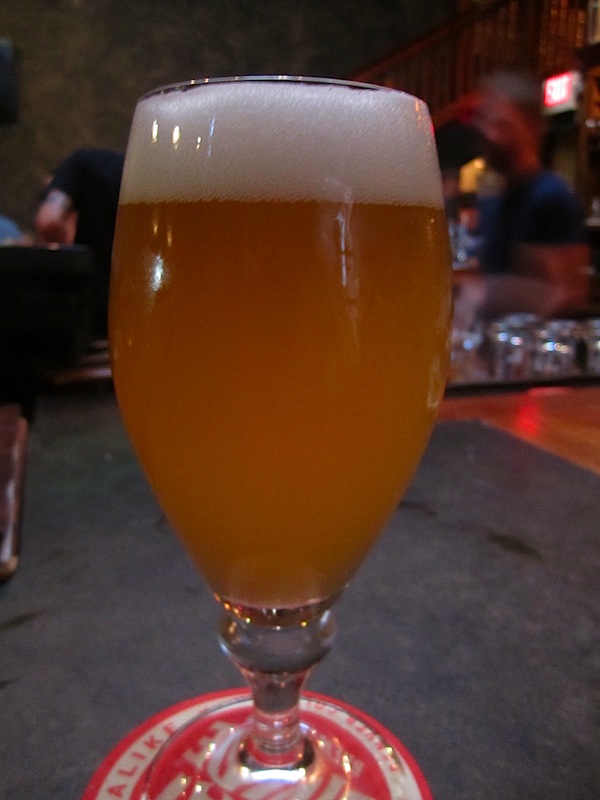 I had a Belgian Tripel and a sample of special bacon that was shared by the man next to me:)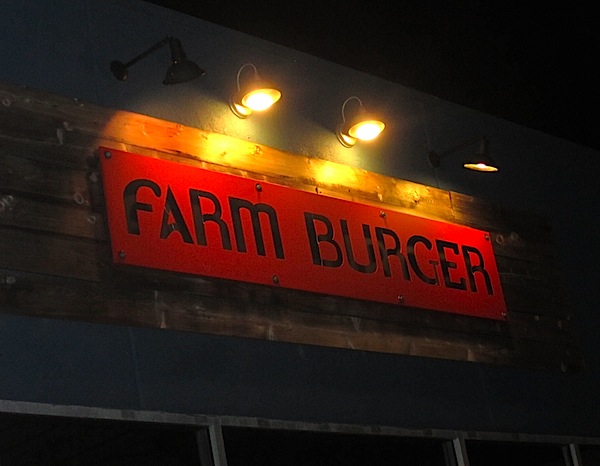 For dinner, we checked out Farm Burger right across the square. It seems farm-fresh, casual, self-serve restaurants with urban vibes are big here! And I love it because you get the atmosphere and flavor, but not the price. Two burgers, fries, and a farmhouse ale was $25!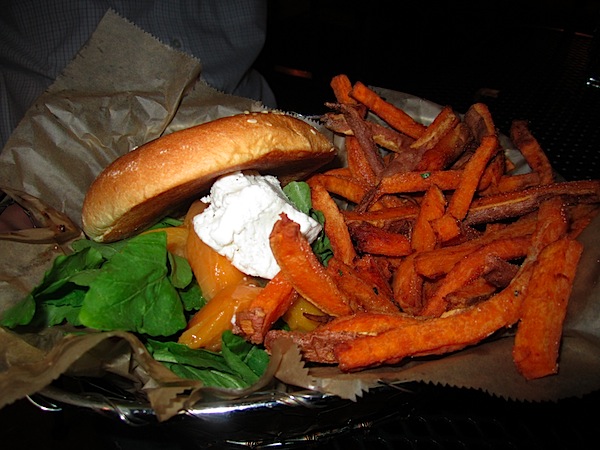 My burger was topped with Georgia peaches, arugula, and a generous serving of warm goat cheese. The sweet potato fries were def above average.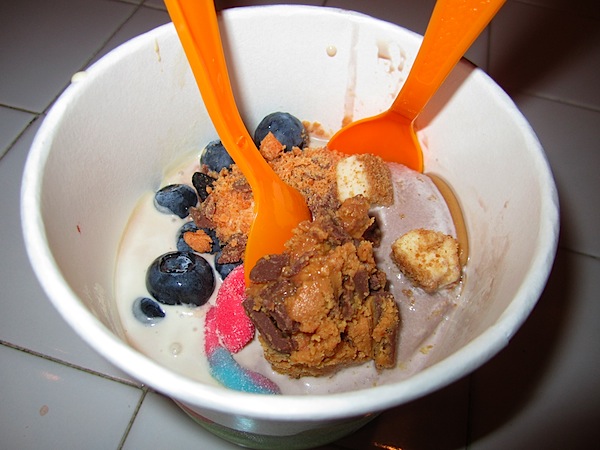 It seems I became addicted to the self-serve yogurt place with by-the-weight toppings bar too! It's just so hard to walk by and not split one.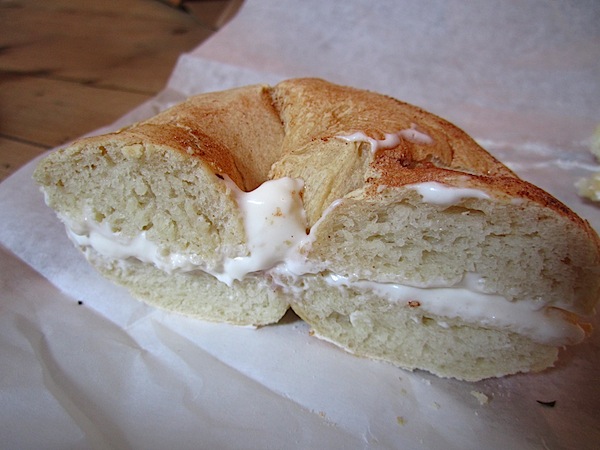 Saturday included 'simple decadence' at Belly General Store. The olive oil bagels are something special and Matt and I couldn't resist this huge peanut butter cookie after lunch.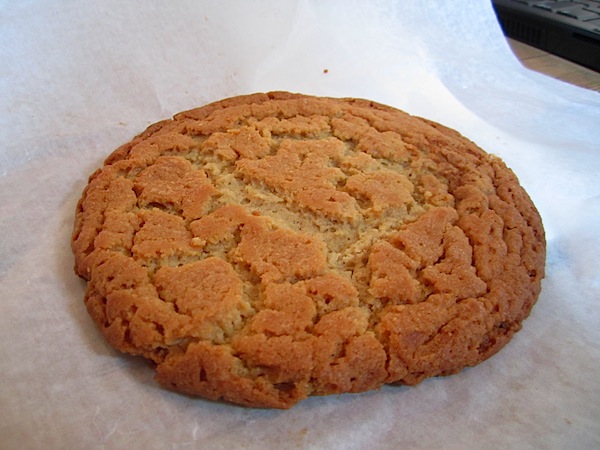 I also checked out a gym to potentially join for the summer. Surprisingly, there aren't too many gyms in the area. Perhaps because people seem very active in Atlanta, especially since the weather is warm so many months out of the year? I'm more of a gym person though, so I'll probably end up joining next week.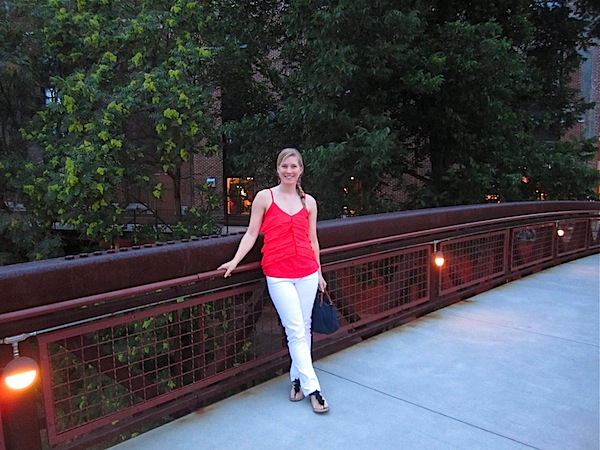 I wanted to check out another part of the city, so we ventured over to the West Side and decided to grab a bite to eat at the JCT Kitchen bar.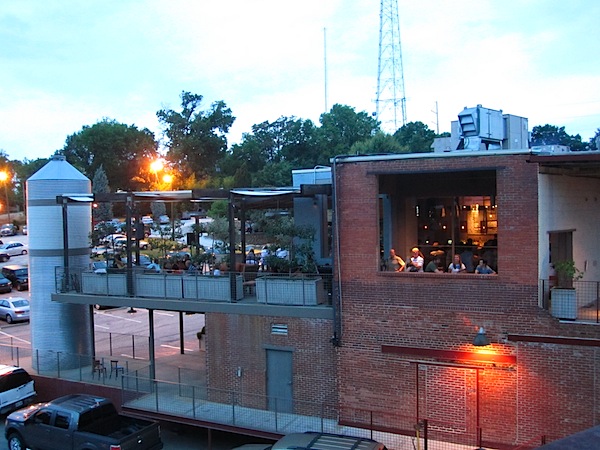 I was really hoping to catch some of the live music on the awesome patio, but it started to rain:) So we got cozy in the bar and I had a glass of malbec.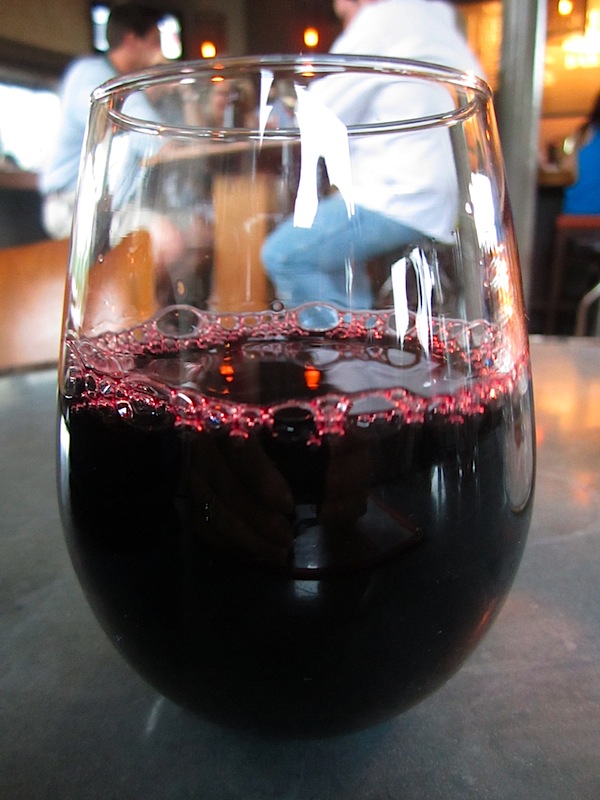 I've been eating non-stop, so I went with a salad. I was a bit disappointed in the portion, but the flavor was awesome – it consisted of county ham, spicy peanuts, blue cheese, cracker jacks, and an apple vinaigrette over arugula.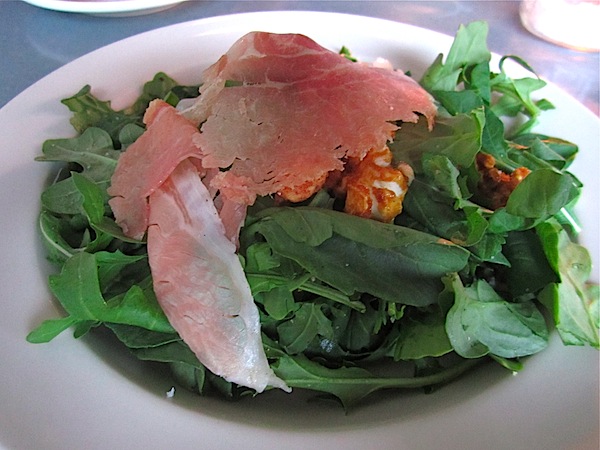 Matt shared his shrimp and grits, which was also delicious, but small. Who puts a piece of bread in the middle of grits? Wish there had just been more grits!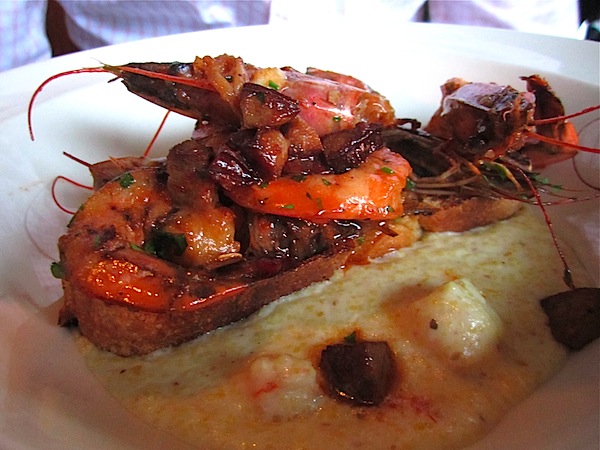 Today has been rainy, but I managed to run outside and work on wedding stuff. I had planned on a trip to the grocery store for dinner supplies, but when I realized that both Matt and I will be traveling this week, I suggested we use part of our grocery budget to grab dinner out again:) We haven't been buying many groceries over these transition weeks, so we've been reallocating the funds so that we can eat out on weekends. Despite all the food we've eaten this weekend, we really do keep a tight budget each month and then supplement when we want to do something extra.
Anyway, we decided to check out the neighborhood hot dog bar – HD1. It's yet another simple, industrial space serving inexpensive haute dogs with unique toppings.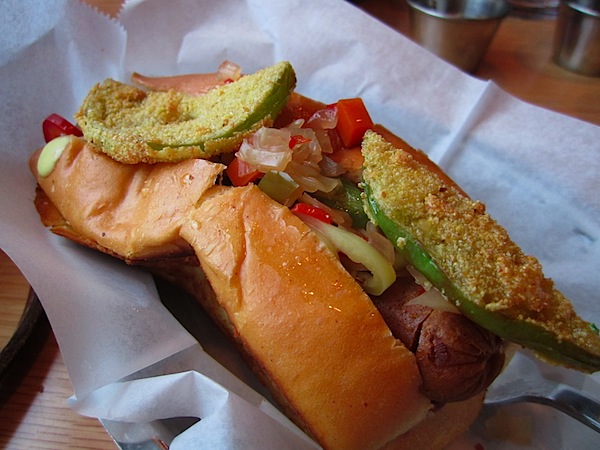 I tried a Fieldroast veggie dog with sweet pepper relish, fried green tomatoes, sweet pickle, and bbq sauce. This was delightful! And the bun was toasted!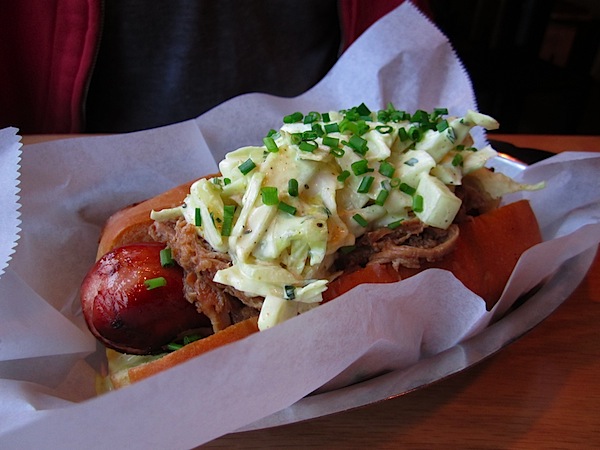 Matt had a traditional dog with pulled pork and slaw and his was equally as good.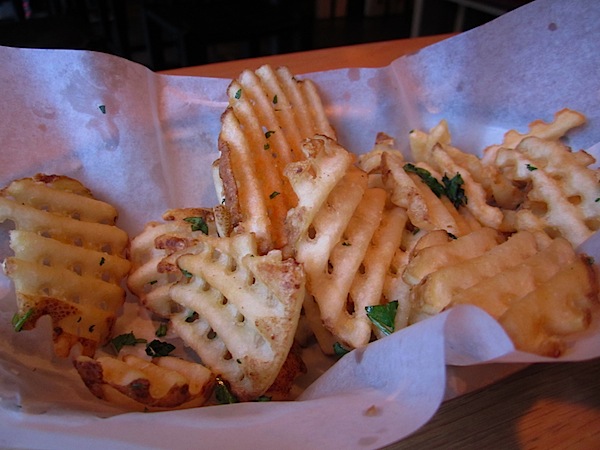 And we got complementary waffle fries because our server left the tomatoes off my dog at first. I never thought I'd love a hot dog restaurant, but I do! Next time, I've got to try the carrot dog and the peanut butter bread pudding.
This weekend was a blast, but we'll probably have to calm down with the eating out, at least for a week or two. We're traveling four weekends this summer, so we actually only have a handful of weekends together in Atlanta. I'm going to attempt to find a balance between trying all of the neat places that people have recommended and making sure my bank account doesn't take a hit. I'm also fitting in extra walking to make more room in my body!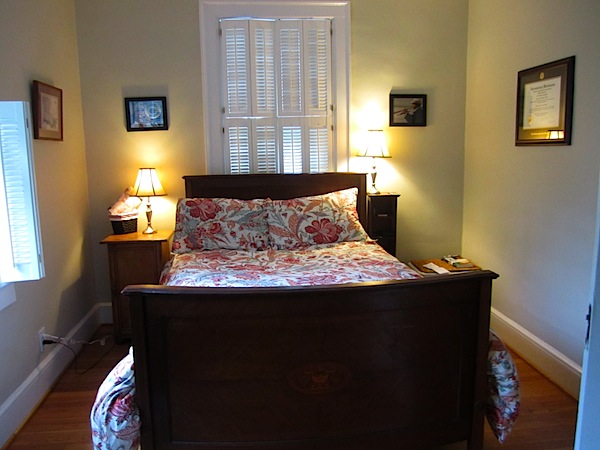 And bringing my comforter from home was definitely a good choice! I'm sleeping so much better with an extra pillow and a real blanket. After this weekend, the ATL feels a bit more like home:)