Whew. That was overwhelming. Somehow I went from being an administrative assistant to having major responsibilities in a matter of days. I'm not sure I was mentally prepared for the intensity. Teachers were already stopping by my office for consultation! After six months in a desk job though, I could probably use a challenge, and the day flew by! There's definitely a lot of energy in the school system. And the people are wonderful!!! I'm excited and scared at the same time.
I came home to recovering Matt who nearly fainted of nausea and dizziness this morning. I feel bad that I wasn't around to help:( I made up for it in dinner though. I threw together some comfort mac and cheese, with a wonderful sun-dried tomato chicken sausage, and roasted brussels. It really hit the spot this evening.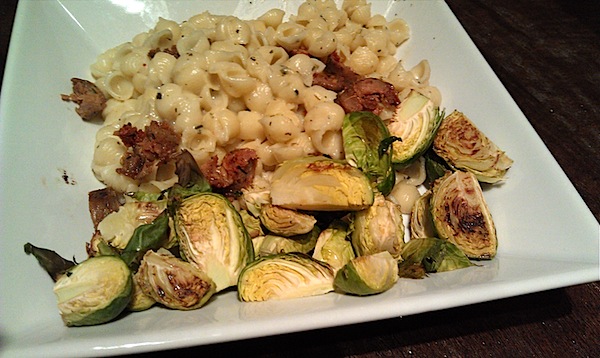 I think some House Hunters will be a nice night cap. Another new day tomorrow! k night.