Whew. This weekend has been a whirlwind of rain, fun, beer, and junk food in a massive parking lot full of Duke graduate students hoping to score season basketball tickets: camp out.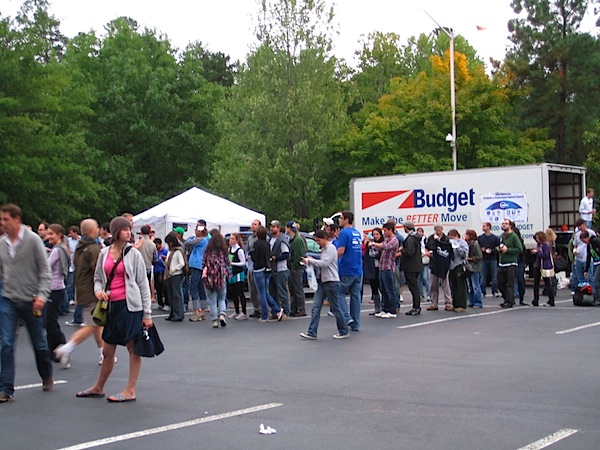 Apparently, graduate students are too good for tents, so they rent moving trucks and RV's for camp out weekend. You see, the students have to camp out for 36 hours so they can report to random check-in's that occur at all hours of the day. If you make it to all 30 something check-ins, you are entered into a lottery and you might win a season ticket. Matt joined a group of 12 other people in hopes that at least some of them would get tickets and they could share the loot. But after the first 12 hours of rain, wind, cold temps, loud parties, and obnoxious drunk people, 8 people in Matt's group dropped out and went home!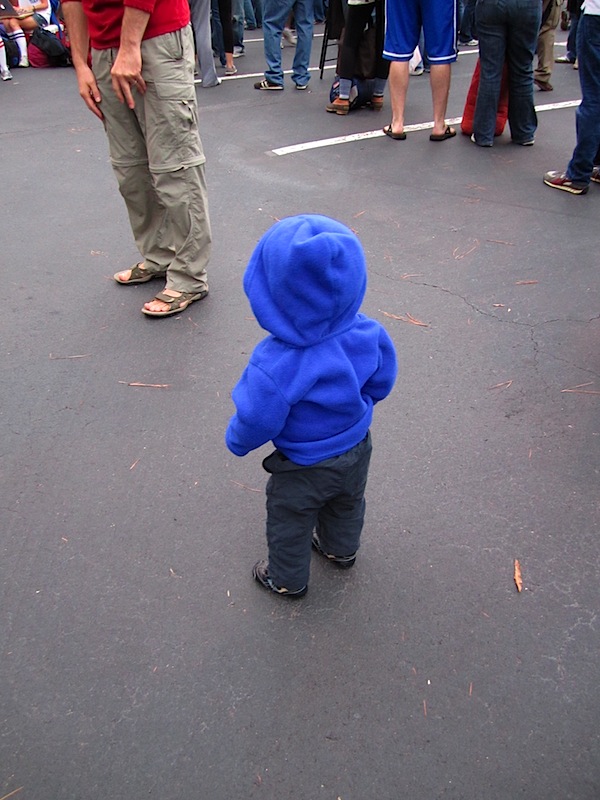 This guy was excited to be at the party!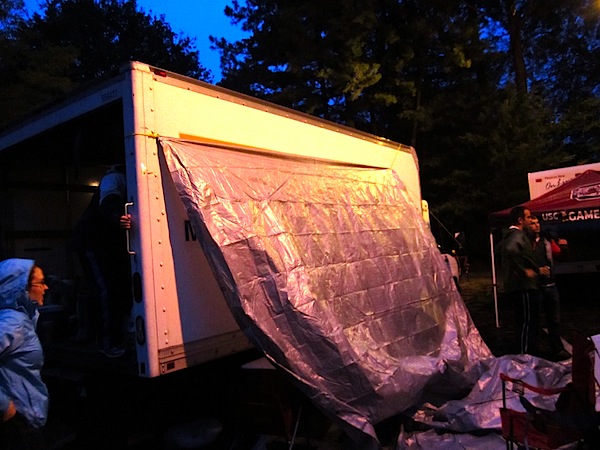 I hung out on Friday and helped the group get their area of the parking lot settled. How many MBA students does it take to figure out how to hang a tarp in the rain?
I would have loved a sunny, fall weekend, but I actually thought the cold, rainy weather enhanced the experience because everyone was wearing crazy ponchos and no one cared about their appearance.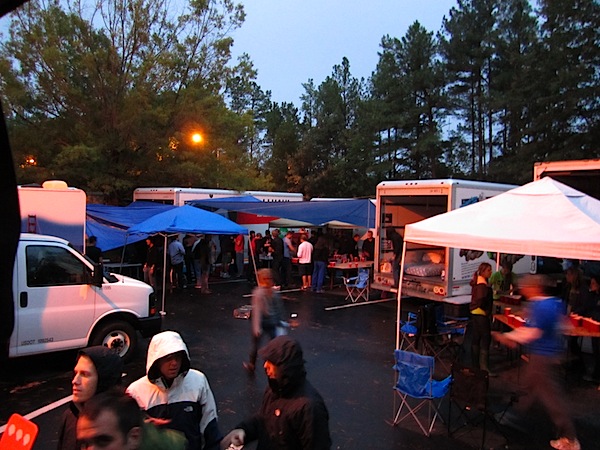 The view from Matt's budget truck and, below, the sleeping quarters for the weekend.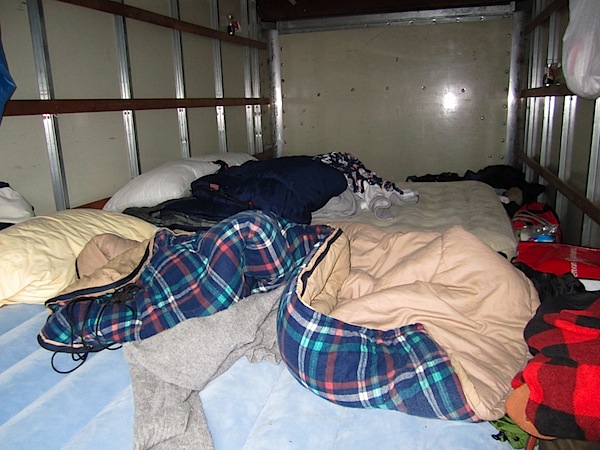 I was a little grumpy on Friday when no food trucks had showed up by dinner time. Luckily, I was whisked away by a few other partners and enjoyed dinner and a beer in a warm booth at Alivia's. Once I returned to camp out, the rain had stopped and a huge party, complete with a DJ, had erupted in one corner of the parking lot. It was tons of fun, but I was happy to be able to sleep in a real bed at the end of the night.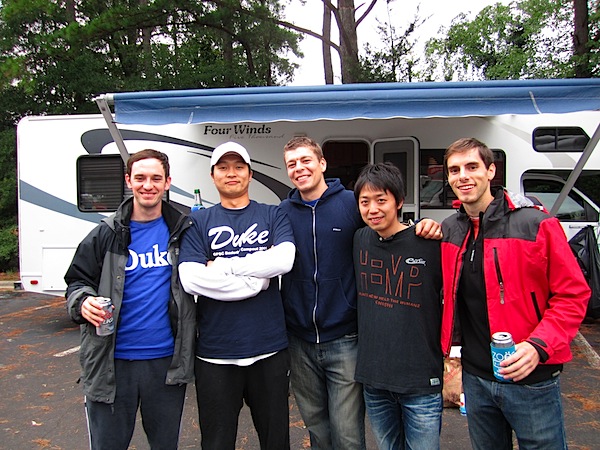 I returned Saturday morning and attempted to cheer Matt up with a hot peanut butter and banana sandwich. He was only able to sleep from 7 to 9am and woke up with a cold:(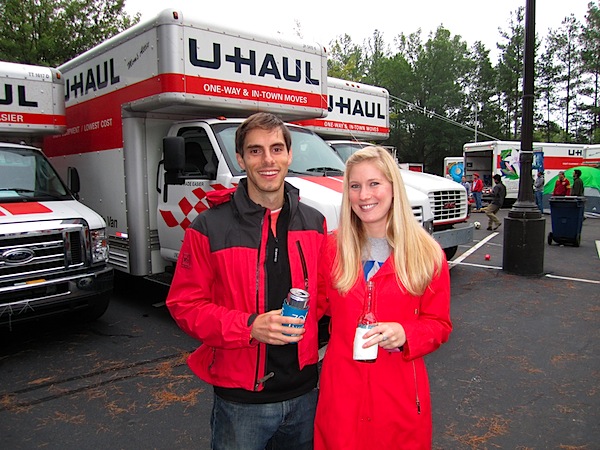 By Saturday afternoon though, most people got a second wind and were ready to party again. I enjoyed plenty of Coronas as well as a year's worth of junk food. A lot of the partners brought baked goods, so I had fun eating various homemade cookies, bars, and balls provided by the different trucks.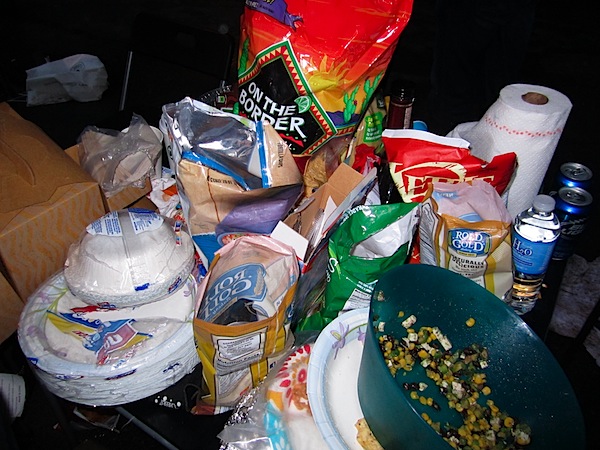 Matt even got a hot steak for dinner!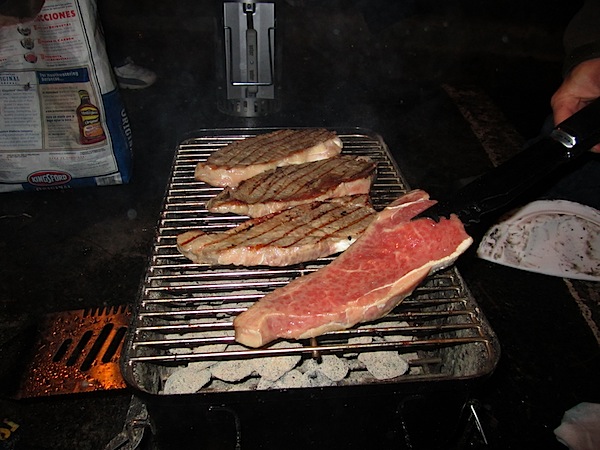 Saturday night the Latin American Students Association brought in another DJ for an enormous parking lot dance party that was an absolute blast.
I've haven't witnessed such a crazy weekend-long party outside of Davidson and it sure made me miss it. I loved being able to pretend I was a college student again and participate in the festivities but then return to my cozy home. Oh, and all five members of Matt's group were chosen from the lottery for season tickets. I hope they share:)