Happy Monday. The day took on a whole new meaning when I didn't have to get up at six! I was all smiles this morning. I caught up on a ton of emails, did four loads of laundry, met with partners about an event we're planning, and straightened the apartment. It was just like the good old days in grad school when I could just take a day to catch up on everything. My peppy mood faded a bit though, when I found out a perfect babysitting opportunity isn't going to work out:( Back to the internet to search. Having a part-time job is nice, but having income is probably better.
I've declared this week a healthy eating week. I never really stopped eating desserts and nightly beer after Christmas and since we're nearing February, I figure I'll clean things up a bit. I've replaced my after dinner cake or buckeye with chocolate drizzled popcorn. It's a perfect dessert!
Last night, I tried a marinated salmon, but I actually wasn't crazy about it. I'd had the same marinade with mahi and loved it. Perhaps it was because Matt hates salmon and was not too happy when he realized this wasn't the mahi version we've had before…
Needless to say, there were some leftovers, so my dinner tonight involved a crazy combination of scrambled eggs with salmon and blue cheese over a salad. I tried a new caesar asiago dressing because I'm really tired of my homemade dressings. I decided to buy a full-fat creamy dressing to mix into balsamic instead of my standard mustard and olive oil. I liked this meal a lot, but did get a bit tired of the flavor by the end. That tends to happen a lot when I have salads.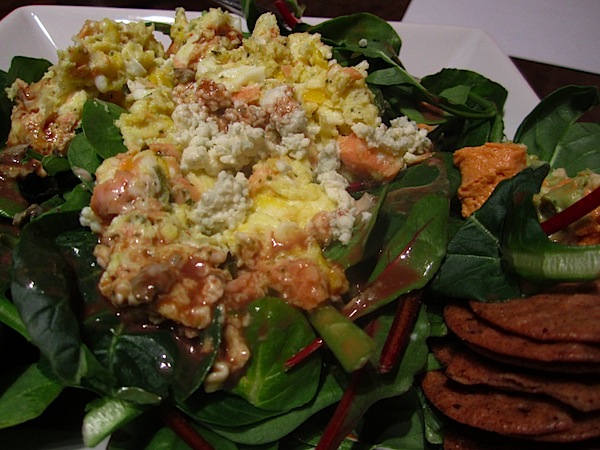 Can we talk about bath mats for a minute? I've gone through four since living on my own and I can never find one I'm happy with. Mine always get matted down the minute I stand on them and then they just get gross looking. I wash mine in the washing machine, but only a few days after, it already looks disgusting and flat again. Any recommendations for good ones? Thanks.
See ya.