I had way too many conversation hearts and I got to watch the Lion King – awesome V-day in my book. Also, it was fun to babysit because the kids brought home Valentine's from their classmates and were really pumped to look through their bags.
I usually claim that I'm neutral about Valentine's Day – I don't love it or hate it. But I think I just say that as a defense mechanism, because my feelings about the holiday used to depend on if the man did anything to acknowledge it or not (selfish, I know). The year I got roses in high school, I loved it, and the year my boyfriend didn't mention it at all, I hated it. Luckily, I have Matt now, and since he appears to be neutral as well, I generally enjoy the holiday. Nowadays, we just use it as an excuse to take a night off from our computers and do a little something together. Since we both like chocolate, and we both are obsessed with beer, I decided a chocolate stout tasting would be appropriate. I chose only beers that were specifically chocolate stouts (I was tempted by the cocoa porters and mocha stouts, but decided they all had to be the exact same style) and only beers that I had never tried before (I think Southern Tier's Chocolat stole my heart long ago).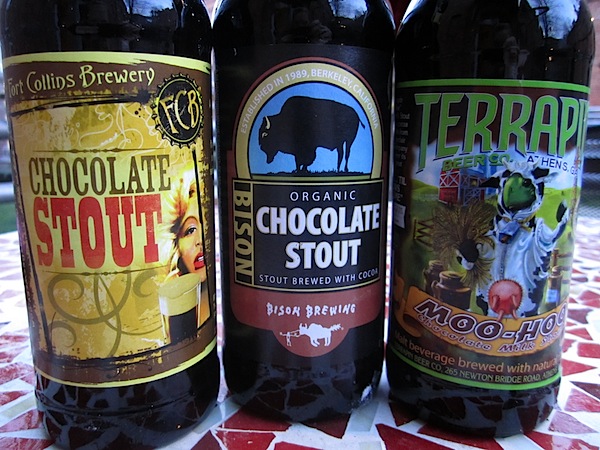 Now I just need Matt to come home, so I can drink these (and hopefully eat chocolate with as well!)
Sending my love to all you guys too! Have a lovely evening.
.