Another day of babysitting, another Disney movie! I really love kids movies, and love it even more when parents don't mind if we put them on! I've been feeling kind of blah/foggy the past two days (I think it's hormone related), so it was nice to get at least a little break from entertaining the kids. Also, it was freeeezing today and I just couldn't warm up. Big houses are nice (the family has an enormous, open great room), but remind me not to live in one when I grow up (assuming I'm ever that fortunate). I'm content with apartments for now and they are much cozier on cold days.
Luckily, I was thoroughly warmed up by dinner. My Dad has been dying to go to the Bread and Kabob restaurant buffet in Durham, so I tagged along tonight. I've always driven by the place and not thought much of it. But, I actually found the food to be delicious. It's Afghan cuisine and I had good old spicy marinated chicken kabobs. The flavor was excellent, the meat was very moist, and I loved the bread!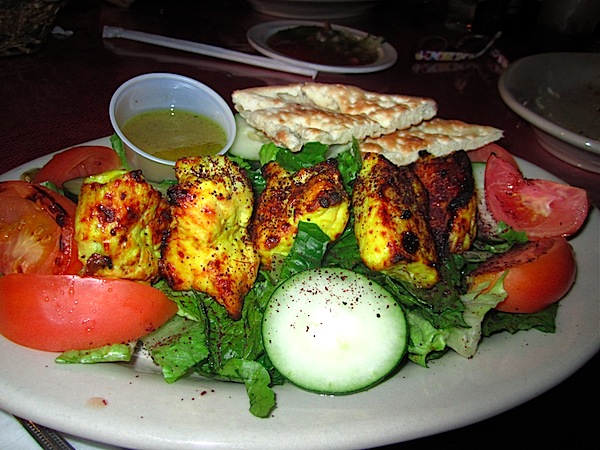 I tried some of the items on the buffet from my Mom's plate, and enjoyed those as well. It's too bad Matt couldn't have joined us, because he would have loved this.
I'm finally making some major progress with Jane Eyre and I'm telling myself it must be finished after next weekend. Then, I can finally see the movie!! Any book recommendations for when I do finish it??
Good night.