Taco night! I never buy ground beef and was so excited to have beef tacos tonight. These were a staple in my house growing up, so they most definitely remind me of being a kid!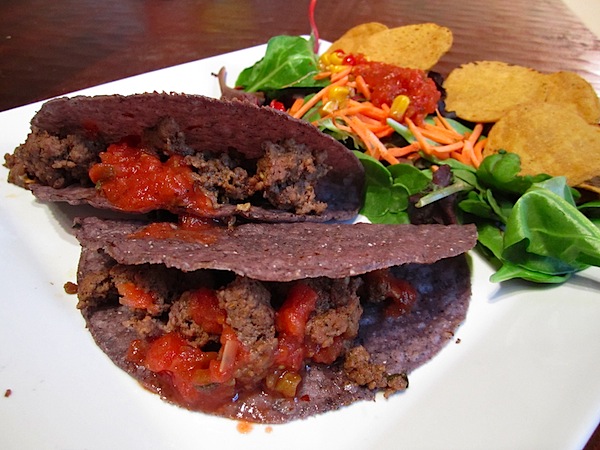 I used a homemade taco seasoning of sorts, blue corn shells, and peach mango salsa. On the side: a salad with TJ's amazing corn relish. I couldn't resist having sweet potato chips too – to go with the theme:)
Matt couldn't make it home for this dinner. I have a hard time pacing myself when I eat dinner alone and was sad that the tacos were gone in 15 minutes. I'm such a pig.
I'm still feeling really off – not sick, just like something is wrong. My doctor called in some antibiotics, thinking that maybe the symptoms of allergies she saw is really an infection. I feel like this is a prime example of over-prescribing antibiotics. But, I'm not sure what else to do. And since I'm completely overwhelmed and lost when it comes pinpointing why I'm not feeling well, I'm probably just gonna take them. Blah.
On a lighter note, the weather today was perfect. 80 is my dream weather and when I finally feel warm. I spent a little time outside, but mostly just did some work on my computer and around the house. Our apartment pool opened this weekend and I was tempted to go read my book. But then I thought about slathering on tons of sunscreen and how terrible it is to get sun and I didn't go. I might as well stay pale for a few more weeks to delay the sun damage that will inevitably happen this summer. I do better with sun exposure each year, but still miss the high school and college days when I'd get a dark (for me) tan. First world problems…
It really was a nice Monday. How was yours?