I've spent more time looking at bridesmaids dresses than wedding dresses on the internet! There will be seven of them after-all, so it's a very important decision! I'm finding that there is a lot of variation in terms of color, but not much variation when it comes to fabric and style. There are a million polyester/satin-looking dresses, and of course, strapless dresses galore, but there's not a whole lot in-between. I'm totally ok with strapless, but I know not everyone loves wearing them and I'd love to see something different. I've thought about having the 'maids buy regular dresses, but I worry that things will run out of stock or that everyone won't have a chance to try on the dress. Since real bridesmaids dresses are made-to-order, I'm also wondering if they will fit better?
How cool is this dress that one of my 'maids tried on? (it was also like $380 and price is a major concern of mine)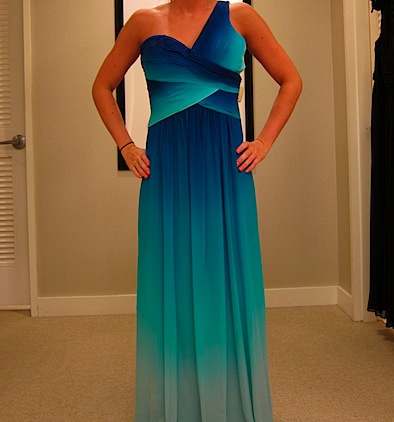 As for fabric, I'm finding that I like the chiffons, because they have more movement, but they are definitely less formal. In order to cancel out the effect of using a less formal fabric, I'm thinking of going with long dresses. I worry that the girls won't be wild about this idea. Given that maxi dresses are everywhere these days though, (and the dress can be easily hemmed) I'm hoping it will be ok?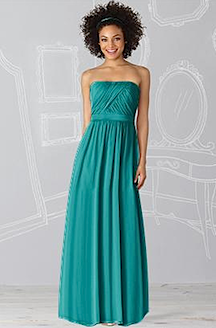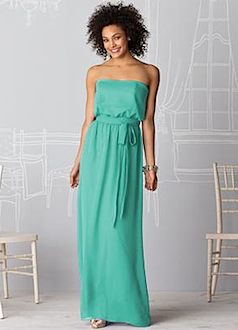 The nice thing is that, In the end, as long as the color is right and the dresses generally fit, almost anything will probably look just fine on my beautiful bridesmaids.