I want to say I'm getting used to work, but I think I'm getting more exhausted with each passing day. Thank goodness for labor day!
I'm trying to keep myself sane this year and I've adopted a few new practices to help. Back when I started my school psych internship, I actually made this list of ways to improve the work day. It's an ever-evolving list, but the little things really do help:
Last year, I got in the habit of hiding out in my office in an attempt to knock out a lot of work, but it seemed to make me feel more tired and weird at the end of the day when I just sat there (sometimes I wonder about those florescent lights). I've found that I'm even more productive when I take little breaks though, so I've been trying to take walks around the school building, even if it means accomplishing less in the moment.
I'm really bad about drinking water (and this was actually my doctor's idea), so I got this groovy pitcher on sale at Target to make fruit water. I just cut up a lime (also tried strawberries) and put them in the canister and it makes the water sooooo much more enjoyable without having to buy so much seltzer (although I def. still bought a case for work!)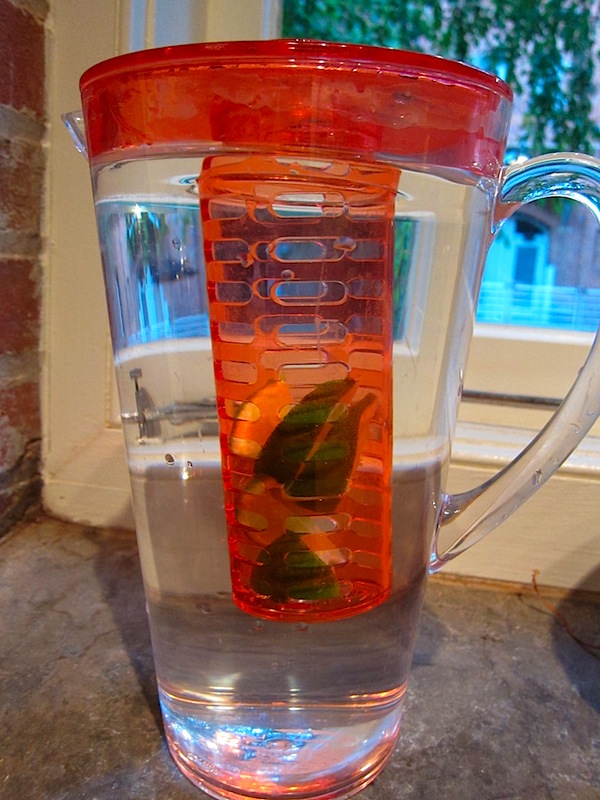 Workouts. I'll always struggle to have good workouts during the work week. In the morning there's not enough time to do much without making a significant dent on sleep or being grossed out by a public shower and I'm exhausted most evenings. I used to be so focused on the quantity of work-outs (i.e. don't skip too many days), but I'm trying to focus more on the quality of gym time. Last year, I got up every morning and went to the gym, but most of the time it was just a wimpy-zombie 30 minutes on the elliptical and really didn't do much for my fitness. So, if I only get in a few great workouts during the week, I'd say that's much better than 5 terrible ones!
I've given myself permission to wear a 'wet pony' most days. Drying my long hair is just too much work and time every morning, and I'm not one who can go without a shampoo. It def doesn't look as nice, but I can't cut my hair until after the wedding, so it will have to do!
Coffee: I'm back on it after a 2 year break, 40% because I love the taste, and 60% because I don't think I'll get through this year without caffeine every morning. I've been making a batch using the french press at night and drinking it iced in the morning to save time.
Lastly, I've become more conscious about my couch time. I've finally figured myself out and know that once I sit down after coming home from work, it's all over. So I try to pack my lunch and do a few things before sitting down. Not only do I then enjoy the relaxation time more, but I don't get too tired to work on my to-do list.
Ok, that was a lot longer than I had planned! What do you guys do to stay sane?