Way back when I lived in Boston, I stumbled upon a modern butcher shop of sorts, called The Meat House. The store wasn't close to our apartment, so we only shopped there once, but we did enjoy the wide variety of meat and the neighborhood grocery feel. So, when the social media coordinator asked me if I would like the opportunity to review something from the store, I wanted to say sure! Only, I was asked to prepare a Meat House turkey for Thanksgiving and we're not cooking this year (we're traveling and eating out…), so I declined. But then she asked me if I'd be interested in preparing a turkey right before Thanksgiving (friends-giving?), but I was too overwhelmed by the idea of cooking a whole Thanksgiving spread by myself, and declined again. 'No problem' was her response! You see, the beauty of The Meat House, is that they have all kinds of prepared sides and pre-marinated turkey, for busy, lazy-on-the-couch, no-experience-cooking-turkeys-people like me!
So, with a gift card in hand, I went to The Meat House and picked out a mini Thanksgiving spread consisting of cilantro lime marinated turkey tips, sweet potato casserole, bacon brussels sprouts, and bourbon baked beans! The meat seemed really reasonably priced to me and there was so much to choose from! We chose turkey because of the holiday, but I'd love to try some of the spicy marinated meat too.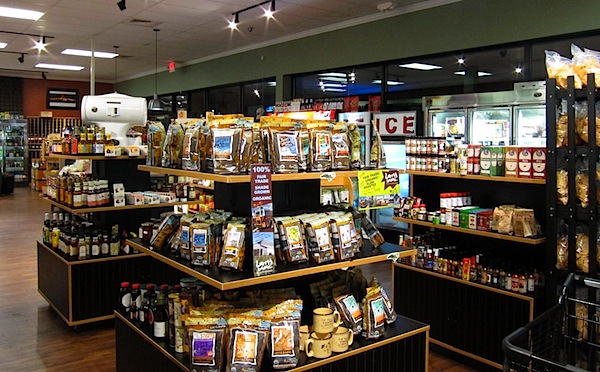 The store seemed bigger than the one I had visited in Boston, and meat aside, it has lots of other gourmet goodies, and beer + wine too! Oh, and pie, but I didn't think Matt and I needed a whole pie between the two of us.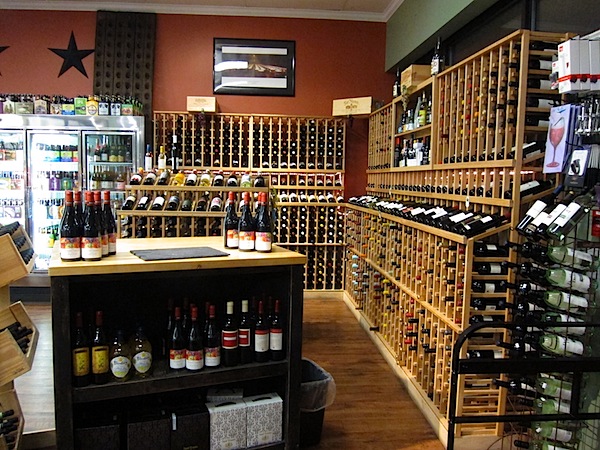 I love these kinds of stores because they always have great ideas for house-warming gifts or stocking stuffers for cooks. I couldn't resist picking out a few extra things – I need more good seasonings around this kitchen!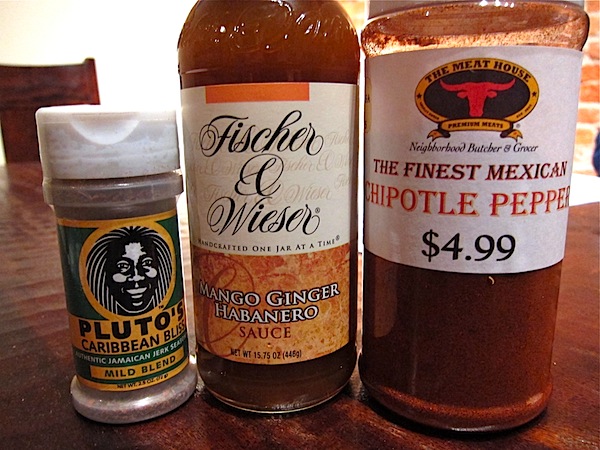 We actually arrived only 15 minutes before closing, and I thought the staff might be annoyed that we were taking a while to decide what we wanted, but the staff were helpful, upbeat, and friendly, making it really feel like a small neighborhood market.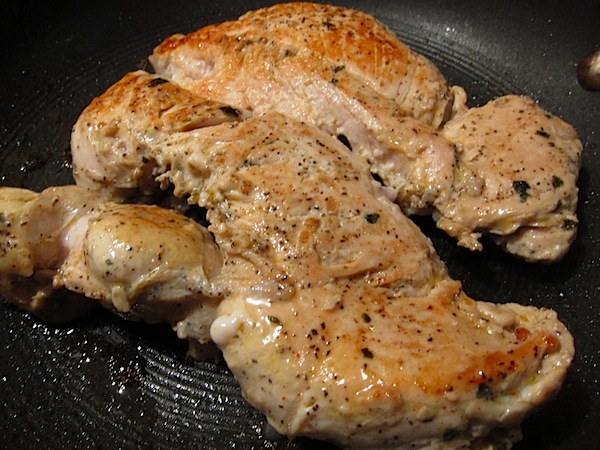 I cooked the turkey last night, and I'm a little embarrassed to say I wasn't exactly sure of the best way to prepare turkey tips. Nothing a little googling can't solve:) I bet this would have been great on the grill! I ended up searing the outside and then baking the tips in the oven until they reached 165 degrees.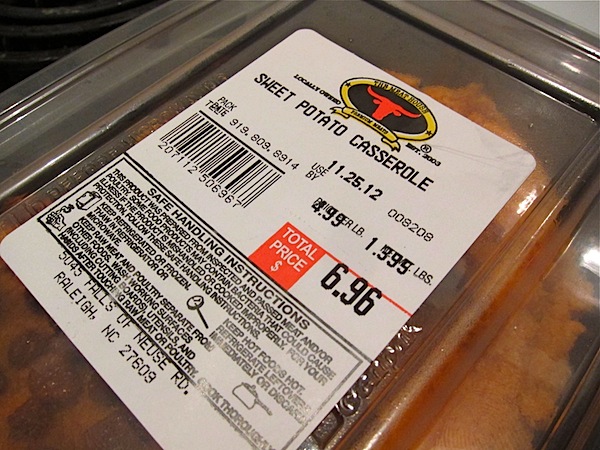 And everything else was prepared by magic micro waves!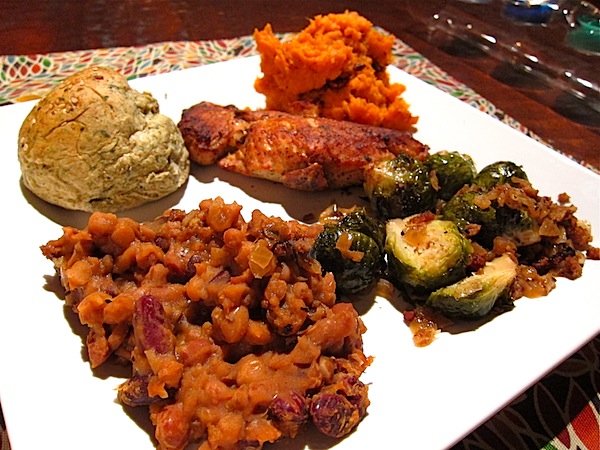 It was so much fun to have this feast on a chilly Sunday night – I actually couldn't finish the whole plate though – gotta save room for the real thing.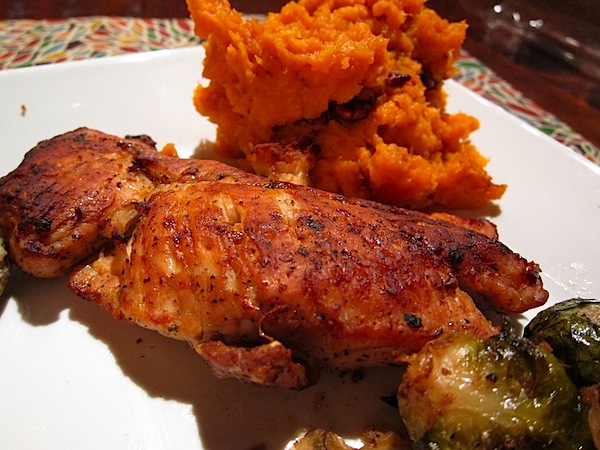 The turkey was good, and I especially liked the hint of cilantro and lime, but I have to be honest, I think I butchered it with my cooking method because the inside was dry – totally my fault I'm guessing?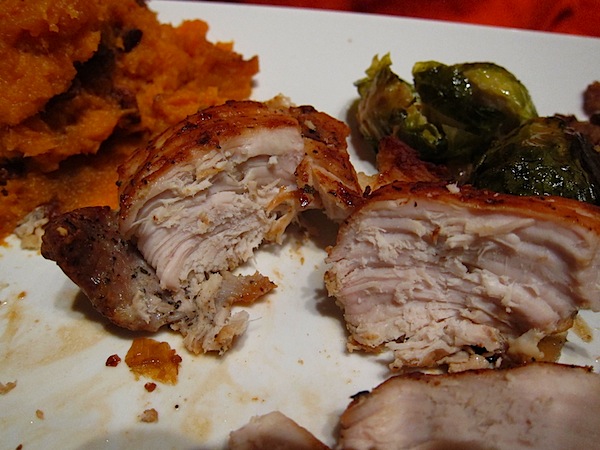 But the sides were fabulous! The rolls are actually from Great Harvest (we keep a stash in our freezer), but the rest of the prepared sides were from The Meat House. The bourbon baked beans and the sweet potato casserole were sooo delicious!!!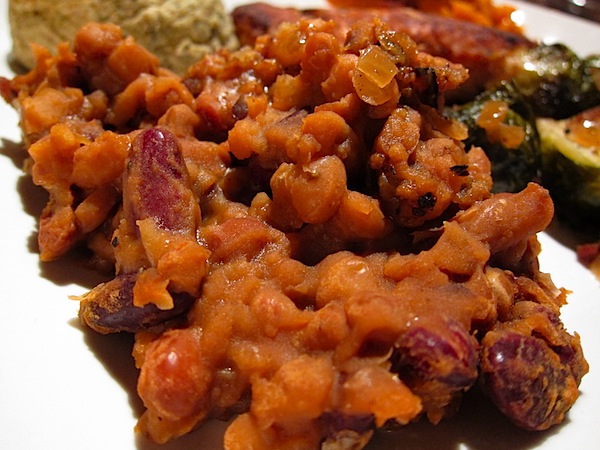 I wasn't a huge fan of the brussels, mostly because we cook them at home all the time (and I'm kinda of addicted to the maple roasted ones we make), but I do enjoy bacon with my brussels.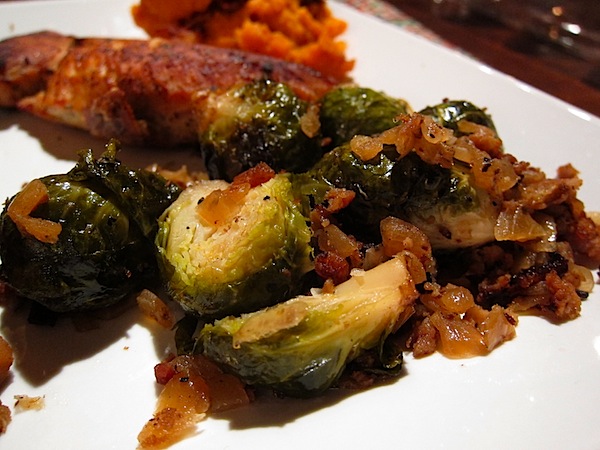 Overall, I really enjoyed my shopping experience at The Meat House and I thought the food was very high quality. I believe the turkey was all-natural, but I don't think it was organic (and I can't remember if I saw organic or grass-fed options for the other meats) But, like I said, the prices were good for the meat and the sides, which you could also buy by the pound.
And now, the fun part – I'm giving away one $50 giftcard to The Meat House – it looks like there are locations in about ten states nationwide, so check the website to see if there's one near you. To enter, leave a comment on this post – we'll switch things up a bit – tell me what your least favorite Thanksgiving food is and why! I'll pick a winner on Sunday.