Hello!
I'm back at my parents' house for a few days because I have a wedding to attend! But on Sunday, we'll be making the trek to Dallas to resume real life.
So about that honeymoon…I guess you guys want details! I apologize for dumping so many photos on you, but I just didn't want to waste precious time typing posts on the tablet. I actually had a terrible time trying to get the mini SD card to work with the tablet, and once I got the photos from the card, the WordPress application would stop responding and eventually shut down. I guess I'll have to find a better system in the future because what I thought would be a quick way to blog was a long and annoying process.
When we first starting planning our honeymoon, I knew I wanted to go to Greece. And it exceeded expectations!!! After doing some research, I chose to work with Petros from Hellenic Holidays because of a recommendation from a reader. I could have just booked hotels on my own, but Greece was so far away and a bit overwhelming, so I wanted the guidance of someone who was really familiar with the area. Matt and I had several calls with Petros, who helped us choose Mykonos and Santorini, and eventually booked all the hotels, domestic airfare, ferries, transfers to and from hotels, and any excursions we wanted. It was super easy and I would definitely recommend Hellenic Holidays when traveling to Greece (or Turkey).
Mykonos
We decided on the Petasos Beach Hotel in Mykonos because it had cute rooms, a beautiful pool and restaurant, was next door to a popular beach, and right across the street from the bus into town. When we arrived, we didn't have the greatest view from our balcony, and the staff took us to two other rooms and let us choose another! We ended up with a bigger and better room with a killer view out to the pool and sea.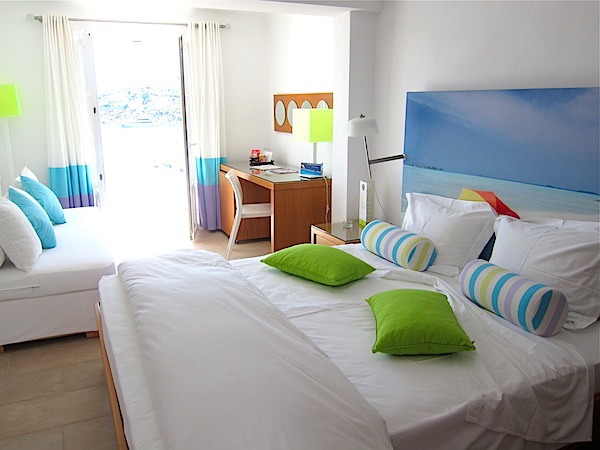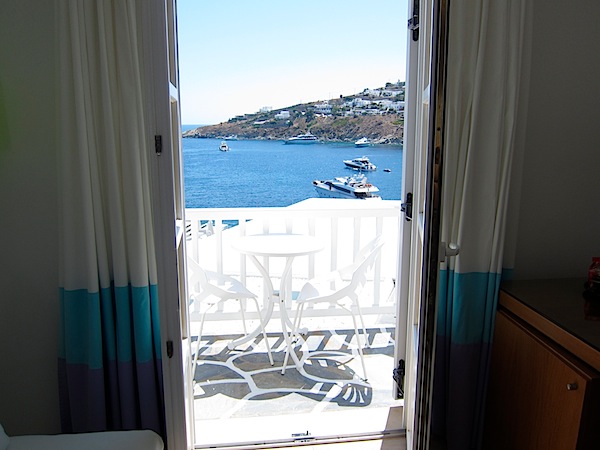 My favorite part of the hotel was the pool. There were huge beach beds and wonderful chairs with umbrellas and the view was amazing. We wanted to start off the honeymoon with pure relaxation, and this was the perfect spot to do just that.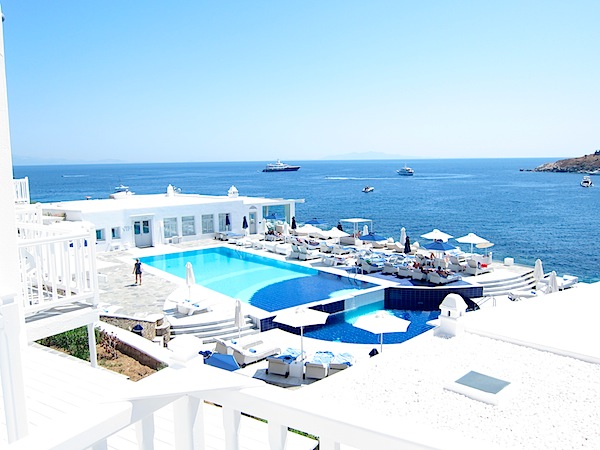 The room rate included a wonderful buffet breakfast, and we got to dine with this view every morning.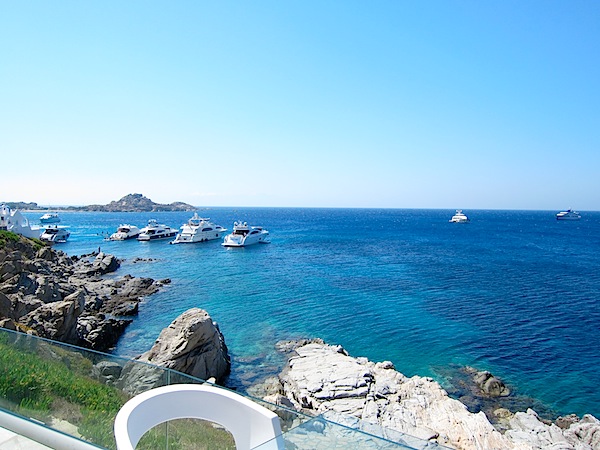 I loved making bowls of greek yogurt with dried fruit each morning, in addition to traditional greek dishes such as egg casserole with mushrooms.

Our hotel was across the street from a public bus stop, so it was easy to make the ten minute trip into Mykonos town each night for dinner.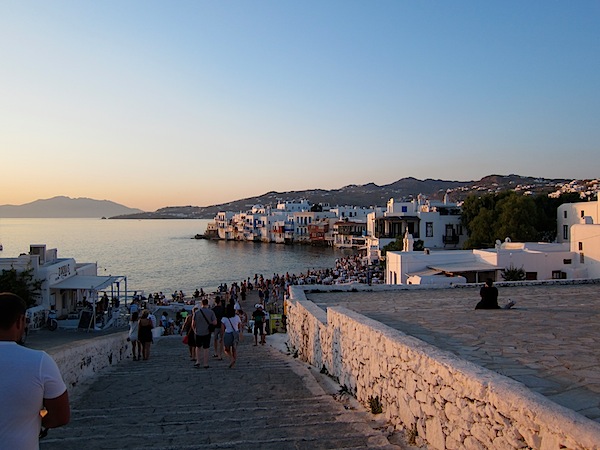 The town was amazing and enchanting! All the buildings were white and the little streets winded into a huge maze. Mykonos is known for being a party place, but the town was still romantic and beautiful and I really loved it. We thought about going to a club one night, but the 25 Euro entrance fee and our full stomaches sent us to bed instead.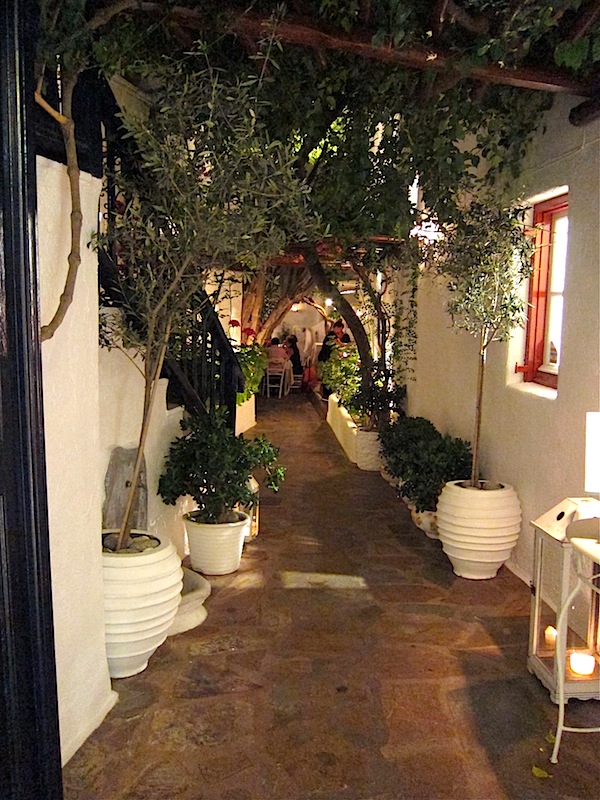 We spent one day at the Platys Gialos beach right beside our hotel. It was a bit crowded, but lined with beach tavernas offering drinks and casual lunch. I loved that you could use the chairs and umbrellas in front of one of the tavernas as long as you ordered a beer or had lunch inside.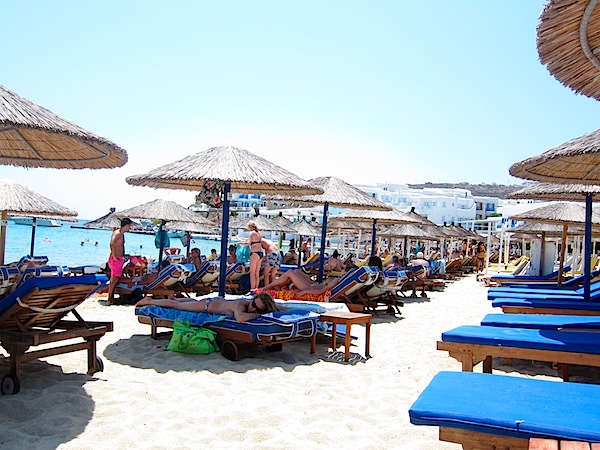 Another day, we rented an ATV and explored the more secluded parts of the island. This was definitely one of my favorite activities! We discovered this beautiful cove and swam, and then had lunch had another adorable taverna. We also made the trek out to the famous paradise beach and had a drink at the club and observed the beach party.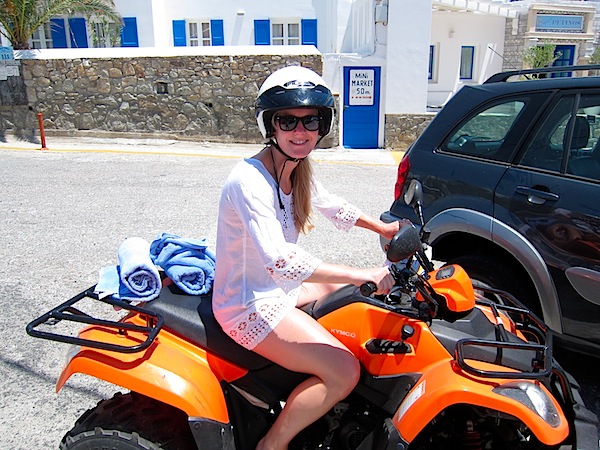 The food in Greece was amazing! I might even argue the meals we had in Greece were better than the ones we had in Italy. I loved the grilled meats, tzatziki sauce, fresh seafood, and the feta! I was also obsessed with all the items that came wrapped in puff pastry! The white wines were great in Mykonos, and I had sparking or sweet wine everyday with lunch:)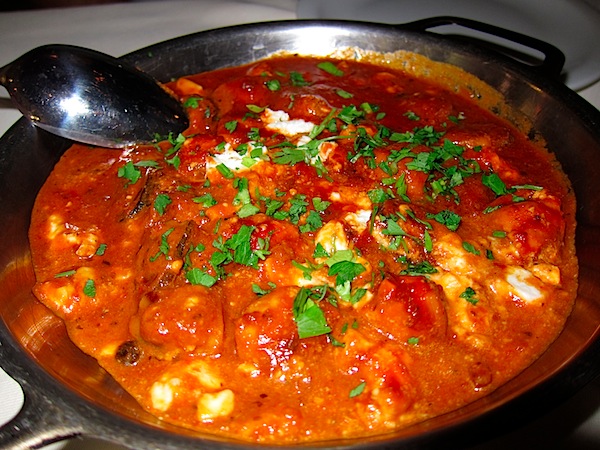 The above tomato mussels and the below baklava were beyond delicious!
Santorini

As I said in a previous post, Santorini is the most amazing place I've ever been, with Mykonos as a close second. Everywhere I turned, the scenery was breathtaking. The food was also fantastic, the people nice, and there were wineries!!
We stayed in Astra Suites – our biggest splurge of the trip – in Imerovigli . A lot of people opt to stay in Oia when in Santorini, but we liked having the option to walk into the main town of Fira, and in my opinion the views were the best we experienced from anywhere on the island – I believe Imerovigli is the highest point along the cliff.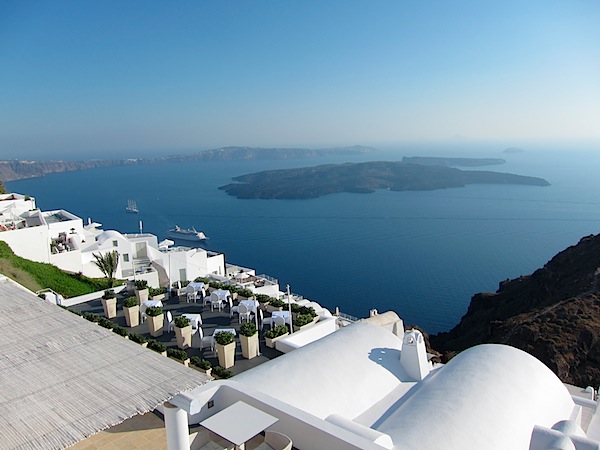 Our room was on the second floor of the little building below and we had two balconies!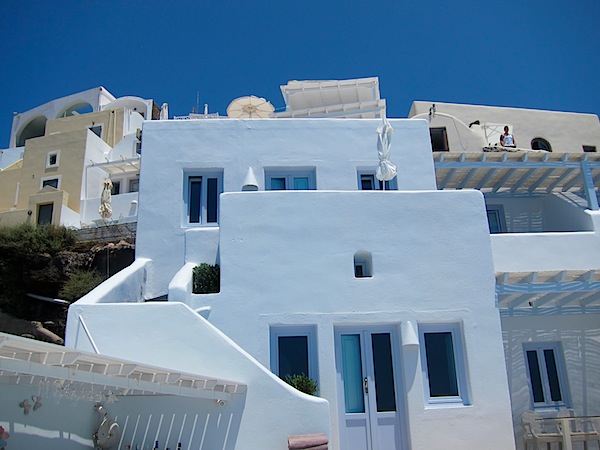 Most hotels in Santorini seem pretty basic compared to hotels in the US because they are essentially caves on the side of a cliff! But we loved our little room and were mesmerized by the view whenever we looked out the window.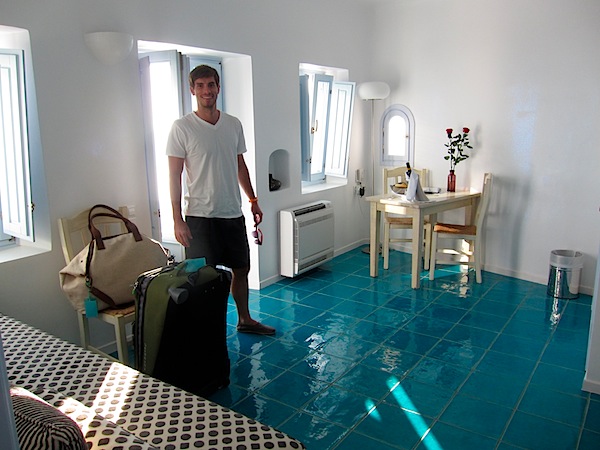 We enjoyed a complimentary bottle of local red wine when we arrived, and the next day, we were surprised with prosecco! Sipping wine on the balcony and watching the ridiculous sunsets was a highlight of the trip!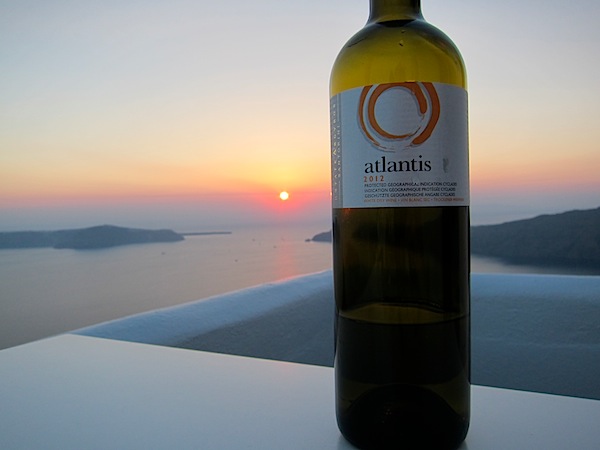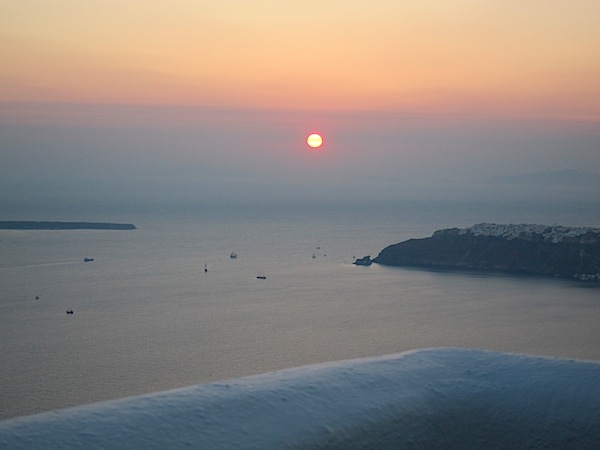 The Astra breakfasts were also a highlight! We got to chose which items we wanted the night before and were awakened with a phone call each morning telling us breakfast was on its way. The mornings were chilly and it was wonderful to warm up with coffee and hot croissants.

The pool area was great as well, although a bit small so you had to grab a chair early. We ate lunch by the pool two days in a row and the baguette sandwiches and herb fries were terrific.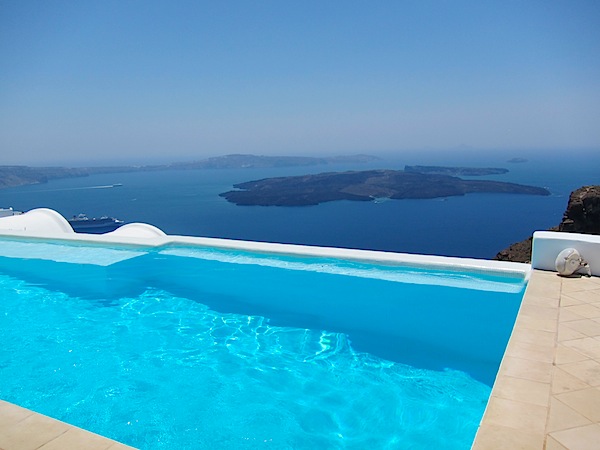 Another thing I loved about Santorini was the cliffside walking path that we could take into town each night. It was a gorgeous 40 minute stroll into Fira town.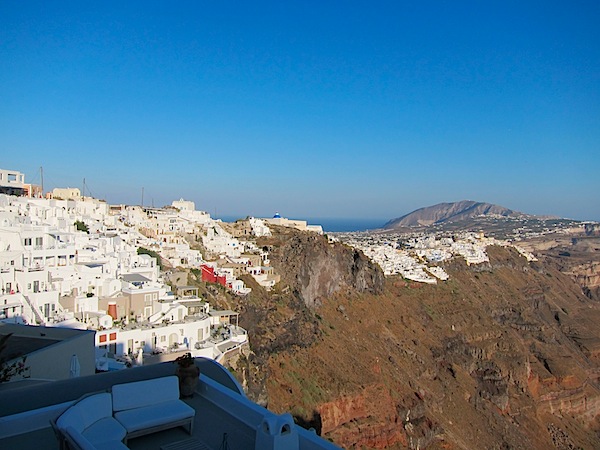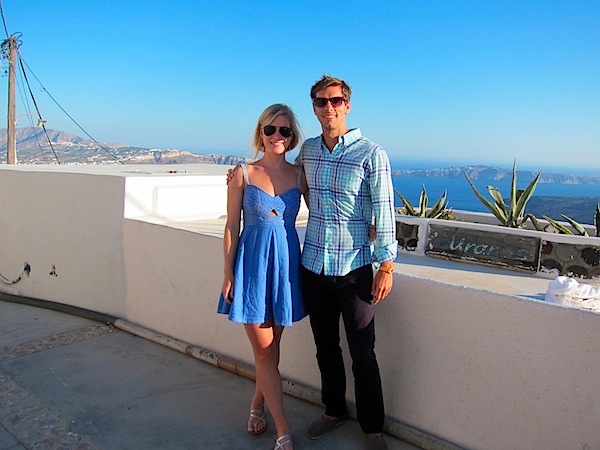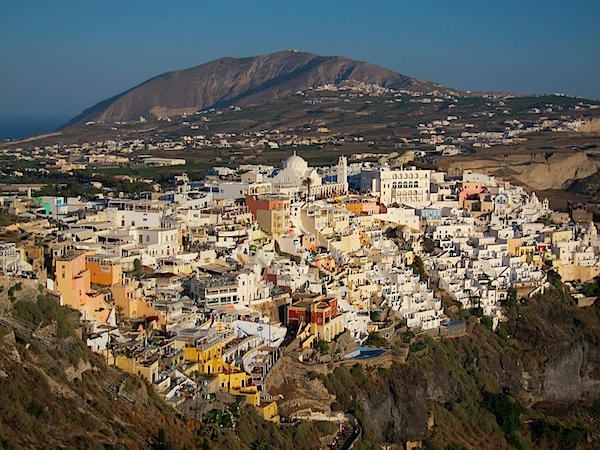 We rented a car one day and checked out some of the wineries. Because of the volcanic ash in the soil, Santorini produces some unique wine and I really loved the ones we tasted. We visited Argyros and Sigilas and I think one called Art Space?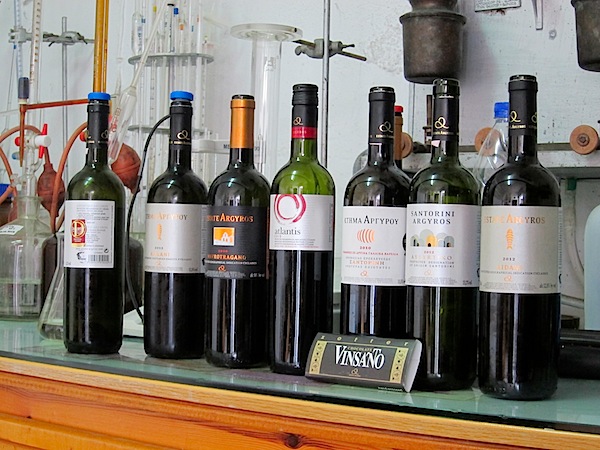 Sigalas was my favorite, as there is a beautiful outdoor terrace and we had a wonderful bread, olive, and cheese plate.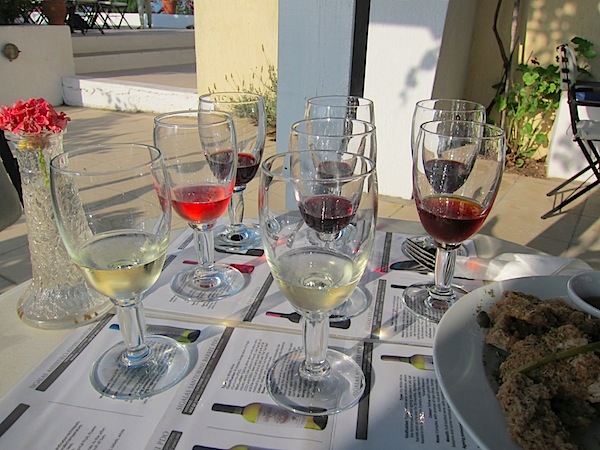 Another activity that I loved was a sailing excursion set up by Hellenic Holidays! We went down to the dock in the late afternoon and went sailing with a small group on a catamaran.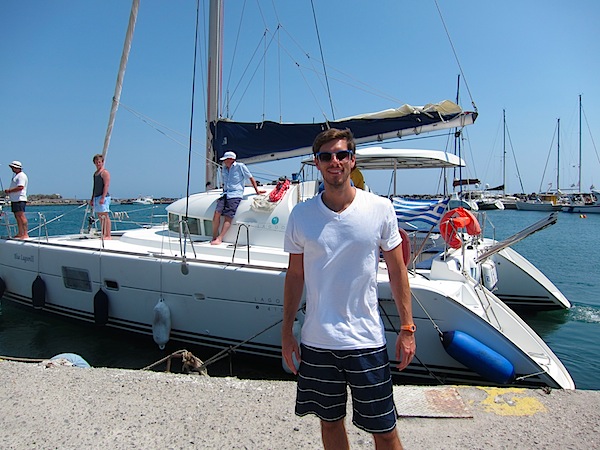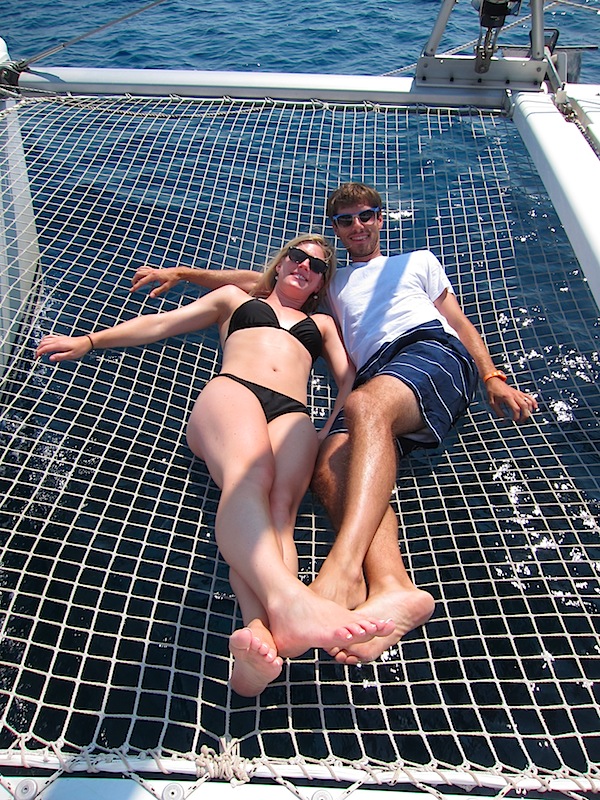 Just hanging out on the boat and the net above was fun, and we actually sailed to the middle of the caldera (underwater volcano) and went swimming in the mineral springs. I couldn't tell much difference in the temperature of the water, but it was fun to just jump into the Aegean off the boat.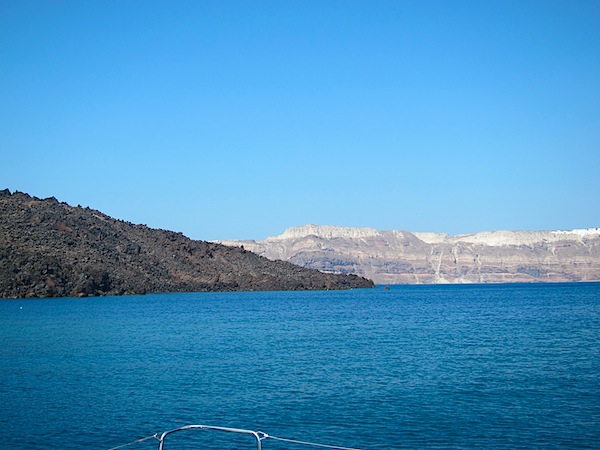 We also had a really fresh dinner with grilled chicken and pork, calamari and shrimp, greek pasta salad, and local beer and wine!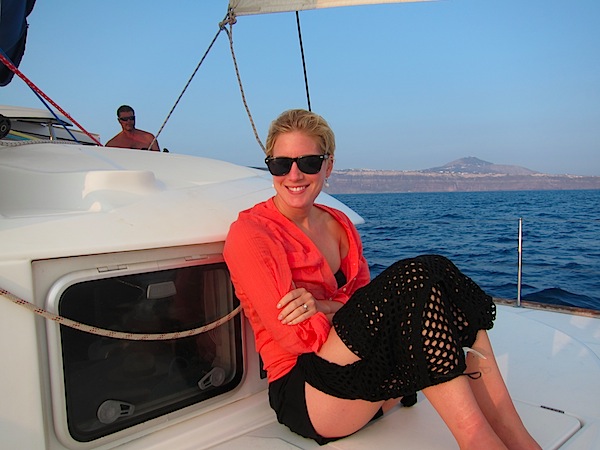 The food in Santorini was just as tasty as the food in Mykonos – I think I finally developed a taste for olives, especially the purple ones paired with feta and a piece of crusty bread.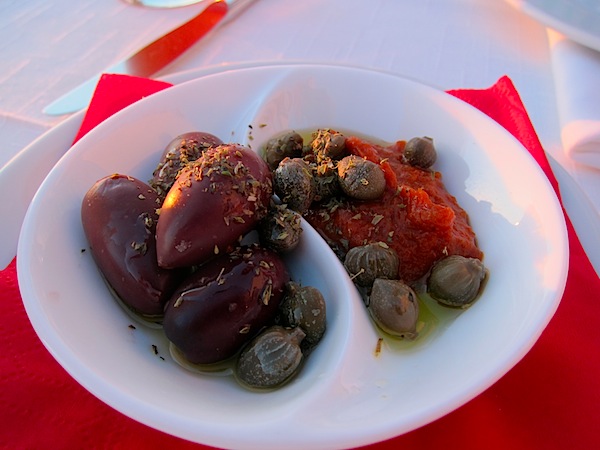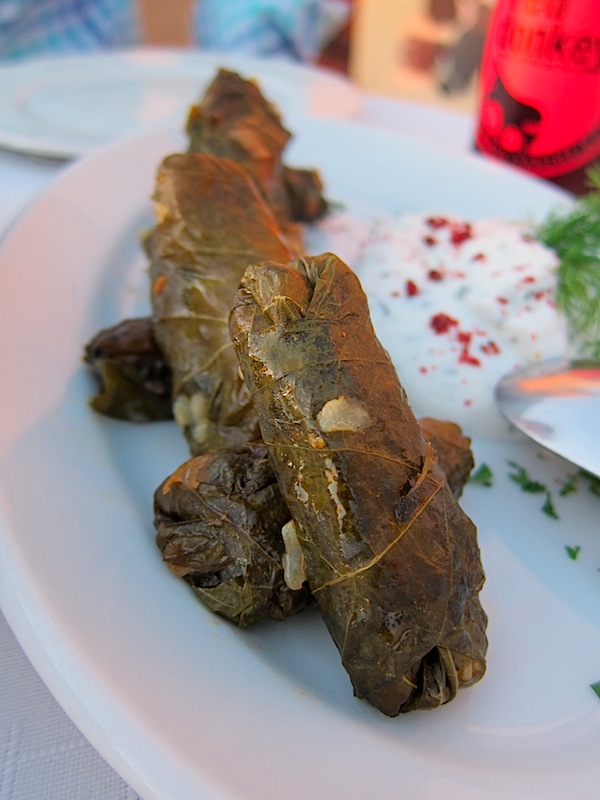 Below is an example of one of my puff pastry obsessions – lamb cooked with cheese and spices in puff pastry with tzatziki sauce. Heavenly!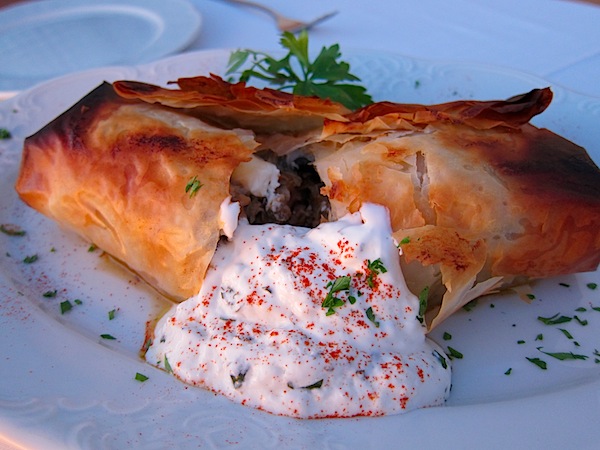 And that's Greece for you! I was so sad to leave and actually wished we had done more islands. It was so easy to just jump on a ferry and head to another island. Greece definitely holds a special place in my heart now and I'm drying to go back!!!