I'm home from New Orleans, and already missing the incredible food. Exploring new places through restaurants is a huge part of travel for me, and New Orleans is one of the most unique food cities in the US! I was in heaven the whole time! I ate some traditional dishes as well as modern interpretations of classics too.
Our first stop was an adorable little bar/music venue on Frenchmen St. called The Three Muses. It's no secret that Matt and I love small plates, so when I read about this spot, I knew we had to try it. Little did I know that everyone else knew about it as well and there was a 2 hour wait on a Sunday night! We decided to stick it out and I definitely think it was worth it in the end.
We shared the yucca fries with Cuban mojo dipping sauce (fries were kinda cold, but the sauce was amazing),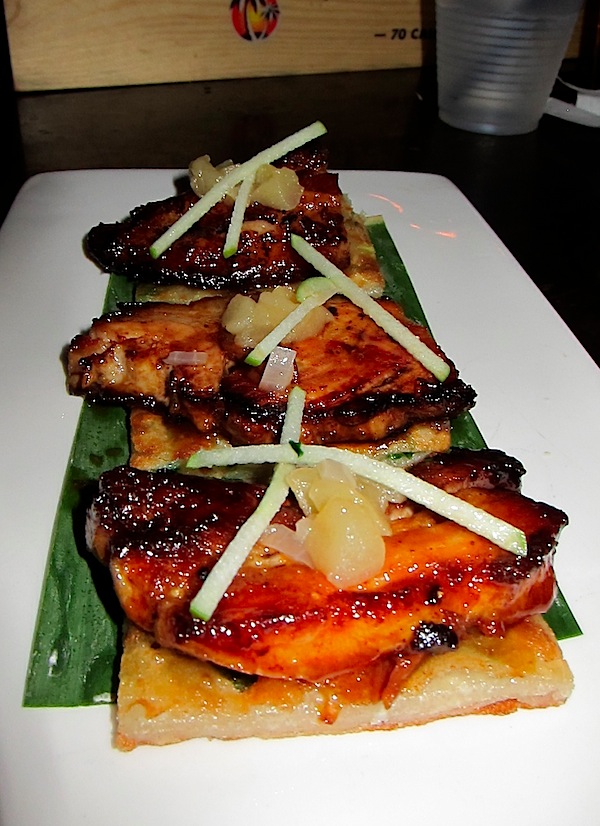 the Angry Orchard cider braised pork belly with apple chutney and potato pancakes,
the fried oysters with grits, wilted spinach, and a bloody mary sauce,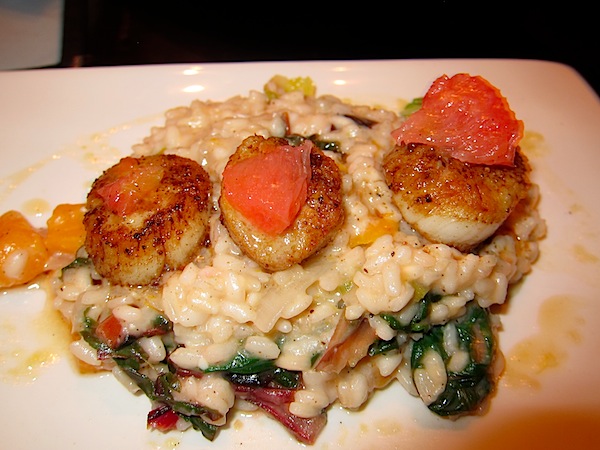 and the seared scallops topped with grapefruit and a vanilla citrus reduction served over swiss chard, butternut squash, and mussel risotto. All three dishes were absolutely divine (this may have been my favorite food of the trip!) and most items were between $9-$12. For a city that has surprisingly expensive restaurants, The Three Muses is a gem!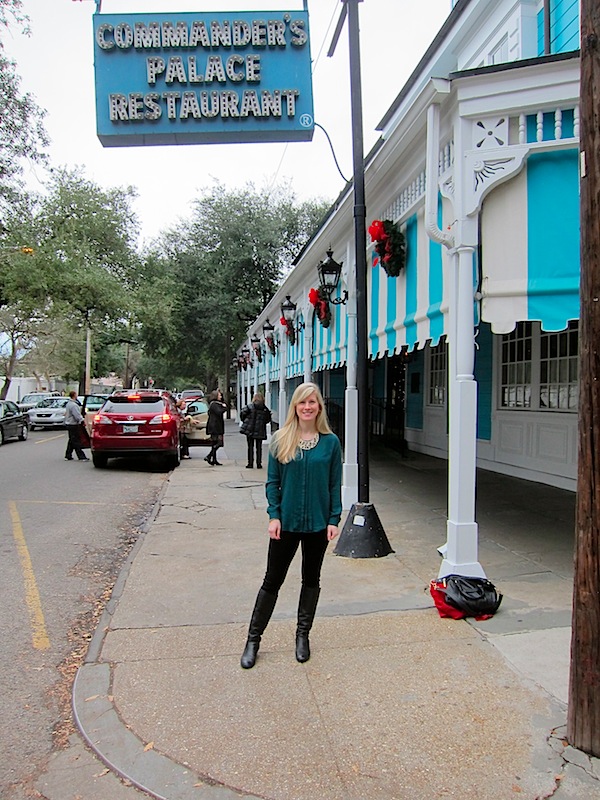 Of course we had to try the famous Commander's Palace!! We decided to go for lunch to save money and because there were so many other places we wanted to try in the French Quarter. I think this was a great call because the atmosphere was a bit more relaxed (but sill quite fancy!) and the food was as delicious as I imagine it is at dinner time.
We started with the shrimp & tasso henican: wild Louisiana shrimp, tasso ham, pickled okra, sweet onions (they forgot to remove these!), pepper jelly, and Crystal hot sauce. The flavor combination of the hot sauce and the sweetness of the pepper jelly was so incredible!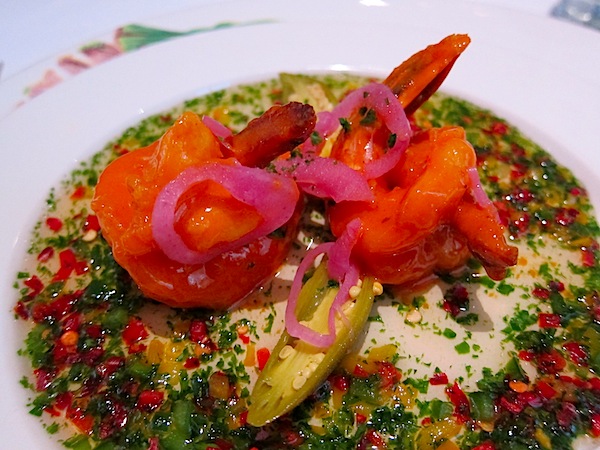 Both of our entrees came with soup, so I tried the gumbo and Matt got the turtle soup. The gumbo was pretty typical, but Matt's soup was something special. I wasn't too keen on the idea of eating turtle, but I got over it and was happy I tried it.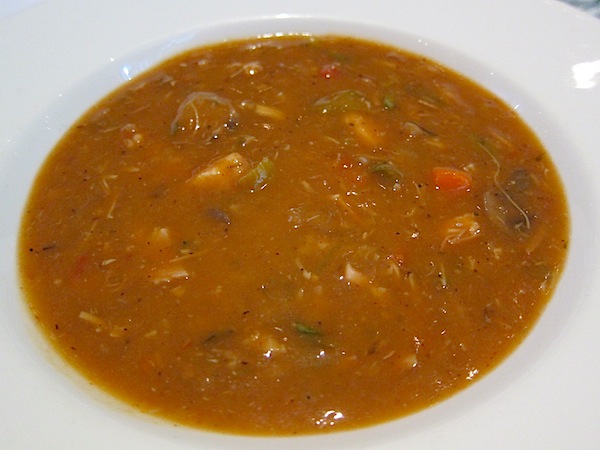 I ordered the seafood cakes as my entree – they were made with crab, shrimp, and fish and were a tad spicy. I loved them, although I didn't get the full entree experience because they were served with something cheesy and I got vegetables instead. I was so full though, that I didn't really mind.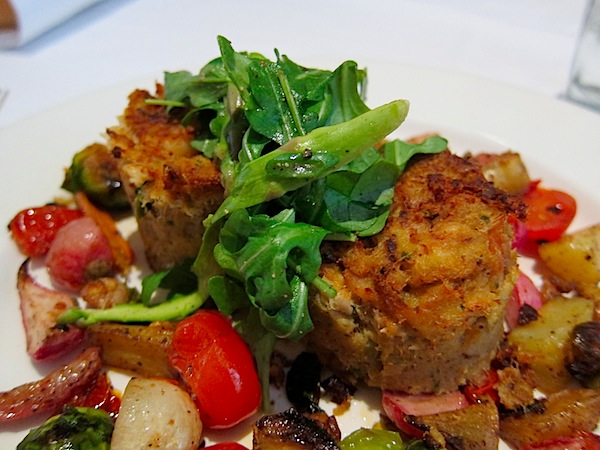 Matt's pork, sausage, and white bean cassoulet was really tasty too.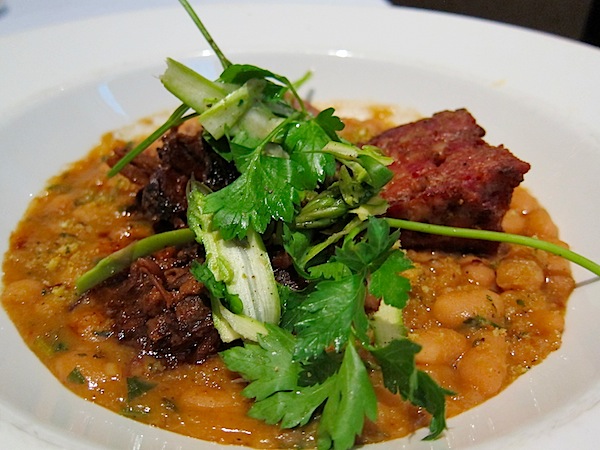 I'm glad we fit in Commander's Palace because I'd say it lived up to its reputation and it was a great place to get a taste of classic Louisiana food.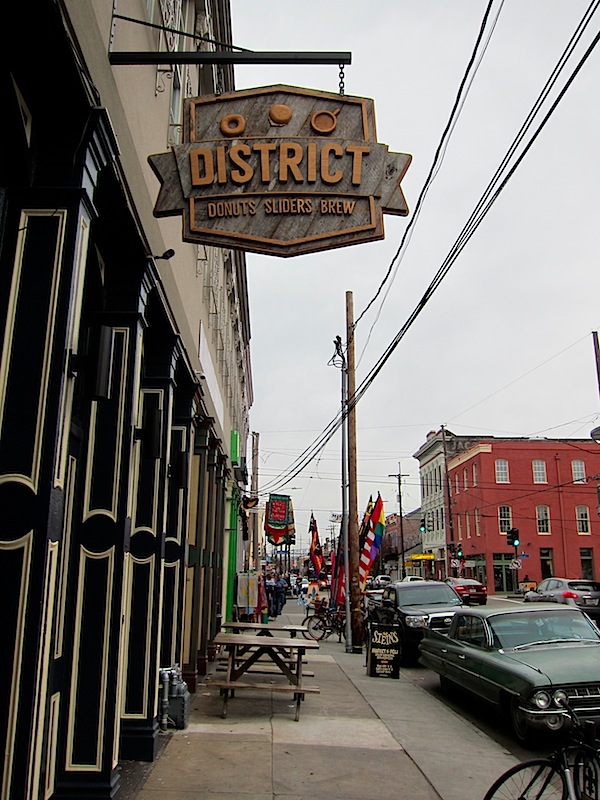 Despite our fullness, Matt and I had a long walk home from lunch and couldn't resist when we saw a donut shop.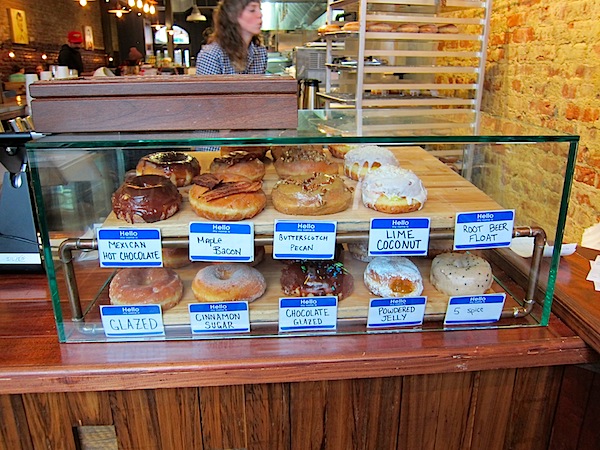 Just look at all those flavors and they change every day! We went with the butterscotch pecan and it was perfection.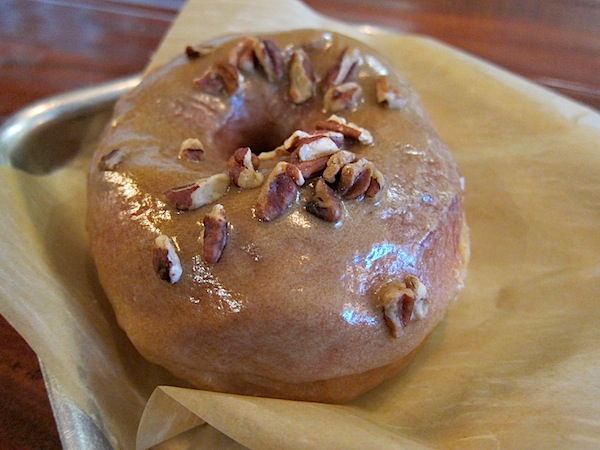 While we were working out in the hotel gym on the last day, Matt started having visions and cravings for more donuts on the treadmill, so we gave in and stopped by on our way home:) This time we tried the salted caramel and Japanese yuzu fruit. These really helped to sweeten the almost 8 hour drive home!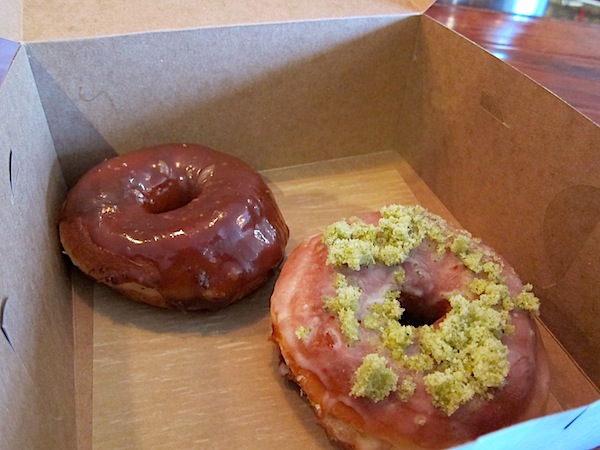 The NOLA food tour continued at Jaques-Imos on our second night! My brother-in-law's little brother, Andrew, is my age and lives in New Orleans. He took us out in his neighborhood and we had a blast.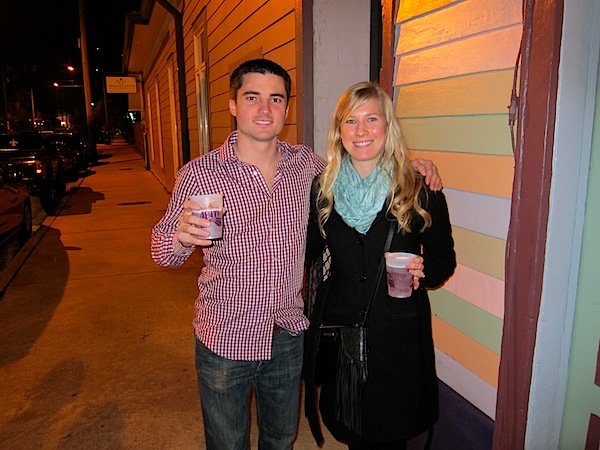 The restaurants were crazy because of the tourists in town for the Sugar Bowl, so we faced a two hour wait at this famous nook. We passed the time drinking local beers at the dive bar next door! Then we moved over to the restaurant and I got a watermelon mojito. So summery!
Jacques-Imos is super casual and serves all the classics in giant portions. We all wolfed down the cornbread and fried green tomatoes the minute we sat down: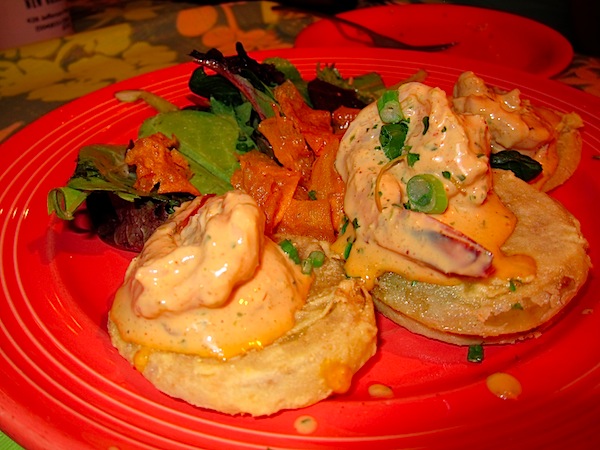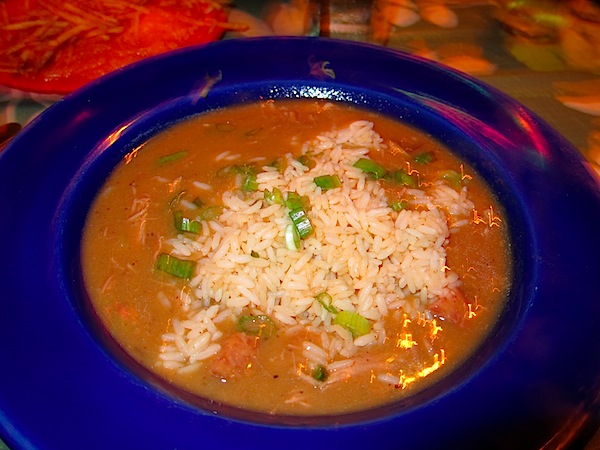 Matt and I shared the duck and andouille sausage gumbo, the pan fried drum with pecan sauce, and red beans and rice and mashed sweet potatoes on the side. The gumbo was standard and pretty similar to the one I had at lunch (can't remember why I ordered this again), but the fish was wonderful and the sides were fantastic too.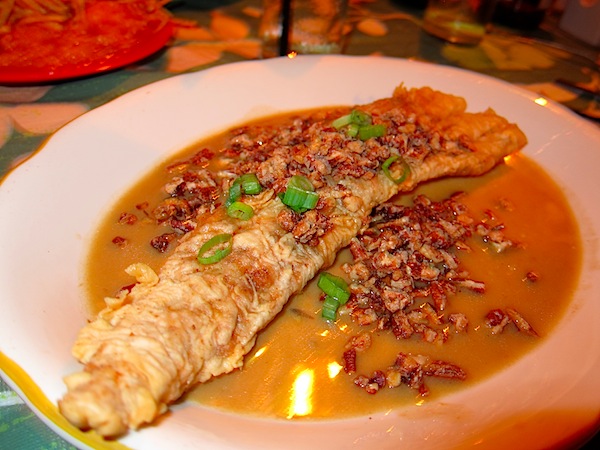 And that brings me to New Year's Eve! We wanted to do something low-key and didn't feel like making a reservation for a big dinner, so we bar hopped and tried some of the city's famous cocktails.
Our first stop was at the Bourbon O bar on Bourbon St. I had a twist on the Sazerac (rye whisky, peychaud's bitters, simple syrup, absinthe rinsed glass, lemon), which included benedictine and vermouth in addition to the classic combination. It was hands down one of the best cocktails I've ever had – best sweet-to-alcohol ratio ever!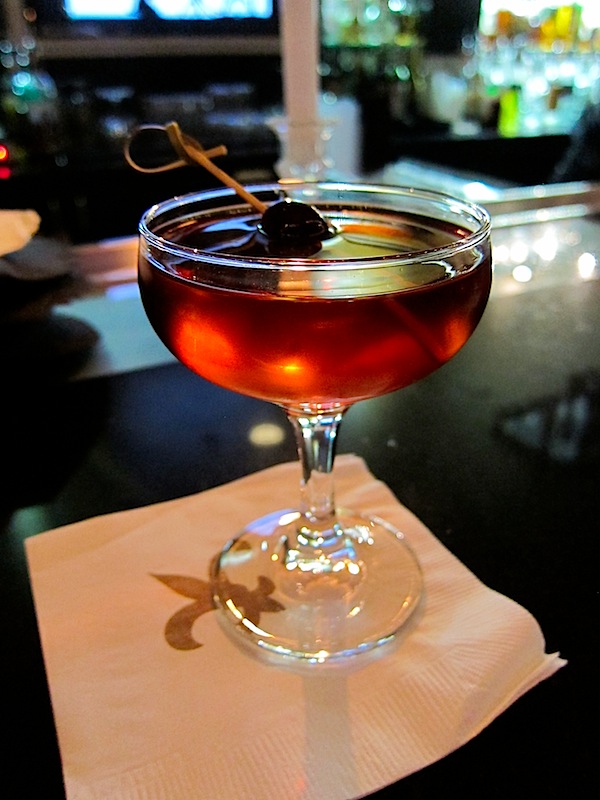 Our second stop was the French 75 bar at the famous Arnaud's restaurant. I ordered a rum drink with Mount Gay and a few different bitters and juices and it was pretty similar to a dark n stormy. I loved the old timey vibe of this bar, but it was smoky:(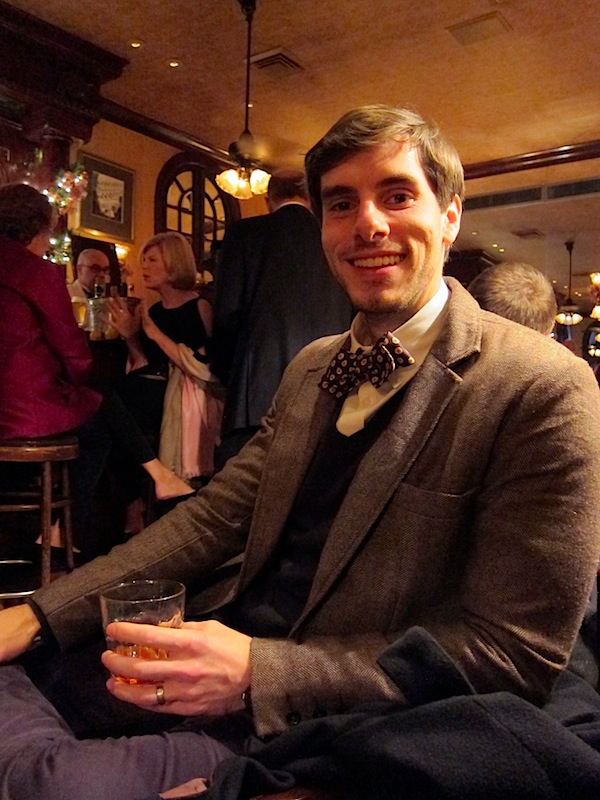 Our third stop was at a restaurant that had a good-lookin' menu, so we snagged seats at the bar and had dinner at SoBou.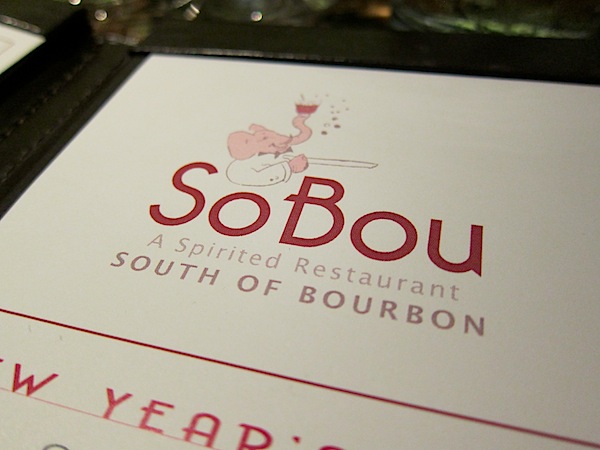 My cocktail here was ridiculous, but I can't remember what was in it because it was a special drink. It was a twist on King's Cake though, so imagine liquid cake batter with bourbon!!!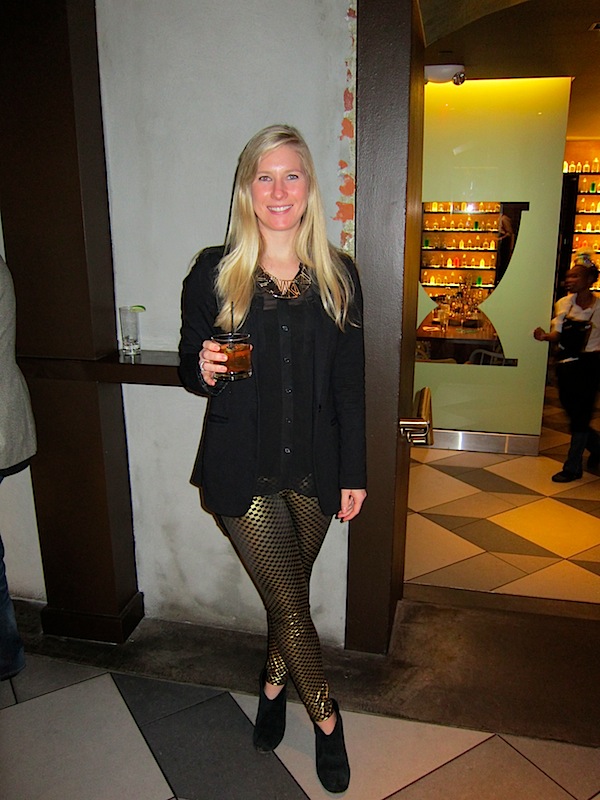 We started with the shrimp and tasso pinchos served with grilled pineapple and pickled ghost pepper jelly – I really loved how this was presented and I'm a huge pineapple fan.
Next, were the sweet potato beignets with chicory coffee ganache – loved these fried balls, but they weren't as savory as were described, so we saved them for dessert:)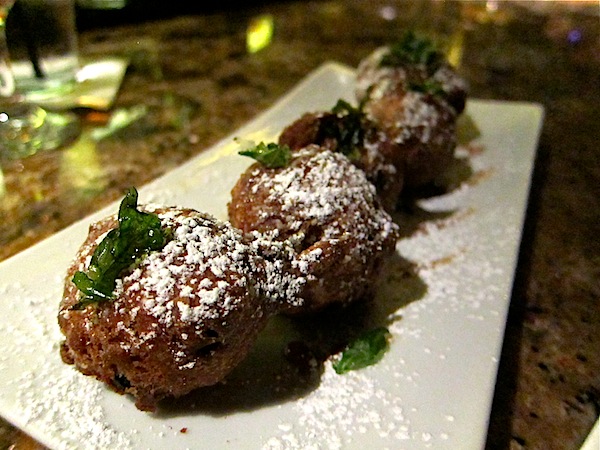 We also had the rich girl po-boy, which was a savory Maine lobster lady finger layered with champagne lobster mousse, bowfin, paddle-fish and ghost pepper catfish caviars served with a shooter of drunken lobster bisque. This was so cool, but just a little too out-there for me. Caviar is just kinda scary.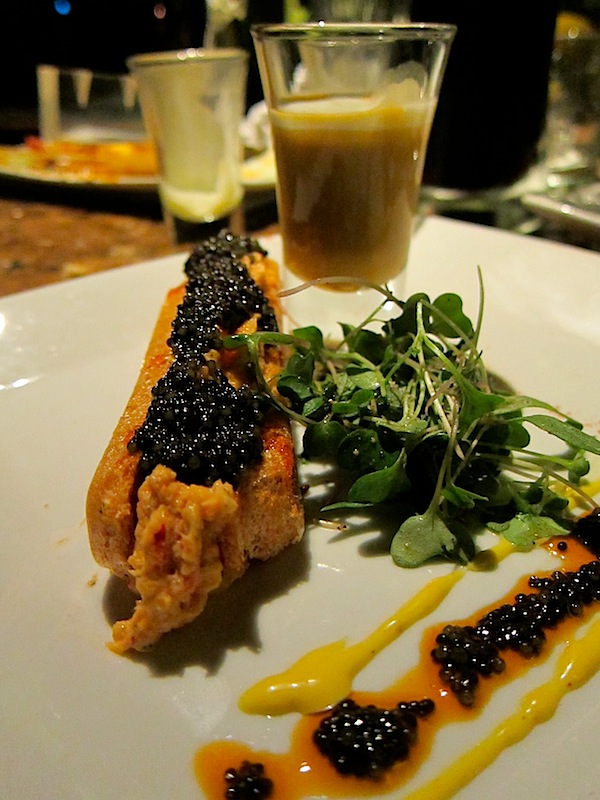 The best thing we ordered at SoBou was the simplest – just pan-fried fish with apple cider and braised greens with creole beer nuts. A couple of different bartenders recommended this dish – it was perfectly seasoned and cooked.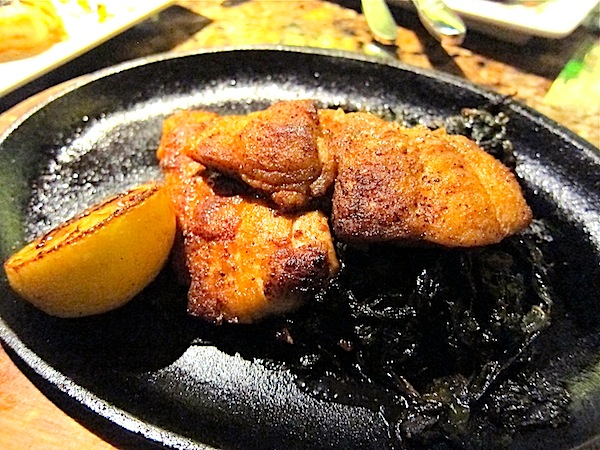 It was raining when we left the restaurant, so we quickly found a spot to ring in 2014. We landed at the Carousel Bar at the Hotel Monteleone!!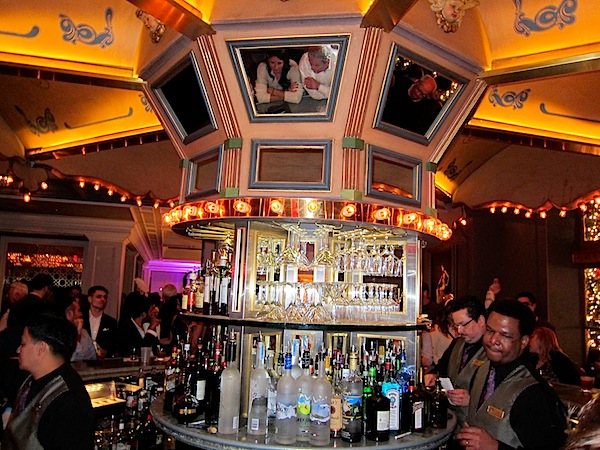 The bar stools rotate around the bar – so cool! We ordered two Kir Royale's while we made one rotation and then headed to the dance floor about 10 minutes before midnight.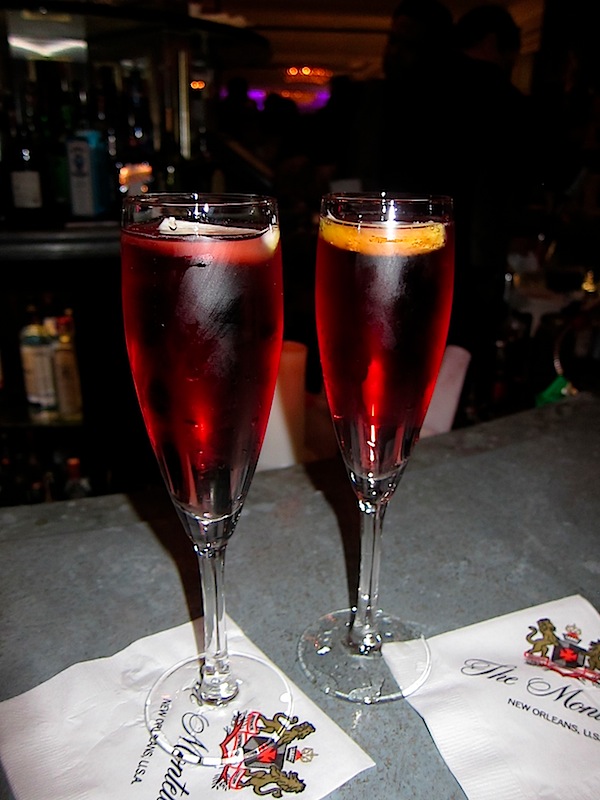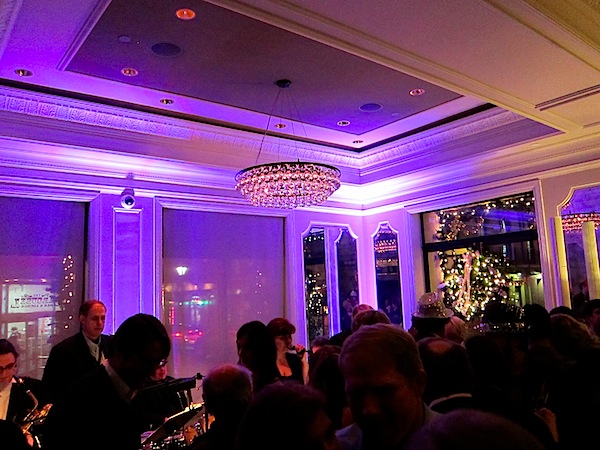 There was a great live band, but we were too tired to stick around for more than a few songs and called it a night.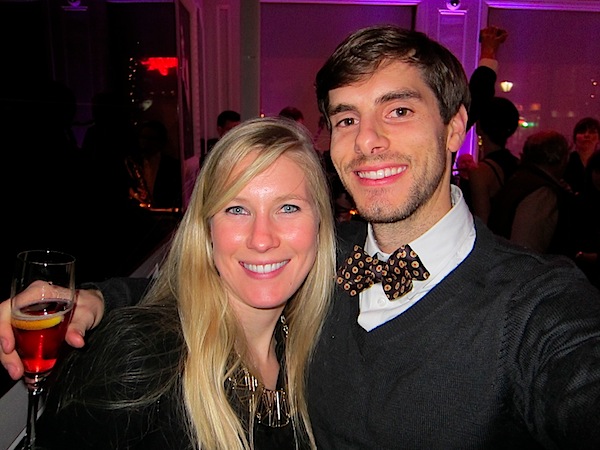 On New Year's Day, we had a really hard time finding any place serving brunch, but managed to find some pancakes for a sweet start to the year – these had a bananas foster syrup on top!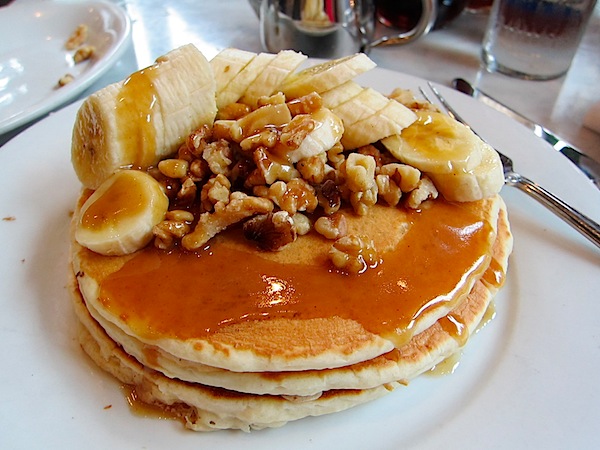 Our final dinner was at a new restaurant called Kingfish. I was happy that it was on the casual side – at this point I was tired and ready to be in bed after another day of cold, rainy weather and miles of walking. There was a festive wrap-around bar in the front of the restaurant and a cozy back dining room.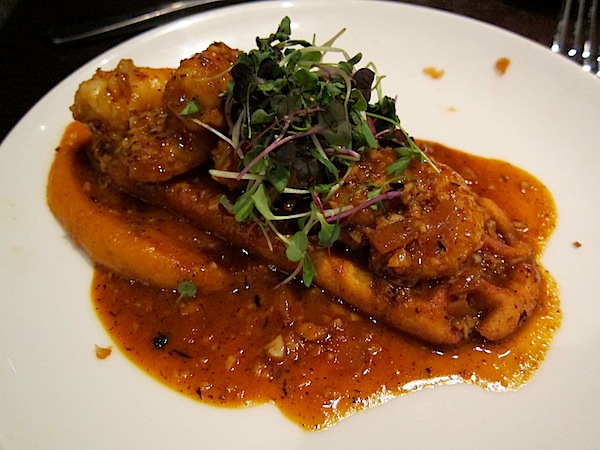 We shared another favorite small plate of the trip – a sweet potato waffle pirogue filled with New Orleans style bbq shrimp,
and then shared two entrees: boneless duck tossed in ramen noodles, roasted peppers, mushrooms and preserved lemon sauce (above) and the shredded slow roasted pork pot pie with crab boil potatoes, english peas, and carrots (below). The duck ramen was a clear favorite, although both were great and different from anything else we'd already had in New Orleans. The portions were huge and reasonably priced and we ended up brining both home.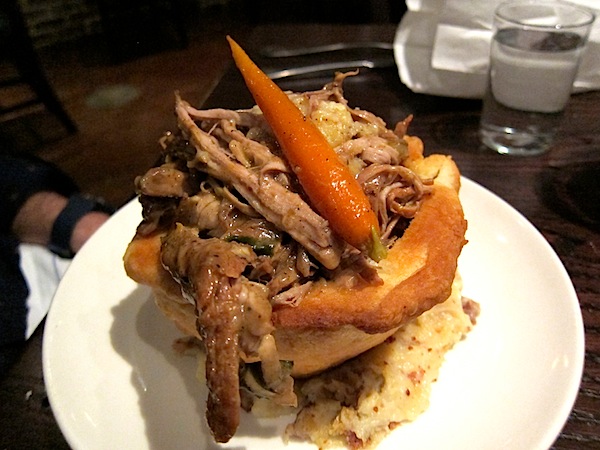 The not-so-grand but incredibly tasty finale was a muffuletta from Central Grocery. I had mine on the car ride home and was in heaven. Since the honeymoon, I've come to love olives and enjoyed the sandwich much more than I was expecting. I wish I had ordered the giant size!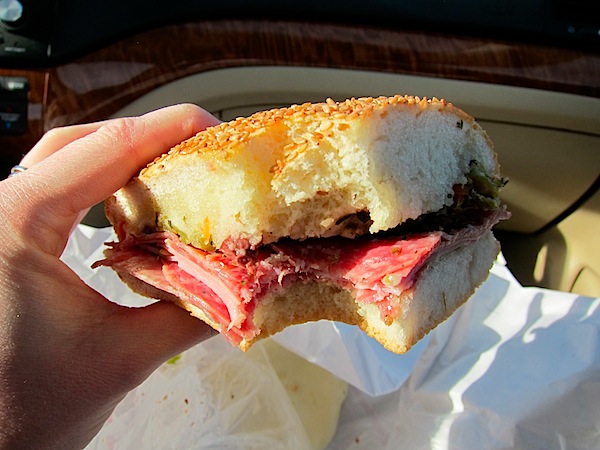 There ya have it, my tastes of New Orleans! I promise we did more than just eat while we were there, but I'll have to share the rest in another post. See ya.