In addition to wine tasting in Mendoza, we spent our evenings walking around the quant city, exploring restaurants, and ringing in the new year! Most things were closed on new years day, and since it was our last day of vacation, we were happy to go running in the city park and relax by the pool. By the way, we stayed in the Park Hyatt. Although the rooms were basic and dated, I would recommend it for the service and the location.
Overall, the food in Medoza was just a good as the food in BA, and it was even cheaper! Our first night, we had a reservation at Azafran. I've raved about the bread baskets in Argentina, and this one was the best. Flakey bread rolled with meat and cheese?!!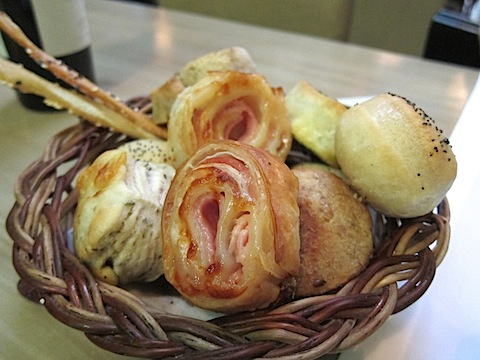 One thing I loved about Azafran is that they ask you to choose your bottle of wine from the sommelier in an adorable wine room. We loved walking around and looking at the different labels. We described the wines we had enjoyed so far on the trip, and gave the sommelier a price point, and he found us a perfect bottle for $20!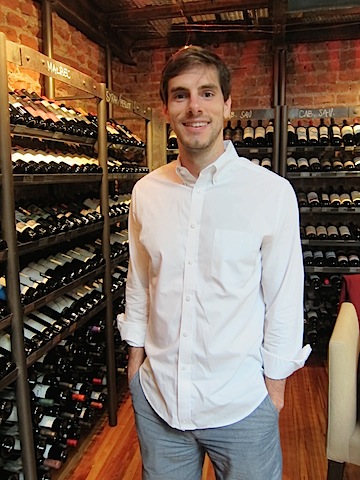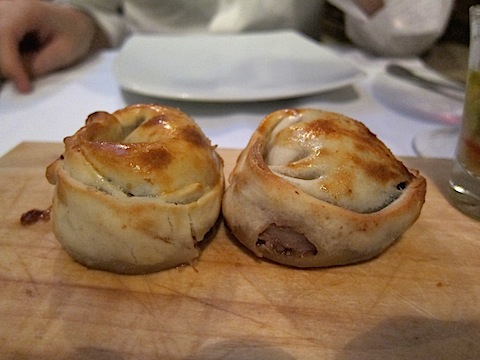 We started dinner with empanadas and olives. Olives + bread + red wine = pure perfection.
But, it gets better. For my entree, I ordered filet mignon with spinach and blue cheese…wait for it…wrapped in puff pastry! A match made in heaven!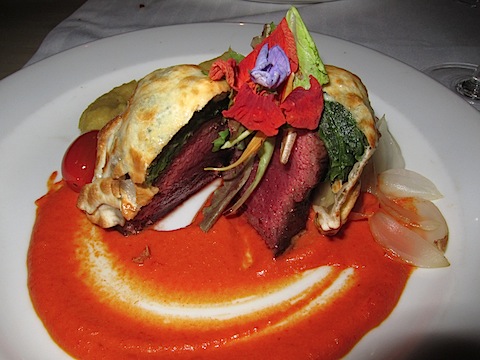 New years eve was a highlight of the trip because we had such a unique dining experience. We made a reservation for a closed-door restaurant – this means that a chef opens his (her her) home and prepares dinner for a small group in his own kitchen! If you are ever in Argentina, I'd highly recommend a closed-door restaurant, especially Ituzaingo. It was the perfect experience for new years because I felt like we were at a friend's house party! We'd also made a few friends at wineries, so it was fun to find out that they were dining at Ituzaingo as well.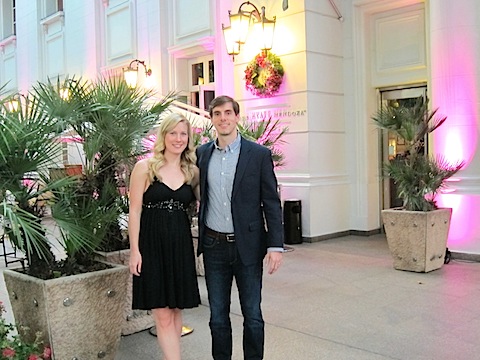 The loft apartment was right out of Soho. When we arrived, we mingled with guests and drank fresh cocktails – I had a mojito and Matt had a pisco sour. There were a few passed appetizers as well, but I was chatting so much that I don't remember what they were.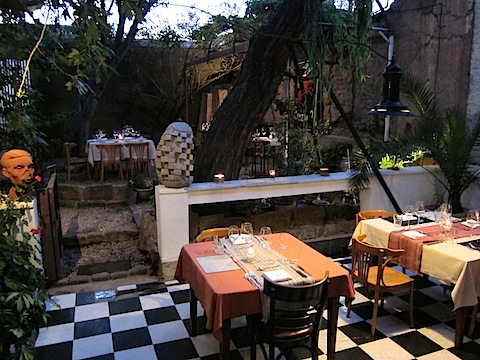 Just before dinner, we were asked to find a table – Matt and I choose the beautiful and cozy courtyard table for two.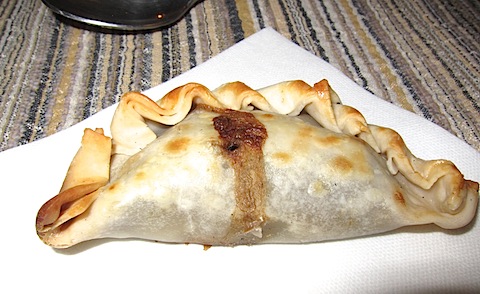 Empanadas arrived!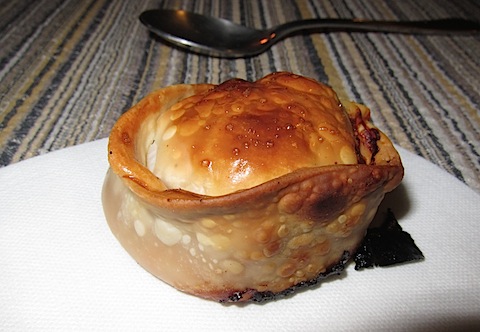 At this point, the waiters came around with white wine to accompany the empanadas and the salad.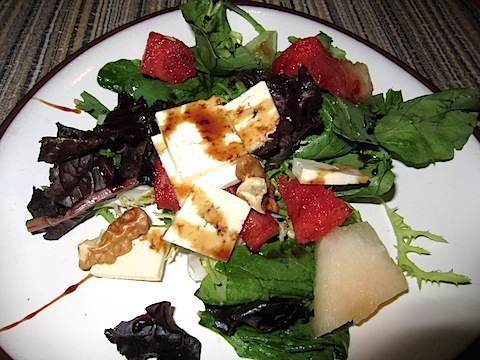 Of course, we had to have a giant steak for the entree. Matt and I shared this sirloin with chimichurri and smashed potatoes as well as the vegetable lasagna.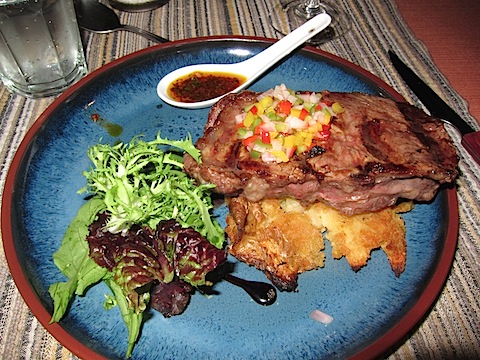 This was cheeeeeesy. We also had red wine that was paired with each entree. With plentiful refills!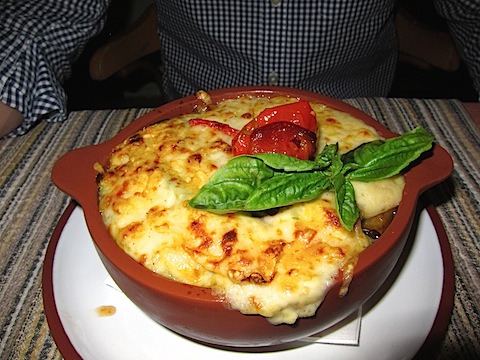 Dessert was three tastes – a chocolate mousse, a berry pie bite, and a crepe filled with sweet spaghetti squash. Soon after dessert arrived, we toasted the new year with champagne and then ran out into the street to see fireworks. It was such a special evening, and I ended up meeting a girl who went to high school in the next town over in NC!
The grand finale of the trip was dinner at 1884. I had heard mixed reviews about this restaurant – mostly that it was over-rated – but it was one of the only places open on new years day. It ended up being one of my absolute favorites.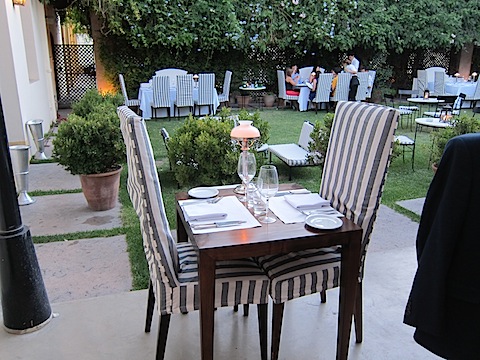 The weather was perfect for dining outside, and we were able to choose a table in the elegant courtyard. In lieu of a bread basket at the table, waiters came around with a huge tray, and we picked from a variety of bread. The focaccia was fantastic.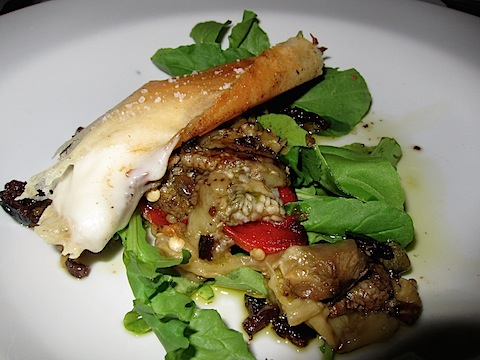 We ordered the fried goat cheese and eggplant to start, and tried to save room for the extensive list of hearty meat entrees. Enter the best steak of my life.
This was a filet mignon wrapped in bacon, served with potatoes in some kind of magical broth. The steak was moist, and bursting with the flavor of the broth, and then there was the bacon. I say I'm not a steak person, but this meat was phenomenal. I'd fly 10 straight hours just for this!
So yeah, Mendoza blew me away with it's food. I feel like we only scraped the surface of the area, but I really loved it.