The rest of our time in Bermuda was spent doing a lot of lounging and exploring different beaches. We also loved the infinity pool at our hotel, but didn't discover how awesome it was until the end of the trip. Floating on noodles felt heavenly.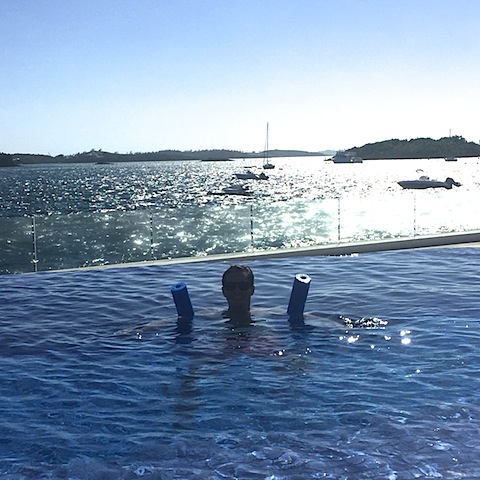 The beach club at our hotel was perfect for swimming – they had really nice chairs, hammocks, and a restaurant, and it was rarely crowded.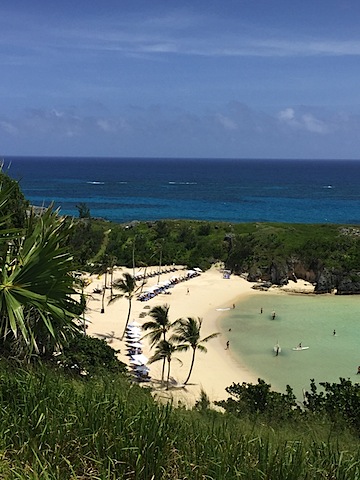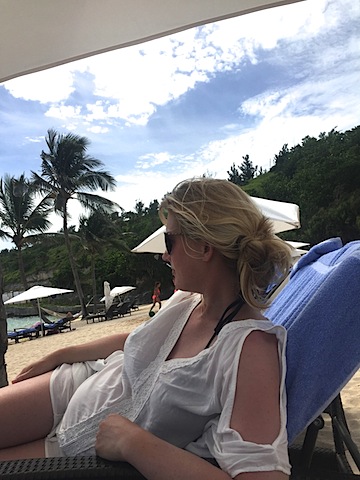 We spent a couple of full days there – swimming, drinking sparkling lemonade, reading, and paddling around on the free boards they had on the beach.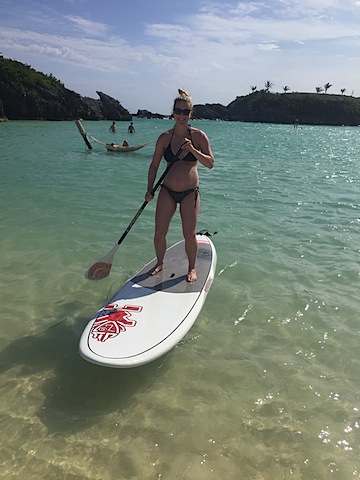 We also explored quite a bit using public transportation – we took the ferry over to Dockyard one day, and discovered a cute pastry shop, an interesting art gallery, and some shopping. The ferry ride itself was very enjoyable and a great way to see the island.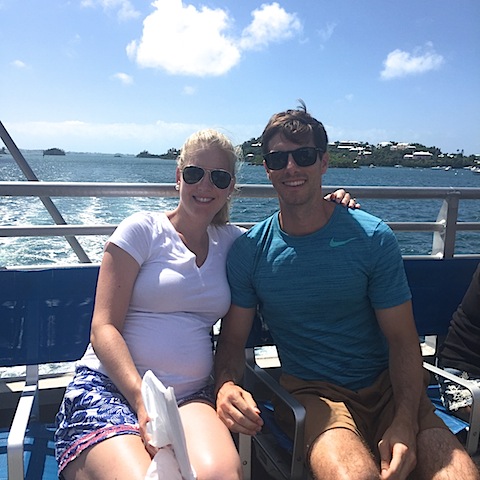 As Matt's birthday present, I surprised him with a round of golf at Turtle Hills.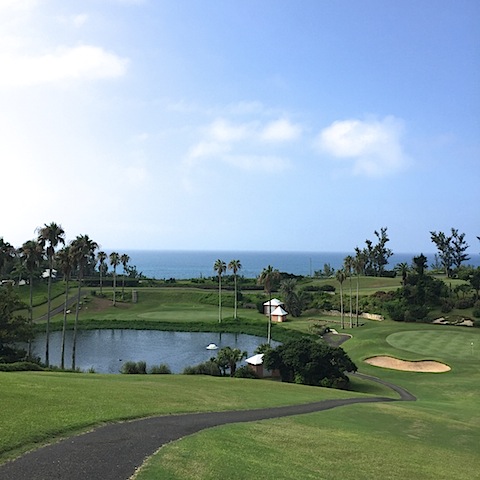 I mostly just watched and drove the cart because it was super hot in the sun, but the views from the course were beautiful and Matt did quite well on the compact and hilly course.
Our favorite of the public beaches was Warwick Long Bay. The water there just felt so perfect – like swimming in a freshwater stream.
There was a little path up to a rock overlook, and we enjoyed an oceanfront picnic there.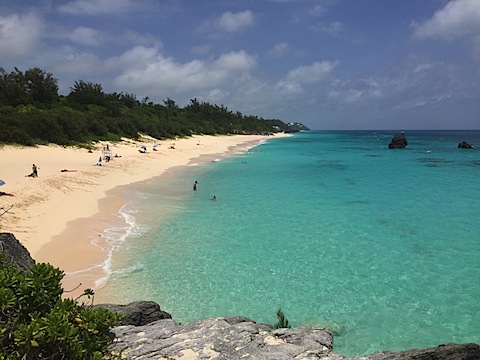 Of course, no vacation is complete with exploring the food scene, so we walked into Hamilton each night for dinner.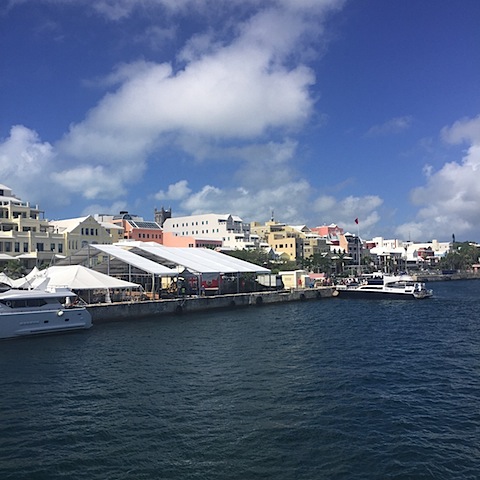 Some of our favorites included Mad Hatters – everyone wears crazy hats during dinner, and I had an epic steak.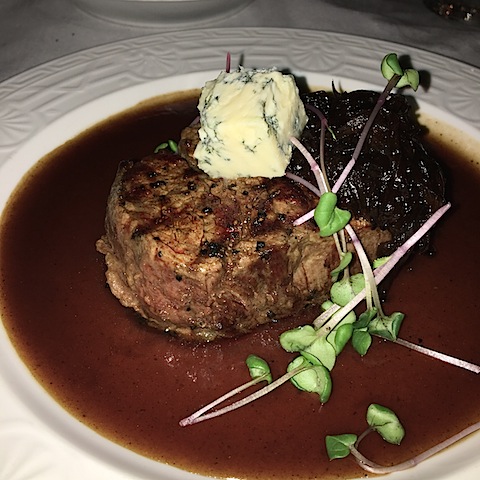 The Barracuda Grill – this is one of the more upscale restaurants in Hamilton and we had dinner here on our last night. The menu was much more interesting than some of the other choices in Bermuda, and we really enjoyed getting to know our waiter who moved to Bermuda from Ireland after school to find work.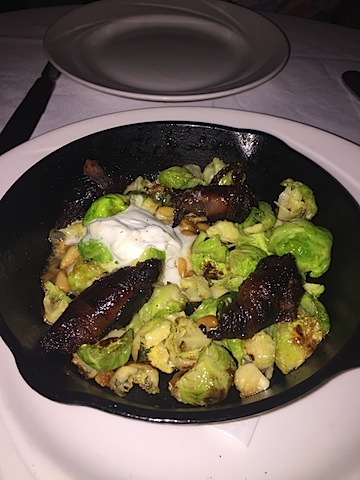 (didn't really use my real camera on this trip, so I apologize for these blah food pictures)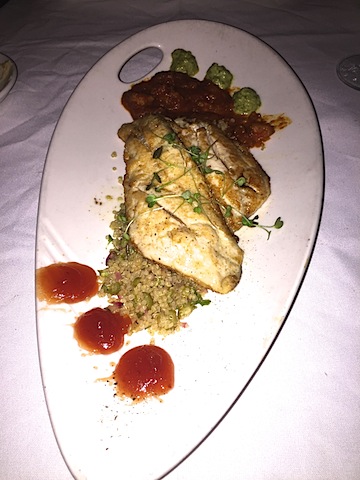 Our obsession in Hamilton was Devils Isle – it's part coffee and sandwich shop and part bistro at night. We went for brunch, lunch, dinner, and dessert while we were there because they had all kinds of gluten free baked goods, including the best herby focaccia and banana bread french toast!!! It's such an adorable restaurant and the menu was modern and interesting (there's a lot of very traditional food in Bermuda).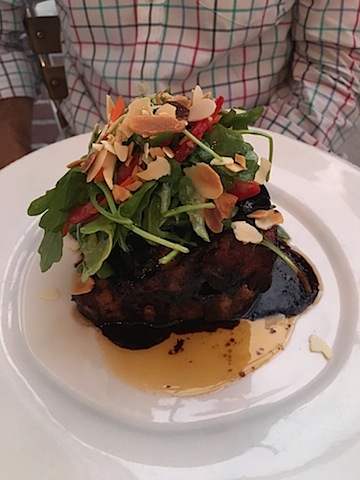 Although not in Hamilton, we also had a nice dinner at Aqua Terra, which is perched on a cliff overlooking the ocean.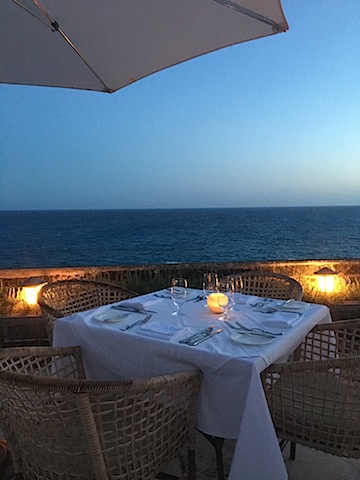 There was a live band out on the terrace and the sunset was beautiful.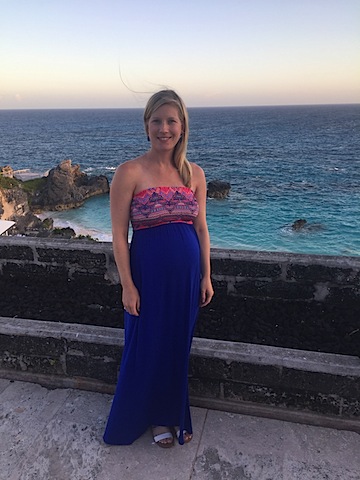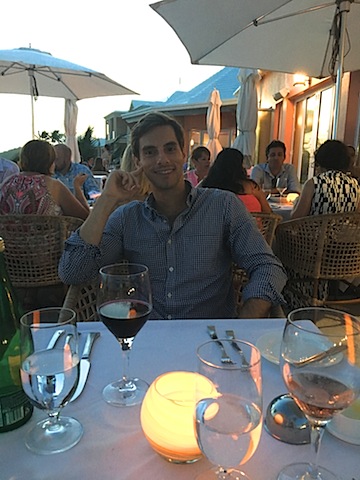 I'm so happy we were able to have a grand finale as a family of two in Bermuda. I was a bit nervous to travel out of the country while pregnant, but the island is so close to the east coast and ended up being the perfect choice. I feel like this vacation was the end of an era, as we have enjoyed traveling so much since getting married. I'm excited though for family vacations with a little one, even if those look a lot different!