Catch up on part I here.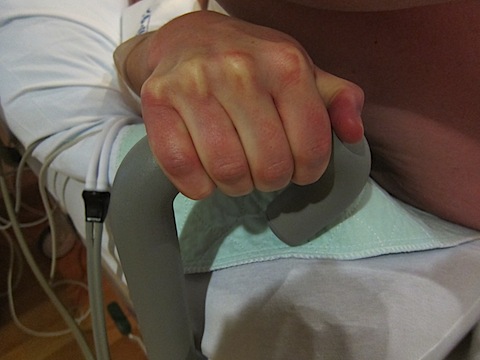 And so began the worst hour of my life. Good thing this story ends with the best moment of my life! I actually don't remember much of this part of the story, either because the body is designed to forget the pain or because it was almost an out-of-body experience. The contractions were coming every 2 minutes or so and lasting 60-90 seconds, giving me very little time to recover in between. The best position for me was sitting up, on the edge of a chair, so I spent this hardest stage of labor in a rolling desk chair that just happened to be in our room. It certainly wasn't what I had imagined, but it was the only thing that seemed to work. I am so, so grateful for my doula – I can't even imagine what I would have done without her! She continued to apply counter pressure, model breathing for me, and massage me in between contractions. It was hard to focus, but I do think the low, moaning/breathing helped me get through each round. Matt said I was basically screaming until the doula would help me return to the deep moan.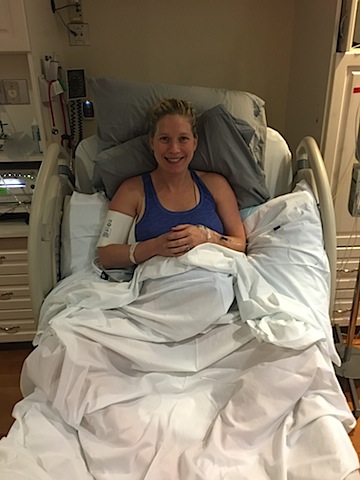 Finally, pain free and smiling!
I remember turning around when someone walked into the room, and I knew by the blue scrubs, that it was the anesthesiologist! I took a huge sigh of relief, and he said, "Hi, ma'am, I'm here to empty your trash:)" I think I kind of smiled, and just remember thinking how wonderful this man was and that I wanted to send him Christmas cookies every year for the rest of my life! The hard work wasn't over yet, though, because I had to get back over to the bed and deal with the contractions without my rolling desk chair. The anesthesiologist was so quick though! As soon as I was sitting on the bed, he gave me the local shot (which, if you're wondering is one one-thousandth the amount of pain as the contractions), and then let me know he'd be placing the big needle (which was painless). Almost immediately, he said I'd feel a tingling in my toes. I only felt the tingling on my right side, so he had to re-position the needle, but I could already start to feel relief on my right. The nurse asked me to lay down, and I begged to stay seated for the next contraction (because laying down was so painful). I'm not really sure what happened at this point, but all-of-a-sudden they were all forcing me down and giving me oxygen. I started to hyperventilate, not having any idea what was going on. My doula helped me get my breathing back under control, and explained that they want you to lay down immediately because you lose the ability to move your body. The oxygen was because baby's heart rate was starting to drop. Luckily, her heart rate recovered with the oxygen, and remained strong for the rest of labor and delivery. And then, I felt nothing! I couldn't believe the contractions were still coming, hard and strong, and I couldn't feel a thing! I AM SO THANKFUL EPIDURALS EXIST!!! I just kept thinking about the millions of women who had to give birth before modern medicine.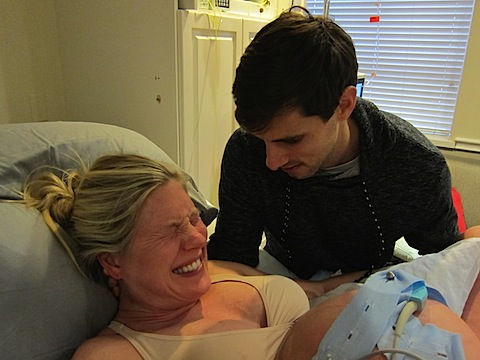 Pushing!
I was able to relax around 6:45am, and just as I was going to try to nap, my doctor came in to visit. She checked me at 7am, and I was 10cm and fully effaced!!! Baby had also moved from station -3 to +2. My doctor was shocked! Just an hour prior, I had been at 4cm, so I guess that means I experienced much of the transition phase of labor without pain relief. Baby's fast decent down the canal also explains the excruciating pain I had been feeling on my pelvic and tail bones. I was sooo relieved, especially when she said the worst was over! Because I was no longer in pain, my doctor wanted to let the contractions do their thing for a couple of hours, to get baby in a better position for pushing. She told me to rest in preparation, and asked the nurse and doula to move me into different positions every 30 minutes or so. I started to get the shakes, so I wasn't able to fall asleep, but I rested for 2 hours, face-timed with my sister, and listened to my doula as she explained more about the pushing phase. After being up all night, I started to get really worried about having enough energy to push. I wasn't really allowed to eat, and was starting to feel weak. Luckily, my doctor said I could take a few small bites of something, so I ate an energy ball, and some Gatorade sports gel, and started to feel a bit better.
At 10:30, the nurse told me it was go-time. Matt held one leg, and my doula held the other, and I started pushing! The nurse and doula watched my contractions on the monitor, and I pushed in 3 10-second bursts during each contraction. Even though I felt nothing, everyone told me I was making good progress. About 45 minutes in, my doctor arrived, and I started to get so excited! It was probably the hardest thing I've ever done physically, but Matt fed me Gatorade sports beans, and my wonderful support team kept me entertained in between pushes. I started to really lose steam about an hour and a half in, but the nurse brought the mirror over, and my doctor announced that there was a full head of dark hair!! When I could see baby's head, I gave it my all and finished out the last 30 minutes.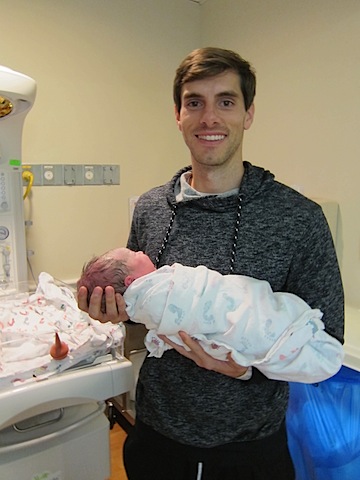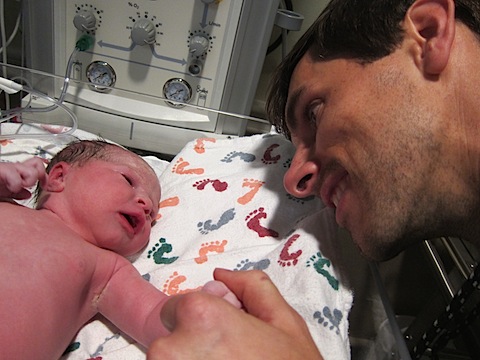 At 12:41, after 2 hours of pushing, Emerson Grace was born! My doctor joked that she was jumping rope with her cord, which was wrapped around her neck twice and her body once! I've never been more overwhelmed with joy and relief! Knowing that she was healthy and safe lifted a huge, 9-month weight off my shoulders. We spent the rest of the day gazing into her eyes and cuddling with her. Oh, and eating burgers, fries, and milkshakes:)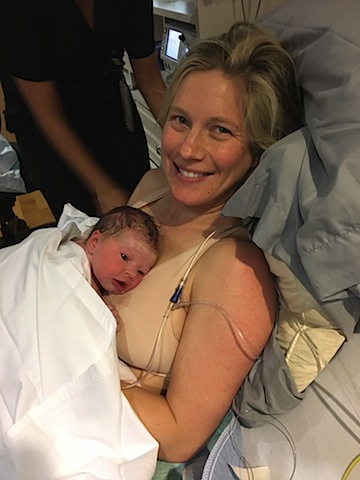 And that, my friends is my birth story.