Happy Valentine's Day!
I feel lucky to have two Valentines this year:) Poor Emerson has to get her 4 month shots today, which is not very fun on what is supposed to be a love-ly day. It's cold and rainy here and it's my day at home, so it's nice to be warm and cozy inside. Matt and I celebrated over the weekend, but I'm going to make him a meatloaf tonight. I feel like such a 1950's homemaker wife making my husband a meatloaf:)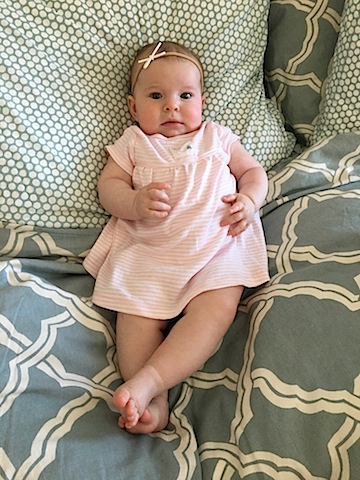 We tried our first babysitter over the weekend and it went well! We went out for a couple of hours, and stopped at two restaurant bars around the corner for drinks and snacks. At our first stop, Pera, I had a half glass (arg, breastfeeding) of prosecco along with the whipped feta and turkish sausage appetizers. Of course, I forgot to take pictures of all the plates – I need to get back in the routine of this!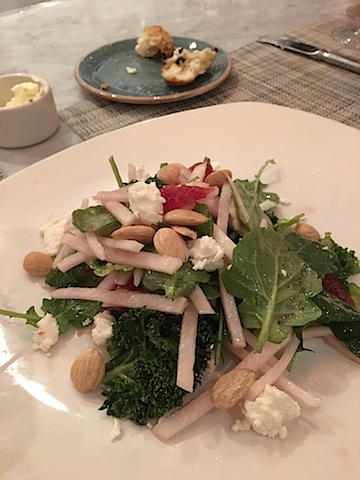 And at our second stop, Gemma, I had a bourbon cocktail, and we split a salad and a striped bass entree with butternut squash, sage, brown butter, hazelnuts, and maitake mushrooms. It was to-die-for! We also had the chocolate tasting for dessert which included a chocolate peanut butter bar, a dark chocolate raspberry truffle, and a white chocolate and grapefruit fudge of sorts. It was a wonderful night out!! Emerson has been such a champ about sleeping in the wrap at restaurants so it didn't feel all that different (and maybe not worth the $50 premium) to be out without her. It was fun to sit at the bar though and not have a 15 pound weight on my stomach. Em did great with the babysitter, except there was some confusion about the order of the swaddle and the bottle, so she didn't end up going to sleep in her bassinet, and instead just slept on the babysitter:) It was no big deal.
The rest of our weekend was fun! We ordered Thai on Friday, enjoyed brunch outdoors with friends on Saturday, and took several walks in the spring-like weather.
I wanted to say thank you for all of your comments on my previous post. I feel re-inspired and I'm excited that you guys are still enjoying following along!