I'm happy that I've been able to keep up with cooking since having baby Emerson. Eating real/clean food is important to me, but so is time – I wasn't sure how much I'd need to rely on convenience food once I had a little one. While I'm definitely buying more quick items like rotisserie chicken and veggie burgers (and ordering in at least once a week), Matt and I have been tag-teaming food prep and we usually make dinner together after we put Em down around 7:30. These are the recipes I find myself turning to week after week:
Salmon, Quinoa, & Zucchini Bowl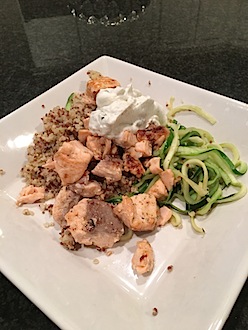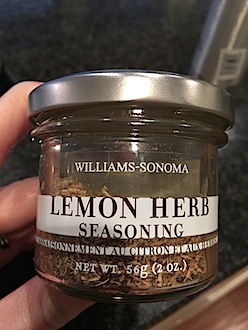 Zoe's Kitchen inspired this bowl. I usually pan-fry a piece of salmon in a little coconut oil (about 3 minutes per side) and then serve it with sautéed, spiralized zucchini, quinoa, hummus, and a little Greek yogurt mixed with lemon juice and lemon herb seasoning.
A classic from Kath's blog years ago. Matt has mastered this, and since he loves lasagna, he volunteers to make it often:)
Sweet Potato Black Bean Enchiladas inspired by Daily Garnish Squash Enchiladas
I sub out sweet potato (I usually boil one large potato). I've made this one so much that I just add a bunch of spices. Sometimes I add cheese on top. Sometimes I make a stacked version with the small corn tortillas.
Hash Bowl
Diced sweet potatoes (nuked or roasted first) sautéed in a pan with any fixin's you like. I often do a green veggie (frozen spinach, brussels, kale) and then egg or chicken sausage for protein.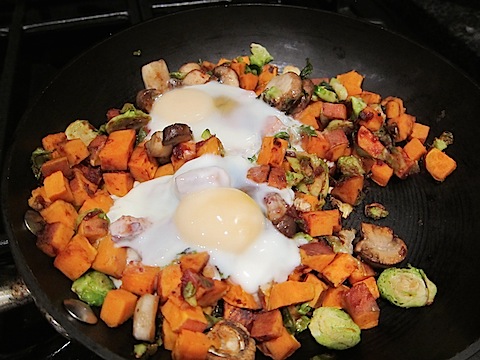 Tater Tot Egg Casserole
There's so many versions of this on the internet. I just pour sweet or regular tots in a large casserole dish, add 6-8 eggs mixed with milk, seasonings, and a veggie (spinach, peas) and sometimes chicken sausage
I discovered this one recently and loovvee it! I used ground chicken and followed everything else to a T.
I'm obsessed with these. I usually leave out or reduce the sugar and eat these as snacks
If all else fails, I love these veggie burgers or a good ole' friend egg on avocado toast.
What are your favorite recipes?