It's time for another update, aw this girl and been out in the world as long as she was growing in the womb!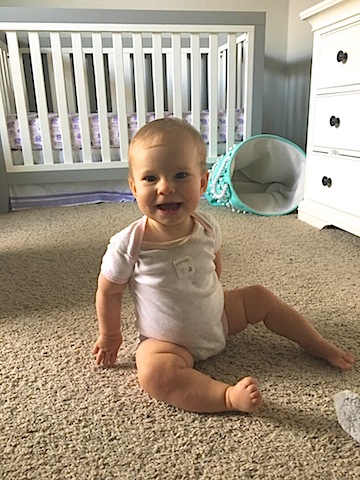 The most exciting thing is that Emerson started crawling just before her 9 month birthday! She's moving all over the house and putting everything in her mouth. I don't know how she can spot a small speck of dirt from across the room, but she's been eating hairs, old crumbs, leaves, and other disgusting things that end up on the floor. We have a couple of mirrors in the house, and I love it when she'll make a b-line across the room squealing the whole way (and then she laughs and licks the mirrors).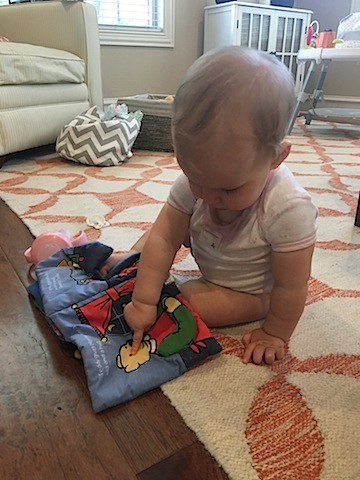 Communication has gotten easier and Em can now say mo-mo-mor for more food or for milk. She attempts some of the signs I've been teaching, but can only really do the milk sign consistently. She's still biting occasionally, and it is not fun. I already can't stand disciplining her, but I do think it's working. This week, she's un-latching herself and then biting my arm or stomach. The ravenous, vampire behavior probably means more teeth are on the way.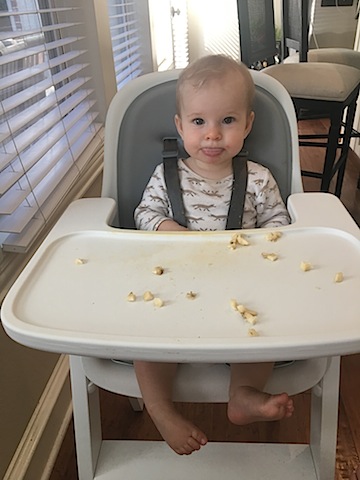 I'm so excited that she's moving on to finger foods and I love watching her eat! I gave her a few bites of scrambled eggs last week, and she broke out in hives within 10 minutes:( My doc said she's just not ready for them, and is hoping it isn't a true allergy. I need to get more creative with meals, so I stop spending one million dollars on pouches – that's my goal this coming month.
Sleep is just ok these days. Travel has obviously thrown things off a bit, and she still needs that 5am feeding every day. I keep telling myself I'll let her cry it out one of these mornings, and then I keep giving in. She's started to wake up around 12 or 1 a few nights recently, and I'm wondering if she's had a nightmare or something. She's been more hysterical than usual when that happens.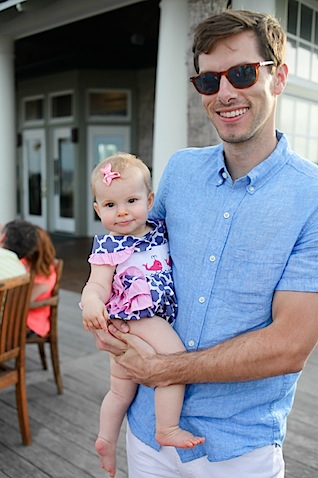 Emerson is in love with the water, and is so happy in the bathtub or at the pool. She also loves taking walks in the Bob, and is guaranteed to fall asleep in it if I walk too long. She thinks it's funny when I sing, and is excited that she can now follow me from room to room. I know she gets tired of me though, because she is absolutely on cloud nine when Matt gets home. He's definitely going to be the fun parent.
I'm loving having more time with her this summer, but feel a little trapped with the Texas heat. It's been so nice to not wake up and go to the work in the morning, but I do miss the break of having her at the nursery 3 days a week. Writing an email or a blog post during the day feels like an impossible task sometimes. On days that I meet up with mom friends, or have a good indoor activity, I'm the happiest. I've heard from so many SAHM's that getting our of the house is key, and I would definitely agree. Overall, eight and nine months have been really fun stages to be at home.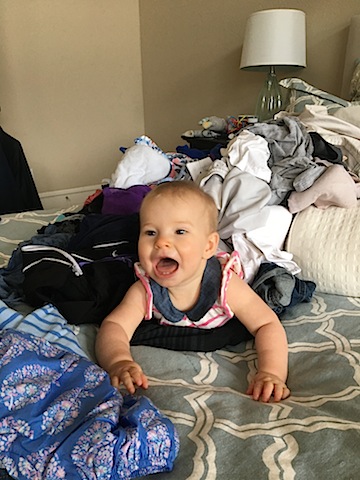 Things I'm loving right now:
The Good Duck for chewing
iPlay Swim Diaper + Rash-guard for longer days in the water
Lobster high chair for travel (although I'm finding it doesn't work on a large number of restaurant tables)